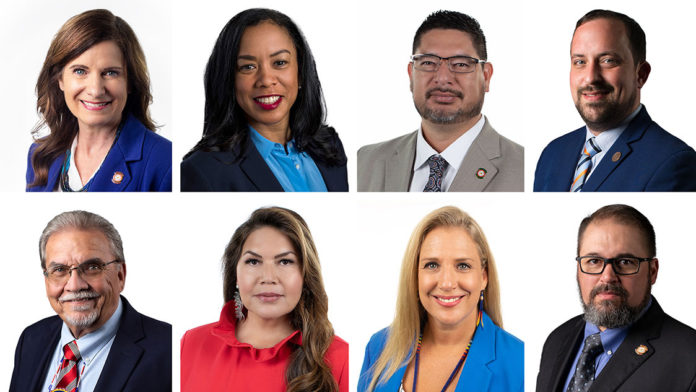 TAHLEQUAH, OK – Cherokee Nation Principal Chief Chuck Hoskin Jr. and Deputy Principal Chief Bryan Warner announced changes to the tribe's cabinet and administration staff and a nomination of a new Supreme Court justice.
"Deputy Chief Warner and I were so fortunate to work with so many great cabinet members during our first term," said Chief Hoskin. "They helped lead our nation through some of the most challenging times in Cherokee history and helped us seize so many great opportunities for the Cherokee people."
Chief Hoskin's second-term cabinet, if confirmed by the Council of the Cherokee Nation later this month, will consist of four women and four men leading various departments across the tribes' workforce of 4,700 government employees.
"Deputy Chief Warner and I are also grateful that cabinet members who have or will soon depart are doing so to pursue other wonderful opportunities to serve Cherokee Nation and Indian Country," said Chief Hoskin. "We are excited to begin this new term with some new team members and some continuing team members."
Hoskin / Warner Second-Term Nominations
Chad Harsha, Attorney General
Shella Bowlin, Secretary of State
Christina Justice, Secretary of Natural Resources
S. Joe Crittenden, Secretary of Veterans Affairs (reappointment)
Janees Taylor, Treasurer (reappointment)
Kim Teehee, Delegate to Congress (reappointment)
Shannon Buhl, Marshal (not yet subject to renomination)
Tina Glory-Jordan, Cherokee Nation Supreme Court
"Chief Hoskin and I believe in teamwork," Deputy Chief Warner said. "Whether it is he and I working as a team, working with our team of cabinet members, or watching and supporting the amazing work of the team of thousands of Cherokee Nation employees, we know that 'gadugi' — the Cherokee word for 'working together' — is the key to success. This second-term cabinet will lead us toward even more success at Cherokee Nation because these individuals represent some of the greatest attributes of the Cherokee people: integrity, wisdom and compassion."
The nominees will go before the Council of the Cherokee Nation on August 31 for consideration. Chief Hoskin and Deputy Chief Warner were re-elected to office on June 3rd to lead the Cherokee Nation, the largest tribe in the U.S. with more than 450,000 citizens. Inaugural ceremonies for Chief Hoskin, Deputy Chief Warner and newly elected and re-elected members of the Council of the Cherokee Nation will be held on August 14th in Tahlequah. The cabinet nominees will be submitted to the Council of the Cherokee Nation for confirmation later this month.