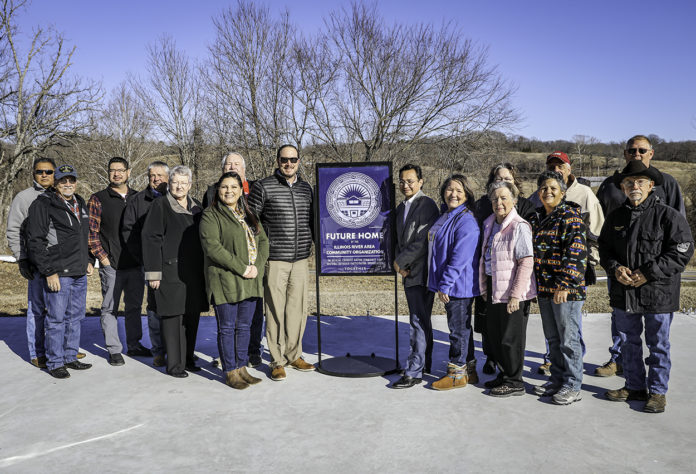 TAHLEQUAH, OK – Cherokee Nation leaders met with members of the Illinois River Area Community Organization and celebrated the early stages of construction for a multipurpose community building near the Illinois River.
Cherokee Nation has contributed more than $270,000 in funding for the first construction phases of the building, which will be located on East Steely Hollow Road in Tahlequah. The 8,000 sq. ft., two-story structure will serve as a site for community gatherings, cultural activities, fellowship, entertainment, and shelter once complete.
"Community matters, and that is why Deputy Chief Bryan Warner and I believe we ought to ensure local Cherokees have the resources to do what they do best, which is to take care of each other," said Principal Chief Chuck Hoskin Jr. "We are celebrating the great progress on this building, which will undoubtedly be an important resource and gathering place for this community in the near future. And if you look across the reservation, you can see many more buildings being constructed or refurbished. I think that's what the Cherokee people have asked for, and it has been important to Deputy Chief Warner and me to deliver on those requests."
The building will feature a great hall, a kitchen, multiple bathrooms, showers, a meeting room and other rooms purposed for overnight stay.
"Community is an important aspect of Cherokee culture, both in the physical sense and in the spiritual sense," said Deputy Chief Warner. "When complete, this new building will serve many purposes and be a blessing for the community that passes through it in the years to come."
Illinois River Area Community Organization President Kaye Callaway said the community building could also serve as a shelter for families seeking refuge during floods or other times of crisis.
"The most recent floods here back in 2017 left many people homeless and with no place to go," said Callaway. "When this is built, they can find shelter here. We will have showers, laundry facilities and sleeping facilities to house a lot of people. We are going to have a great building here and it's going to be huge. And we will use it however it's needed by the community. We are just very thankful that we have the opportunity to be partners with Cherokee Nation in order to help our community grow."
The Illinois River Area Community Organization was established in 2017. In 2019, Chief Hoskin and Deputy Chief Warner created the Housing, Jobs and Sustainable Communities Act (HJSCA), which was officially approved by the Council of the Cherokee Nation. As part of the Act, $7 million was set aside for sustainability grants to help Cherokee community organizations that partner with the tribe's Community & Cultural Outreach (CCO) program.
Funding from the 2019 legislation provided Cherokee organizations with an opportunity to install solar panels and decrease utility costs, or make other needed investments into their community services, organization projects, and community centers. Then in 2022, the Council approved a request by Chief Hoskin and Deputy Chief Warner to reauthorize and expand the HJSCA, which included setting aside an additional $7 million to help community organizations do even more over the next three years. In fiscal year 2022 alone, the tribe invested nearly $4 million of the funds into Cherokee community organization projects like the Illinois River Area Community Organization's multi-phased community building construction.
"One of our Cherokee values is that we are supposed to check on one another to see if we need anything, and that is exactly what the Illinois River Area Community Organization does," said Candessa Tehee, District 2 Councilor. "They lead the way in collaborative work in this area, and that's the basis of what Cherokee community is."
The Cherokee Nation has so far assisted with 45 community center building projects for Cherokee community organizations that are either completed or currently under construction. The HJSCA funding for Cherokee community groups has created more than 140 jobs since 2019. Today, approximately 70 organizations belong to the Cherokee Nation's CCO network of grassroots community organizations, including over 40 within the reservation and 25 at-large organizations.