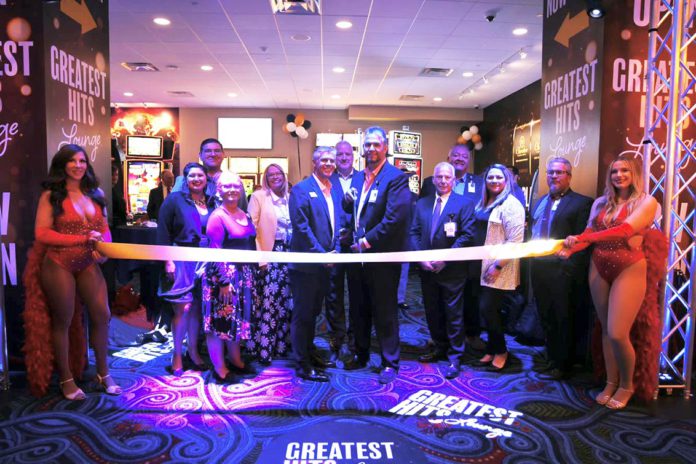 WEST SILOAM SPRINGS, OK – Some of the industry's best and most popular electronic games have a new home inside Cherokee Casino & Hotel West Siloam Springs with the grand opening of the Greatest Hits Lounge, located next to SEVEN Bar. The resort destination celebrated the opening of the new amenity with a ribbon-cutting in partnership with the Siloam Springs Chamber of Commerce.
The room is smoke-free, open 24 hours and holds nearly 80 of the most popular games at the West Siloam Springs location including The Hunt for Neptune's Gold®, Lightning Link®, Lucky Ducky®, Polar High Roller® and Silver Dollar Shootout®.
"We are excited to offer a state-of-the-art gaming experience that celebrates the best of what we have to offer in a clean, comfortable and sleek setting," said Tony Nagy, General Manager of Cherokee Casino & Hotel West Siloam Springs. "It's like no other in our region. Our patrons have been looking forward to having all of their favorite games in one room, so we expect this new atmosphere to become a cornerstone of our gaming floor."
Cherokee Casino & Hotel West Siloam Springs now offers nearly 1,700 electronic games at its resort destination, one of the largest gaming offerings in the region.
"Our community is very excited to celebrate Cherokee Casino's opening of the new Greatest Hits Lounge," said Arthur Hulbert, President and CEO of the Siloam Springs Chamber of Commerce. "We are looking forward to many people getting the opportunity to play awesome games in a smoke-free environment. We are also incredibly thankful to the Cherokee Nation for its positive impact on our region and commitment to excellence."