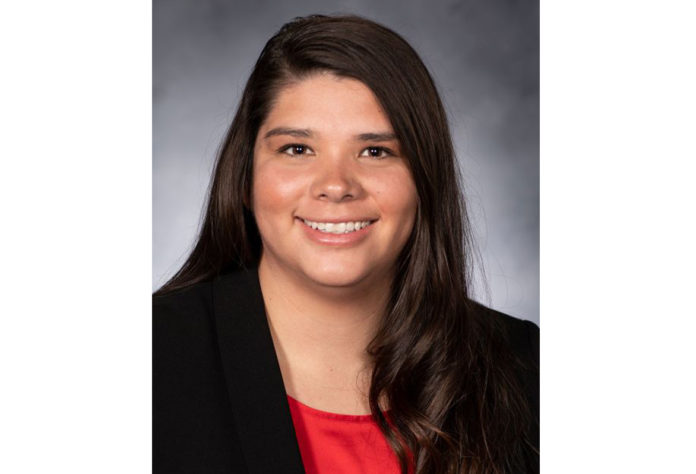 ADA, OK – Governor Bill Anoatubby has appointed Chickasaw citizen Catie Hamilton to Director of Cultural Enhancement for the Chickasaw Nation.
"Catie Hamilton brings both the cultural knowledge handed down through her family and formal education in First American leadership to her new role," said Governor Anoatubby. "Her education, life experience and commitment to our mission will enable her to serve the Chickasaw Nation well in this position."
Hamilton served the Chickasaw Nation previously as Heritage Preservation Senior Manager. Her promotion expands her duties while retaining previous managerial tasks. She will continue managing the Chickasaw Nation Internship Program, the Chickasaw Explorers Program and preservation of the Chickasaw Bank Museum, located in Tishomingo.
Additionally, Hamilton will oversee the staff located at Washita Farms and the Chickasaw Bank Museum through management agreements between the Chickasaw Nation, the Johnston County Historical Society and the Tishomingo National Wildlife Refuge.
"It is an honor to be promoted by Governor and to assist Chickasaw citizens in experiencing their heritage through our programs," said Hamilton. "Internships prepare our young citizens with the hands-on experience they will need to enter the workforce while also learning more about their Chickasaw culture through cultural activities and presentations. It's also a privilege to help young adults find their cultural identity with the Chickasaw Explorers Program as they reflect on our ancestors and visit sites in our Chickasaw homeland."
The Chickasaw Explorers Program is one of the most popular programs offered to citizens ages 18-35. Explorers travel to the ancestral homeland in Mississippi and take part in archeological digs at locations where ancient Chickasaw artifacts are recovered and preserved. Started in 2014, the Chickasaw Explorers Program selects 10 citizens annually for the two-week excursion. Citizens must submit an application and go through a selection process in order to qualify.
"It is fascinating to find artifacts that once belonged to our ancestors," said Hamilton. "Being on the land where they were prior to removal is both a blessing and thrilling. It is amazing to be Chickasaw. Our leadership set a standard for our people even before removal. The tribe's leadership has worked wonders to give back to the Chickasaw people. Being able to work and give back to the Chickasaw people is an absolute honor. I am amazed about where we were, how far we've come, how much we've endured and how we have thrived through the centuries."
Hamilton is the granddaughter of Chickasaw Hall of Fame inductee Rose Shields Jefferson, the oldest of 13 children born to Joseph and Minnie Allen Shields, whose parents were original Dawes Commission enrollees. She is married to Clovis Hamilton, Director of the Chickasaw Language Revitalization Program. They have a daughter, Emersyn.