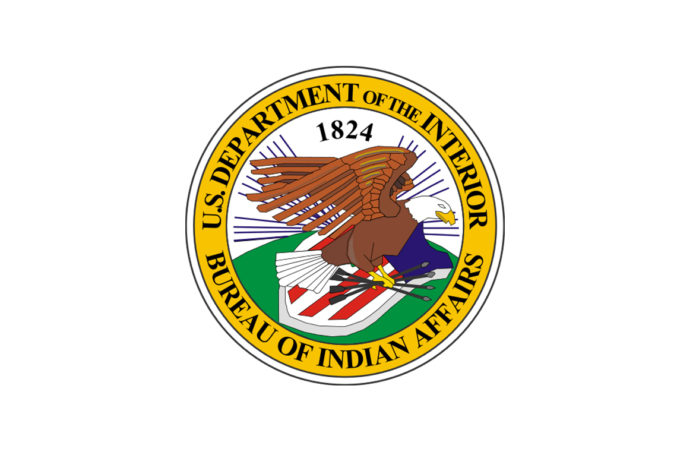 WASHINGTON, D.C. – The Bureau of Indian Affairs' (BIA) Division of Forestry Timber Team traveled to southern South Dakota in September to assist the Rosebud Sioux Tribal Forestry Department. The team helped the tribe with the layout, marking and cruising (measuring forestland to determine merchantability) of ponderosa pine trees to salvage materials lefts behind in the wake of the West SF Fire.
The West SF Fire of June 2022, caused by a downed powerline, burned through 3,810 acres just west of the community of St. Francis on the Rosebud Sioux Indian Reservation in an area called Crazy Horse Valley. The Timber Team was called on to assist the tribe in salvaging timber before invasive insects, such as the Ips pine beetles and the Asian long horn beetles, damage the integrity of the wood. The salvage process also helped prevent invasive species from spreading across the forest into the live and green stands of the ponderosa pine trees.
The Rosebud Sioux Tribe uses salvaged timber to turn profits for the tribe by taking salvaged timber to their mill to create usable wood products. The mill is operated by tribal members and have been successfully turning profits for the products they are able to create from salvaged timber since 1976. Products include picnic tables, benches, fence posts, and boards varying in dimensions depending on the need of the tribe or product they intend to create from the wood.
"The timber salvage team has played a crucial role at Rosebud; the team has provided knowledge and expertise to Rosebud Sioux Tribe's Tribal Forestry and me," said Ira Wilson, BIA Realty Officer and Rosebud Sioux tribal member who oversees the tribe's salvage operations. "The team, while sharing this knowledge and expertise, helped accomplish measuring and marking 145,000 board feet of ponderosa pine for processing at the tribal sawmill. A large part of being able to be successful in working with tribes is the willingness to be a partner and work together. The Timber Strike Team does just that – be a partner in success."
The Timber Team helped the tribe salvage 300 acres of ponderosa pine to produce the 145,000 board feet of usable wood product. The Timber Team also helped train Rosebud Sioux Tribal Forestry staff in using up-to-date cruising technology so tribal members can help salvage potential fire damaged trees in the future.