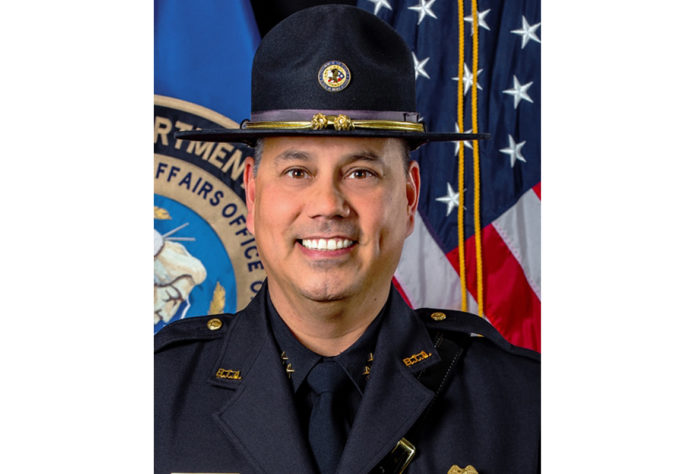 WASHINGTON, D.C. – The Bureau of Indian Affairs (BIA) has announced that Steven Juneau, an enrolled member of the Tlingit and Haida Tribes of Alaska, will be the Office of Justice Services (OJS) Acting Deputy Bureau Director beginning this month. Juneau is currently the Associate Director of the office's Professional Standards Directorate, where he is responsible for leading national training, policy, recruitment, retention, inspections, and cultural resource investigations.
Juneau has 29 years of experience in law enforcement within Indian Country. Outgoing OJS Deputy Bureau Director Jason O'Neal moves to his new post as Director of the Bureau of Land Management's Office of Law Enforcement and Security.
"I cannot underscore more strongly the importance of providing continuity of services to tribes and Indian people, not just because it is our responsibility, but because it is the right thing to do," said BIA Director Darryl LaCounte. "Steven Juneau has the experience and commitment to ensure we remain engaged in the complex public safety challenges in Indian Country and will endeavor to ensure our communities and people are safe."
Juneau joined the BIA Office of Justice Services in 1989 and has served in both staff and leadership positions at the agency, academy, and OJS district levels. He began as a police officer and then went on to become a sergeant/instructor, special agent, chief of police, and deputy chief of training. He was eventually promoted to the post of assistant district commander, and later, special agent-in-charge for the Phoenix district.
In 2012, Juneau became Deputy Associate Director of the BIA Office of Justice Services at its headquarters office in Washington, D.C., where he led the law enforcement division consisting of nine district offices throughout the nation. He also served as Director for the United States Indian Police Academy in Artesia, NM, and its Advanced Training Center in Camp Grafton, ND, from 2015 to February of 2022.
"I am honored to serve and support our Indian Country public safety employees and the significant mission for our communities," said Juneau. "I appreciate the confidence of leadership in my expertise and look forward to continuing the important work of the Office of Justice Services and the Bureau overall."
Juneau is a veteran of the U.S. Army and is himself a graduate of the Indian Police Academy as well as of the Federal Law Enforcement Training Center Leadership Institute, the FBI National Academy, and the Harvard University Kennedy School Executive Education Program. In addition to being a member the Tlingit and Haida Tribes of Alaska, Juneau has ancestry from the Blackfeet Nation in Montana, where he began his law enforcement career in 1987 as a tribal police officer.