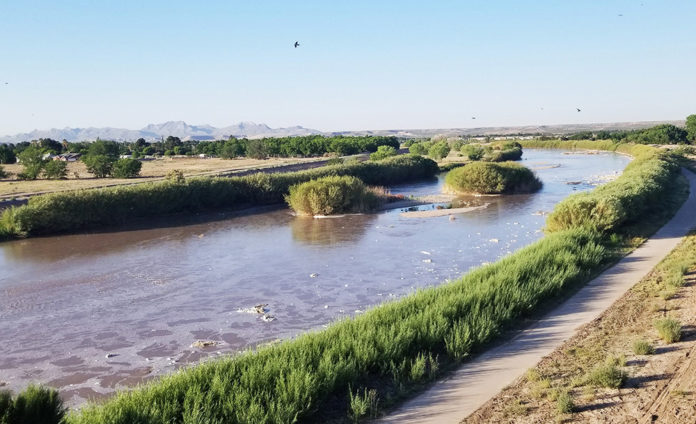 EL PASO, TX – Assistant Secretary for Water and Science Tanya Trujillo, Congresswoman Veronica Escobar and El Paso Water leadership celebrated a $20 million investment from President Biden's Bipartisan Infrastructure Law to support construction of an El Paso Advanced Water Purification facility. The funding was allocated as part of an over $310 million investment in water recycling and drought resilience projects. Once completed, the direct-to-distribution potable reuse project is expected to produce 13,000 acre-feet of water annually and reduce dependence on Rio Grande water and the Hueco-Mesilla Bolson Aquifer.
"In the wake of severe drought and low water allocations throughout the West, the Biden-Harris administration is making critical investments to provide reliable access to water for families, farmers and wildlife," said Assistant Secretary Trujillo. "This project will treat wastewater for potable reuse and then convey it directly to the city's distribution system, making it the first large scale project of its kind and enabling the community to diversify its water management toolbox."
The Bipartisan Infrastructure Law allocates $8.3 billion for Bureau of Reclamation water infrastructure projects over the next five years to advance drought resilience and expand access to clean water for families, farmers, and wildlife. The investment will repair aging water delivery systems, secure dams, complete rural water projects, protect aquatic ecosystems and fulfill Indian Water Rights Settlements. The funding highlighted is part of the $1 billion in WaterSMART Water Recycling and Reuse grants provided by the Law.
The $20 million investment in the El Paso Water Facility will be the next piece in a portfolio of projects resulting from various partnerships between the Bureau of Reclamation and the city of El Paso to assist the city in stretching its municipal water supply as drought grips the Southwest.
The group also toured the Kay Bailey Hutchison Desalination Plant, a facility which uses reverse osmosis to transform brackish water into fresh drinking water for east El Paso. The desalination facility has also previously received $2 million in funding from Reclamation.
Assistant Secretary Trujillo's visit to El Paso wrapped up a week of engagements in New Mexico and West Texas focused on ground-level drought impacts. During her visits, she met with local tribes, water managers, and fish and wildlife managers.