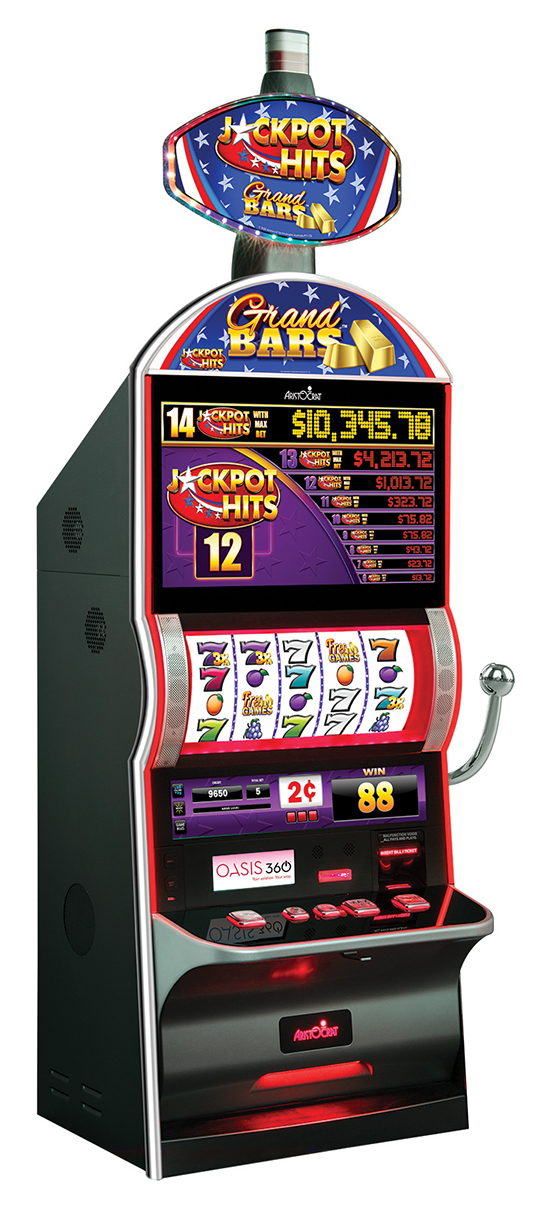 Aristocrat Gaming
Phone: (702) 270-1000
aristocratgaming.com
Class III
GRAND BARS™

The classic stepper fun of 7s and fruit meet a wealth of pick'em free games in the all-new Grand Bars™, a Class III stepper from Aristocrat Gaming™. Created especially for the new Relm™ 5-Reel cabinet, Grand Bars offers stepper players multi-level jackpot action with the chance to start the bonus with extra jackpot hit symbols.
Players are aiming for jackpot hits scatter symbols. When playing max bet, a player who collects seven or more jackpot hit symbols wins a corresponding progressive, ranging from seven collected symbols and growing all the way up to 15 collected symbols for big progressive jackpot wins. The top value jackpot is an SSP/SAP that resets at $5,500.
Features include jackpot hits scatters, which awards credits or progressive wins; multiplier, where wins may be multiplied by a multiplier; and free games, where a pick'em free games bonus awards extra free games, extra jackpot hits symbols, and unlimited retriggers.
Player selectable denominations range from 1, 2, and 5 cents. There is a 50-credit entry bet and a 250-credit max bet.Grand Bars is available exclusively on the new Relm 5-Reel cabinet, a perfect blend of nostalgic flare and next generation game play. Relm 5-Reel's features are fun for players and include a mechanical bell, high-def top glass and meter display, feature-driven edge lighting, protruding reel glass, retro chrome handle, denomination touch capability, and a mechanical button deck.
Grand excitement awaits in Grand Bars on the Relm 5-Reel stepper.