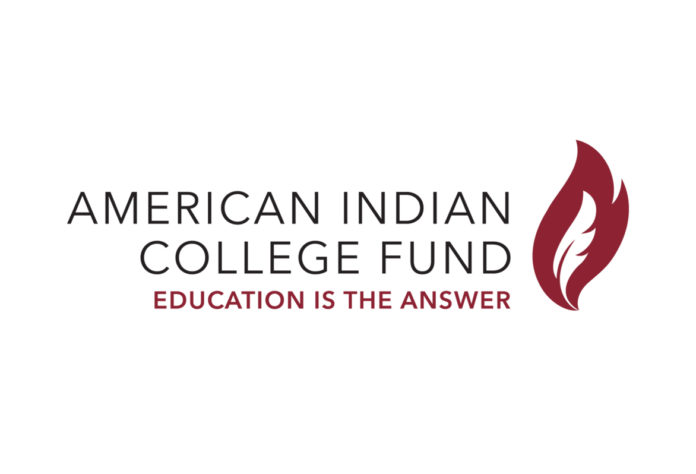 DENVER, CO – The American Indian College Fund's Future Energy Professionals Project has received $100,000 from Marathon Petroleum to provide scholarships and academic and career services to Native college students pursuing post-secondary credentials at tribal colleges and universities (TCUs) in New Mexico and North Dakota. The focus of the program is on students who plan to enter energy fields, where Native people are underrepresented.
The Future Energy Professionals Project will recruit outstanding Native scholars, provide financial awards, and empower students to achieve success and serve as leaders in their communities. An external panel of Native education, business, and community leaders with a unique understanding of Native communities will help to review program applicants from Navajo Technical University, Nueta Hidatsa Sahnish College, and United Tribes Technical College. Six scholars will receive scholarships to assist them with their education goals. Selected scholars will also have access to direct and virtual support resources, including an online mentoring program, a career-focused education planning system, student success and career coaching, and additional funding opportunities.
"Energy production and management of our natural resources are among the most critical issues faced by Indigenous people today," said Cheryl Crazy Bull, President and CEO of the American Indian College Fund. "One way for us to contribute to and influence decisions surrounding resources is for us to be well-educated and employed with energy and environmental companies. This partnership among tribal colleges and universities, the College Fund, and Marathon Petroleum provides a path to energy education and employment. We are excited for our students and for the contributions that they will make with their knowledge."
The scholarships are renewable, and the College Fund will monitor program scholars' progress to promote retention and graduation. The College Fund will host a meet-and-greet between Marathon Petroleum and program scholars and will work with Marathon Petroleum to develop a curriculum, site visits, and opportunities for engagement with scholars.
"One of our core values at Marathon is collaboration and actively partnering with stakeholders with unique perspectives that drive positive impact," said Robert Doore, enrolled member of Blackfeet Nation and Principal Stakeholder Engagement Representative at Marathon Petroleum. "The Indigenous people's perspective is unique and welcomed. We are excited to partner with the College Fund as this partnership allows us to learn from each other and make a positive impact, while embedding sustainability and creating a more diverse workforce."