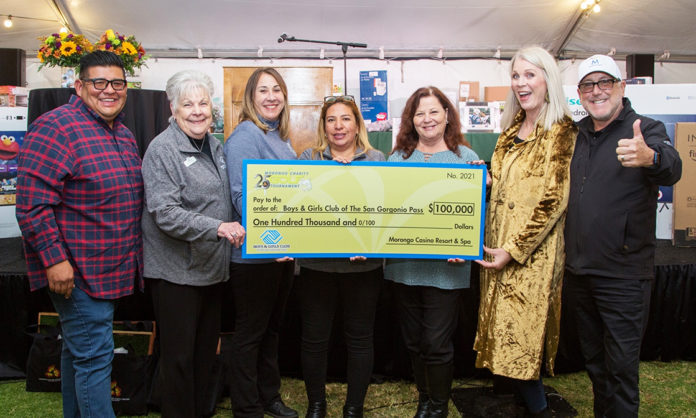 BEAUMONT, CA – Hundreds of golfers from across Southern California enjoyed a day of championship golf and prizes while raising money to support local youth at the 25th Annual Morongo Charity Golf Tournament, sponsored by the Morongo Casino Resort & Spa near Palm Springs, CA.
The annual fundraiser took place at the 36-hole Morongo Golf Club at Tukwet Canyon in Beaumont, CA. The championship course is the local home of the Southern California PGA and host to the annual IOA Championship on the Symetra Tour, the official qualifying tour of the LPGA.
To mark the 25th anniversary of the tournament, Morongo increased the amount raised to $100,000, which will help children and families served by the Boys & Girls Clubs of the San Gorgonio Pass. The funds will support the Boys & Girls Clubs' programs and provide local youth in need with new shoes, school clothes and backpacks filled with school supplies.
"Since launching a quarter-century ago, the Morongo Charity Golf Tournament has supported organizations that make a critical difference for children and families in the Pass," said James Siva, Morongo Tribal Vice Chair and the tournament's co-chair. "We are excited to be giving $100,000 to support programs at the Boys & Girls Clubs of the San Gorgonio Pass that increase the self-esteem and educational outcomes of local children and teens."
"Thanks to Morongo's unending generosity, our organization is able to fulfill our mission of helping young people, especially those who need us most, to reach their full potential as productive, caring, and responsible members of the community," said Amy Herr, Chief Executive Officer of the Boys & Girls Clubs of the San Gorgonio Pass.
Since 1997, the Morongo Charity Golf Tournament has raised over $2 million to support dozens of local nonprofits that serve children, schools, veterans, and hospitals across the region.
"Morongo is dedicated to helping community organizations who strengthen the quality of life in the Pass, and we are grateful to the players and sponsors who helped make our 25th annual charity golf tournament a huge success," said Brian Lugo, Morongo Tribal Council Member and the tournament's co-chair.
As part of the tournament, one lucky raffle ticket-holder won the choice of a $40,000 travel trailer, motor home, or 5th wheel. Other prizes included suites to a Lakers or Clippers NBA game for 10 people and a suite for 10 people at an NHL Kings game. Televisions, Apple products, smart home systems and more were among the other prizes.