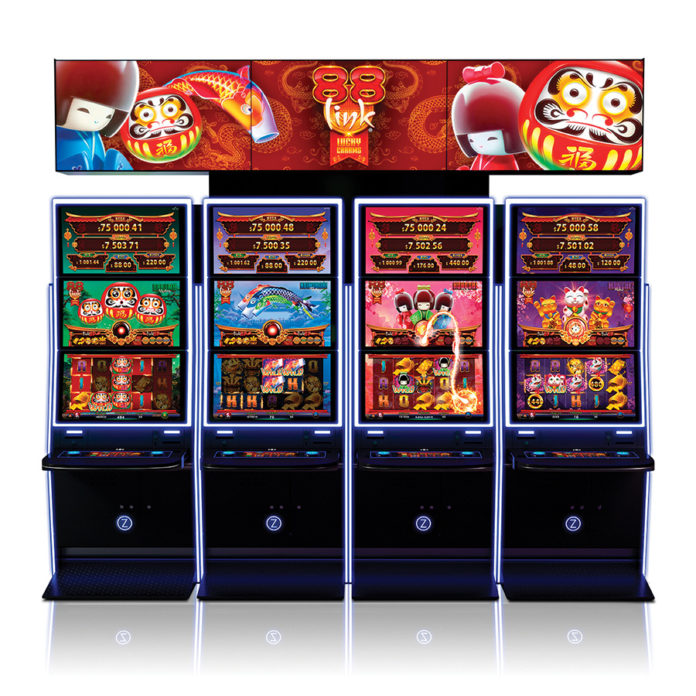 Zitro USA
Phone: (702) 249-4924
zitrogames.com
Class III
88 LINK – LUCKY CHARMS™

88 Link – Lucky Charms is a multi-game progressive link with four exclusive game titles – Daruma Mystery, Koinobori Party, Kokeshi Dolls and Maneki Neko – that feature colorful Asian-themed graphics with charms and figurines that bring luck and good fortune to players. All four are five-reel, 243-ways-to-win video slots with a five-level mystery jackpot bonus. This multi-game progressive link also includes the exciting "Link Up" feature that increases prizes and their values, and an energy ball so the player anticipates how close they are to entering the bonus link game.
88 Link – Lucky Charms is presented on the ultra-slim Allure Glare cabinet with 3×27" Full HD monitors, along with the SynchroScreen feature, which synchronizes each of the upper screens, creating a stunning visual spectacle. It also includes a SmartDeck keypad that increases operator's efficiency and players comfort for a long-lasting game play.
Whether it's the HD graphics; the spectacular surround sound system or the appealing and innovative multiway game mechanics, 88 Link – Lucky Charms offers players a truly immersive gaming experience.