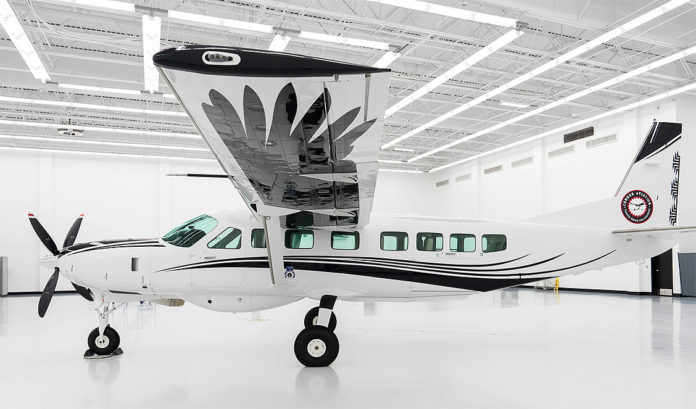 WICHITA, KS – The Yurok Tribe's Condor Aviation has purchased a Cessna Grand Caravan EX aircraft. The special missions Grand Caravan EX aircraft will increase the tribe's capacity to perform large-scale environmental restoration projects, evaluate long-term natural resource management decisions and quantify the effects of climate change.
The Yurok Tribe will make use of state-of-the-art Light Detection and Ranging (LiDAR) systems and high-end aerial imaging equipment to create three-dimensional maps of the Earth's surface and collect a broad range of data regarding terrestrial and aquatic habitats, including rivers, lakes and oceans.
"This new aircraft will significantly enhance our ability to holistically restore salmon-spawning streams and make our landscape more resilient to climate change," said Yurok Vice Chairman Frankie Myers. "We employ LiDAR data and high-definition aerial imagery to maximize the efficacy of our efforts to rebuild biologically diverse ecosystems and repair fire-damaged forests in Northern California."
The Grand Caravan EX joins a Cessna Turbo Skylane already in service with Condor Aviation. In addition to tribal projects, Condor Aviation, in conjunction with the Yurok Fisheries Department's technical team, provides precision mapping and high-resolution imaging services to a wide range of clients from California to Alaska.