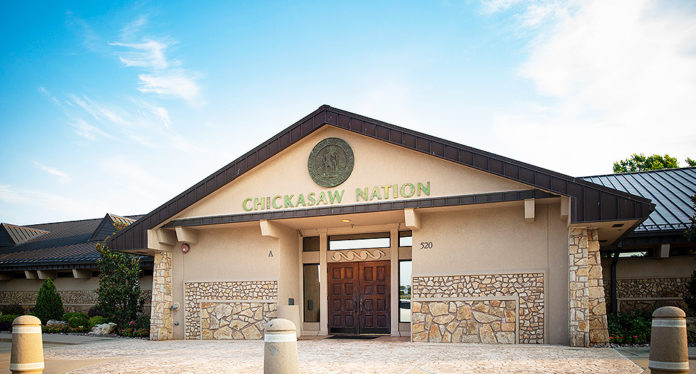 ADA, OK – As the year ends, the Chickasaw Nation has fulfilled its mission to enhance the overall quality of life of the Chickasaw people through the launch of several innovative programs and services. The year was also filled with significant milestones and achievements accomplished through service.
Chickasaw Nation Governor Bill Anoatubby celebrated this progress as he delivered his State of the Nation address in the newly constructed Aiitafama' Ishto, situated near the historic Chickasaw National Capitol in Tishomingo. Built as the home for the Chickasaw annual meeting, the facility first opened its doors Oct. 1, symbolic of the tremendous growth and progress of the Chickasaw Nation during the past three decades. The new 50,000 sq. ft. facility seats 2,400 people and will be utilized to host meetings, conferences and gatherings for the Chickasaw Nation.
The Chickasaw Annual Meeting and Festival returned to an in-person event this year after a two-year transition to virtual programming due to the pandemic. More than 11,450 Chickasaws and community members from 31 states visited Saturday, Oct. 1, to attend and enjoy events, including the Southeastern Arts Show and Market (SEASAM). The week-long festivities also featured significant events such as the Chickasaw Princess Pageant in Ada, Cultural Evening in Sulphur and an array of activities for all ages.
The Artesian Arts Festival returned to downtown Sulphur in June for an in-person event following a two-year hiatus. An estimated 5,000 art enthusiasts attended the ninth annual event to experience the colorful and diverse art of more than 50 Chickasaw artists.
Construction continues on many economic development projects throughout the Chickasaw Nation, including an expansion at WinStar World Casino and Resort in Thackerville; a resort at Lake Texoma, near Kingston; and a hotel at Lake Murray in Ardmore.
Another significant project, the OKANA Resort & Indoor Waterpark in Oklahoma City, began to take shape this year. A groundbreaking ceremony was conducted in late October. Situated near the First Americans Museum, the resort will feature an 11-story, 404-room hotel and a 5-acre outdoor adventure lagoon. The resort also will include a family entertainment center, a large indoor waterpark, conference center space, spa and golf simulator, multiple retail outlets and dining options.
"OKANA Resort & Indoor Waterpark has been designed to complement the First Americans Museum's focus on cultural experience as well as connect visitors to other entertainment experiences along this established and vibrant part of the Oklahoma River," said Governor Anoatubby.
The economic development projects will help generate revenue for the future and fund vital programs and services, which enhance the lives of Chickasaw people.
Youth
Strides to better serve Chickasaw youth were taken, as ground was broken for a new Chickasaw Youth Club in Ardmore on May 2. Also located in Tishomingo and Sulphur, the youth clubs host educational after-school and summer activities for Chickasaw students.
"The youth clubs provide access to health and nutrition, career development and life skills, art, sports and fitness, and Chickasaw history and culture, and this new youth club building will allow us to expand this valuable program to the Ardmore area," said Governor Anoatubby at the groundbreaking.
Summer 2022 saw the return of in-person Chickasaw Nation summer camps, clinics and academies, which hosted 1,600 students this year.
Six thousand Chickasaw students earned more than $28 million in higher education grants and scholarships last year, and dozens of younger students graduated from Chickasaw Nation Early Childhood and Head Start programs across South-Central Oklahoma.
Hundreds of Chickasaw students discovered opportunities to learn and connect to Chickasaw culture through programs ranging from the child development centers to science, technology, engineering and math (STEM) programs.
"We have educational resources to assist students of all ages and in all phases of life," said Governor Anoatubby during his State of the Nation address. "It is important that we offer these invaluable opportunities for our youth to learn, grow and develop in a safe and positive environment."
Health
Delivering exceptional health care services has long been a top priority for the Chickasaw Nation, and a great number of Chickasaw citizens and First Americans benefited in the past year. Several enhancements and expansions were implemented recently, enabling swift delivery of preventative medicine and nutrition and integrated services to First Americans.
One initiative, Chickasha Anokfilli' (Thinking Chickasaw), emphasizes the importance of mental wellness. Another program, Medical Family Therapy, a unique approach to health based on traditional Chickasaw values of caring for the whole person, completed about 16,000 in-person visits and provided more than 3,400 virtual visits this year.
The Impa'chi (Let's Eat) program served more than 88,000 meals directly to children at sites throughout the Chickasaw Nation and shipped about 680,000 meals to Chickasaw youth in 2022. Likewise, the Packed Promise program served more than 1,600 school-aged Chickasaw children monthly and more than 4,000 Chickasaw seniors took part in the Winter Fruit and Vegetable program.
The Chickasaw Nation Department of Health (CNDH) expects 1.2 million patient interactions at hospitals and clinics by year-end. The tribal pharmacy filled 1.4 million prescriptions and mailed more than 600,000 more across the country. Nearly 1,000 First American babies were born at the medical center, and 30,000 pediatric visits took place this year.
In 2022, CNDH was honored with numerous awards, including the Lee Allen Smith Award for engaging community efforts and creating a legacy of pride for future generations, the TOP level Leadership in Excellence award from the Oklahoma Quality Foundation and a perfect five-star rating from the Center for Medicare and Medicaid Services. The rating, based on patient survey scores, ranks Chickasaw Nation Medical Center as one of the top hospitals in the state and puts the hospital in the top 15.9 percent of hospitals in the country, establishing it as a part of an elite group of national hospitals selected to earn this rating.
This year's launch of a new website, ChickasawNationHealth.net, provides patients a resource to health information, providers, locations and services.
Culture and Language
The decade spanning 2022-2032 is designated "Chikashshanompa' Ilanompoli' (Let's Speak Chickasaw): A Decade of Chickasaw Language" thanks to a gubernatorial proclamation issued by Governor Anoatubby this year.
Governor Anoatubby's proclamation mirrors a United Nations' proclamation of 2022- 2032 "International Decade of Indigenous Languages," which invites Indigenous peoples, as guardians of their language, to initiate ideas for preserving this endangered facet of their cultural and social life. The proclamation also draws attention to the need to preserve and promote Indigenous languages worldwide.
One strategy to preserve and share Chickasaw language is to utilize new technology. New opportunities emerged this year, including the launch of apps "Anompa: A Chickasaw Word Game," Choctaw Hymns and the Chikasha Emoji app. Other opportunities include the Chickasaw Language Basics app, Chickasaw Nation Culture and Humanities YouTube channel, AChickasawDictionary.com, language clubs for all ages, and Rosetta Stone Chickasaw, among others.
Fully implemented this year, the Chikasha Academy Adult Immersion Program, a small group of Chickasaws learning the language from fluent speakers, aims to develop additional fluent speakers to preserve the language.
Sharing the Story
Chickasaw Nation Productions' feature film Montford: The Chickasaw Rancher was honored this year with two Western Heritage Awards from the National Cowboy and Western Heritage Museum in 2022. The awards were presented during the 61st annual Western Heritage Awards ceremony on April 9.
The Western Heritage Awards honors those who have made significant contributions to Western heritage through creative works in literature, music, television and film that share the great stories of the American West.
Montford: The Chickasaw Rancher was awarded as a 2022 Western Heritage Award winner for Outstanding Television Feature Film and Outstanding Traditional Western Music Album. Governor Anoatubby accepted both awards, saying it was a tremendous honor for the film to be recognized among so many esteemed and celebrated individuals and creative works. The film, released in 2021, shares the true story of Chickasaw Montford Johnson's efforts to establish a vast ranching empire along the famous cattle highway of the American West, the Chisholm Trail.
Business Center
Governor Anoatubby announced the establishment of a small business incubator program, Apelachi Business Center, through the Chickasaw Business Network this year. The Apelachi Business Center will assist First Americans with their entrepreneurial endeavors. Through the development of new programs and services, the Chickasaw Nation continues to work to meet this mission, as well as contribute to the community.
Business ventures fund and enhance programs and services for Chickasaw people, whose numbers continue to grow with more than 76,000 citizens across the globe.
The Chickasaw Nation's diverse business portfolio includes more than 100 business holdings, including manufacturing, energy, health care, media, technology, hospitality, retail and tourism. The Chickasaw Nation's annual economic impact in the State of Oklahoma is $5.5 billion, supporting more than 34,400 jobs and $1.8 billion in wages and benefits.