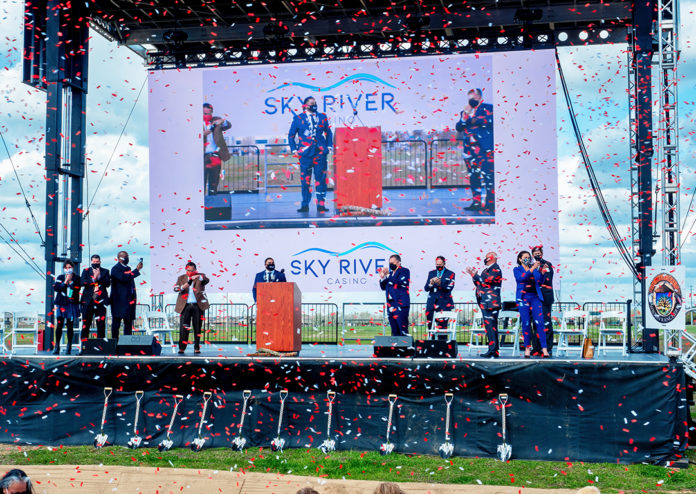 Wilton Rancheria and its partner Boyd Gaming Corporation recently broke ground on "Sky River Casino," the tribe's long-planned project in Elk Grove, CA. Scheduled to open in the second half of 2022, Sky River Casino is being developed and managed by Las Vegas-based Boyd Gaming on behalf of the tribe.
"We are excited to achieve this critical milestone in our economic development and path toward self-sufficiency," said Tribal Chairman Jesus Tarango. "We thank Boyd Gaming, the Elk Grove community, the city and leaders at the local, state and federal level for their tireless support and for believing in our vision of a better future."
"We are honored to partner with our friends at Wilton Rancheria in creating a secure and prosperous future for the tribal membership and their generations to come," said Keith Smith, President and Chief Executive Officer of Boyd Gaming. "Together, we will create an entertainment destination that this entire community can take pride in, one that will deliver significant and lasting benefits for the tribe and the City of Elk Grove."
The Sky River project will enable the tribe to improve housing, education, and healthcare for its more than 800 members and ensure that the tribal culture, heritage and language are protected and preserved. The casino project will create thousands of jobs and major long-term benefits for Elk Grove and the surrounding economy. Wilton Rancheria has agreed to invest $186 million over the first 20 years with the City of Elk Grove and Sacramento County to support police, schools, roads and other services.
Sky River Casino will be the closest casino to both Sacramento and the south Bay Area. The tribe has secured full project financing from a third party. At its opening, the casino will include 2,000 slot machines, more than 80 table games and 12 distinct dining options featuring the best in casual and made-from-scratch cuisine, from an upscale steakhouse to a pub focusing on regional beers and products. The casino will be built on 35.9 acres of land west of Hwy 99.
In 2019, the National Indian Gaming Commission (NIGC) approved the management agreement between Wilton Rancheria and Boyd Gaming to build a resort and casino on the site. The land was placed in federal trust in February 2017 and later that year then-Governor Jerry Brown and the Tribe signed a Gaming Compact, which was ratified unanimously by the State Senate and Assembly.