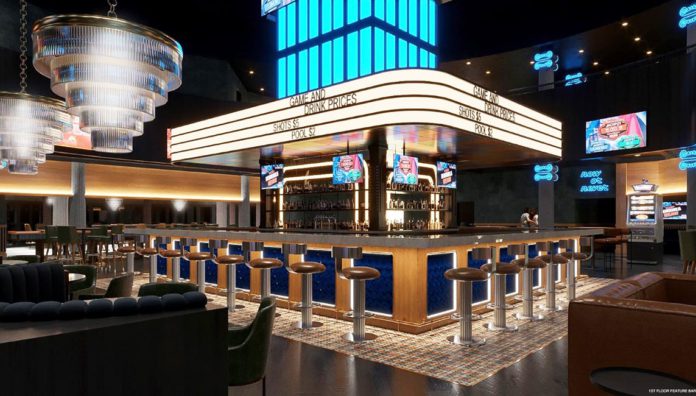 VERONA, NY – This winter, NY Rec & Social Club, a modern lounge and sportsbook at Turning Stone Resort Casino, will celebrate its grand opening on Wednesday, December 6. NY Rec & Social Club will be the first venue to open as part of Turning Stone's $370 million expansion and represents the most significant addition to the Exit 33 entertainment complex since Turning Stone opened it 10 years ago.

The Lounge with Caesars Sportsbook will move to NY Rec & Social Club, offering guests a more playful nightlife and dining experience that combines a sophisticated restaurant lounge with a traditional sportsbook. NY Rec & Social Club will have a speakeasy tone designed to be a fun place to socialize with friends. The bar, located in the center of the main room, will be dappled with crystal chandeliers and will serve a variety of signature cocktails. NY Rec & Social Club will also feature 60 high-definition TV screens for sports viewing.
In the former location of LAVA, NY Rec & Social Club will transition into a sportsbook and lounge, complete with a live DJ. The new venue will also feature table games, such as blackjack, social games including foosball, shuffleboard and billiards and can accommodate seating for nearly 200 guests on the first level with additional seating on the expansive outdoor patio. The upper level can be reserved for private events.
"NY Rec & Social Club will be one of the most unique entertainment venues in the region," said Ray Halbritter, Oneida Indian Nation Representative and Turning Stone Enterprises CEO. "As an industry leader for the last 30 years, venues like NY Rec & Social Club ensure that Turning Stone remains an industry leader for the next 30 years."

In preparation of the opening, Turning Stone will host a hiring event on Tuesday, September 26 from 11:00am to 7:00pm to fill a range of full- and part-time positions for its grand opening team. Positions include: sous chefs, cooks, bartenders, barbacks, table game dealers, sportsbook writers, hostesses, servers, dining attendants and supervisors.