WELCH, MN – Treasure Island Resort & Casino and the St. Paul Saints have announced an extended partnership and unveiled a "Goin' Yard for Youth" community program in support of youth development. Treasure Island is the exclusive casino sponsor of the Saints – entering its eighth season as Founding Partner of CHS Field and the title sponsor of the Treasure Island Terrace and the Treasure Island Berm.
In 2016, Treasure Island added a ship down the right field line at CHS Field, and a tradition was born. Each time a Saints player hit a home run, the cannons from the ship went off. That practice will continue this year, and additionally, Treasure Island and the Saints will donate $500 for every home run hit by a Saints player at CHS Field during the 2022 regular season to a local nonprofit organization in support of youth and education. Proceeds from the newly created program will go to a different 501© (3) certified organization each month, beginning with Athletes Committed to Educating Students (ACES) Foundation in April and May. A longstanding community partner of both Treasure Island and the Saints, the mission of ACES is to help reduce the academic opportunity gap in the Twin Cities and improve the likelihood of success for underserved students.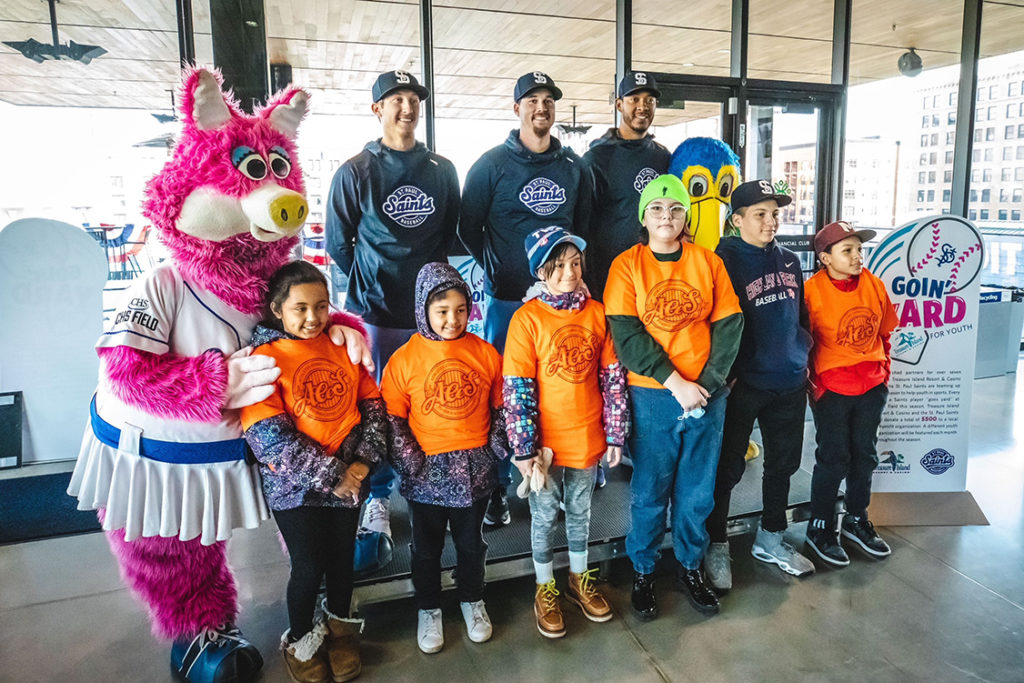 "Our relationship with the Saints is very special to us," said Prairie Island Indian Community Tribal Council President Johnny Johnson. "The Saints are such wonderful partners, and we are very grateful to them for their commitment to bringing more awareness to the rich heritage, traditions and culture of our tribal community and those who came long before us. We are also very excited to continue to give back to youth in our community through our Goin' Yard for Youth program. We hope the Saints hit a lot of home runs this season!"
"This is such an exciting time for the Saints as we extend our Founding Partner relationship with Treasure Island Resort & Casino and the Prairie Island Indian Community," said Saints Executive Vice President and General Manager Derek Sharrer. "Treasure Island has had a significant presence with the Saints here at CHS Field since it opened in 2015. From the Treasure Island Terrace in right field to the Treasure Island Berm in left, to the Treasure Island Ship cannons that fire after every Saints home run, our fans know how important Treasure Island is to the Saints experience. As we move forward with this important partnership, we are thrilled to add an impactful community engagement program that will help generate meaningful funds for five incredible organizations, each with a focus on kids and education."
"ACES is proud of and grateful for our longstanding partnership with the St. Paul Saints and Treasure Island Resort & Casino, and we are especially honored to be the first organization supported through the Goin' Yard for Youth program," said ACES Executive Director Christina Saunders. "As students continue to navigate a multitude of pandemic-related challenges, they need academic and social support from programs like ACES more than ever. How we respond now will have a lasting impact, and the Saints and Treasure Island are stepping up to the plate for our Twin Cities community."
The Saints will honor the rich heritage, culture and traditions of the Prairie Island Indian Community during its annual Native American Heritage Night, to be held this season on Thursday, September 1. As part of the celebration, for the first time ever, Saints players will wear specially designed custom Native American Heritage uniforms, which were created in collaboration between Treasure Island and the Saints. The jerseys will be auctioned to the public following the game, with proceeds to benefit a local Native American non-profit organization.
Since 1994, the Prairie Island Indian Community, which owns and operates Treasure Island Resort & Casino, has donated over $22.5 million to many non-profit and community organizations. Treasure Island's giving supports non-profits that are designated 501 (c)(3) organizations.