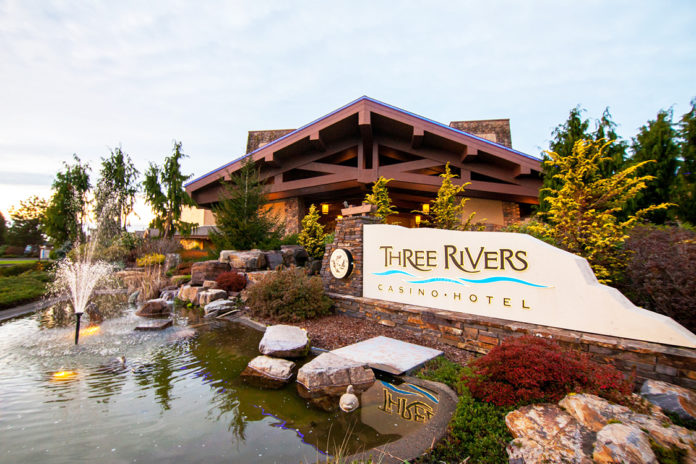 FLORENCE, OR – The Three Rivers Foundation announced it is awarding significant grants to help people throughout Western Oregon. The foundation, established by the Confederated Tribes of Coos, Lower Umpqua and Siuslaw Indians as the charitable arm of its Three Rivers Casino Resort, will distribute $1.4 million in funding to 100 organizations from six Oregon counties.
"These grants trickle down and make a positive impact on communities in Coos, Curry, Douglas, Lane and Lincoln counties," said Doug Barrett, Tribal Council member and Three Rivers Foundation Board of Trustees Chair. "It has been great to work with our board to give away this money to so many great organizations and tribes that help so many families and individuals."
Counties receiving grants are:
Coos Bay – 28 organizations
Curry – 7 organizations
Douglas – 10 organizations
Lane – 50 organizations
Lincoln – 5 organizations
The Three Rivers Foundation supports innovative ideas, collaborative approaches and grassroots efforts in education, health, public safety, problem gambling, the arts, environment, cultural activities and historic preservation. Since it began awarding grants in 2012, the foundation has given out $2,694,340.

Food Backpacks for Kids in Florence, which helps ensure no kid goes hungry, received $10,000 for its programming.

"It is the remarkable generosity of people and businesses like Three Rivers that allow us to make this program sustainable," said Dale Edwards, CEO of Food Backpacks for Kids. "These children find themselves in food insecurity at no cause of their own,"
The Boys and Girls Clubs of Emerald Valley, which stayed open to serve kids during the pandemic, was awarded $25,000.
"Three Rivers Foundation understands the urgent need to help ignite the imagination and interest of kids – especially traditionally underrepresented groups like girls and young people of color – to the possibility that STEAM learning can provide for enhancing their fundamental skills at school," said Matt Sorensen, Chief Executive Officer of the Boys & Girls Club of Emerald Valley. "With this grant money, our organization can expand these programs and serve even more kids."
The Three Rivers Foundation also awarded grants to health care organizations that found themselves on the front lines during this pandemic.
"We are extremely grateful to the Three Rivers Foundation for their generous support," said Doreen Kelly, South Coast Hospice & Palliative Care Services, Inc. "When we informed them of the ongoing need to test our staff for exposure to COVID-19 to best protect the terminally ill in our care and our staff, they came to our aid."
A life-saving funding of $25,000 was also awarded to the Central Coast Humane Society (CCHS).
"The grant is being used to spay/neuter, vaccinate, treat illnesses and injuries, and help feed community cat colonies," said Barbara Perry, President of CCHS. "They provide much needed peace and purpose for their caregivers. We are truly grateful to the Three Rivers Foundation."