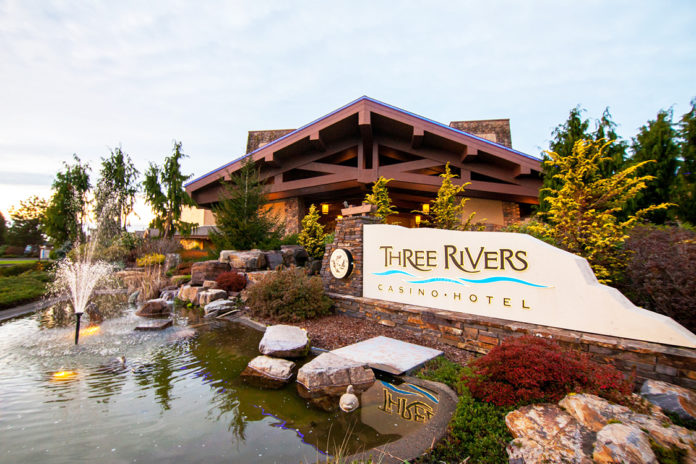 FLORENCE, OR – The Three Rivers Foundation, established by the Confederated Tribes of Coos, Lower Umpqua and Siuslaw Indians as the charitable arm of its Three Rivers Casino Resort, awarded $1.1 million in funding to 117 organizations in Oregon. With nearly ten thousand non-profits operating in Oregon, funding is crucial. The foundation received a major increase in applications this year, allowing it to grant 62 nonprofits first-time grant funding.
"It makes my heart feel good," said Doug Barrett, Tribal Council member. "It feels good getting to see what these organizations are doing with the money, whether it be the food banks, helping the youth through their struggles, whatever the money goes, it is pretty awesome."
The Three Rivers Foundation supports innovative ideas, collaborative approaches and grassroots efforts in education, health, public safety, problem gambling, the arts, the environment, cultural activities and historic preservation. Several members of the Tribal Council were present at a February 16 luncheon at the Florence Casino held to honor the grant recipients.
"When I have a rough time throughout the year, I think of [the] positive energy that's going on in this room [today] – helping the community, bringing the community together, and strengthening it," said Chief Doc Slyter, Confederated Tribes of Coos, Lower Umpqua and Siuslaw Indians. "What a positive thing to do."
The Cascades Raptor Center was one of the 117 non-profits to receive funding. The foundation awarded the popular center $10,000 to expand its educational programming.
"Now we will be able to serve more communities, rural communities who don't have the means to rent buses or make it to the raptor center for education," said Jennifer Monegan, Senior Development Officer Cascades Raptor Center. "It's such an incredible gift to the community from the Three Rivers Foundation."
Children's Repertory Of Oregon Workshops (C.R.O.W.) received $21,000. It will use the funding to support its main stage musical, The SpongeBob Musical.
"It's amazing, and we are so grateful for the funding," said Melanie Heard, founder of C.R.O.W. "The Three Rivers Foundation is incredible. They do so much for the community; every need has been met and is truly touching. The arts are really important, and it was very special that the Three Rivers Foundation recognized that."
Boys and Girls Club of Western Lane County received $25,000. It plans on using the grant to fund its outside healthy habitat for its kids and teens to use in the cold and rainy winter and spring months. "There's a lot of rain here and our kids are stuck inside a lot and so we don't have gym space at our facility or anywhere close by that they can go," said Vanessa Buss, CEO of the Boys and Girls Club of Western Lane County. "We are so very grateful that we have Three Rivers Casino here in Florence to help support the work that we do as a community."
Organizations that received grant money are as follows:
| | | |
| --- | --- | --- |
| Organization Name | County Located | Amount Funded |
| Bay Area Cancer Center | Coos | $12,485.00 |
| Boys & Girls Club of Southwestern OR | Coos | $5,000.00 |
| Central Coos Fire & Rescue | Coos | $3,967.60 |
| College Park CommunityChurch | Coos | $2,350.00 |
| Coos Art Museum | Coos | $1,500.00 |
| Coos Bay Public Library | Coos | $3,500.00 |
| Coos County 4-H Association | Coos | $12,000.00 |
| Coquille Indian Tribe | Coos | $28,401.00 |
| Dolphin Players Club | Coos | $1,400.00 |
| Little Theatre on the Bay | Coos | $8,000.00 |
| Marshfield Pioneer Cemetary | Coos | $5,000.00 |
| Myrtle Point Senior Citizen Center | Coos | $15,000.00 |
| North Bend Senior Center | Coos | $4,900.00 |
| Oregon Coast Youth Symphony Festival Association | Coos | $1,500.00 |
| Pelican Harbor | Coos | $15,000.00 |
| Southwestern Oregon Community College Fund | Coos | $5,000.00 |
| The Evergreen Quest | Coos | $7,500.00 |
| The Lighthouse School | Coos | $8,900.00 |
| The Nancy Devereux Center | Coos | $5,000.00 |
| Veterans of Foreign Wars Frank C High Medal Post 3440 | Coos | $5,000.00 |
| Waterfall Community Helalth Center | Coos | $5,000.00 |
| Brookings Harbor Community Helpers, Inc. | Curry | $25,000.00 |
| Curry County Master Gardner | Curry | $10,000.00 |
| The Common Good | Curry | $10,000.00 |
| The Gold Beach Senior Center | Curry | $5,000.00 |
| Boys & Girls Club of Umpqua Valley | Douglas | $5,000.00 |
| Camp Millenium | Douglas | $10,000.00 |
| Community Presbyterian Church Warming Center | Douglas | $5,000.00 |
| Douglas County Children's Center | Douglas | $5,000.00 |
| Family Development Center/Douglas County Relief Nursery | Douglas | $15,000.00 |
| General Assembly of the Church of God | Douglas | $5,000.00 |
| Kellogg Rural Fire Department | Douglas | $4,520.00 |
| NeighborWorks Umpqua | Douglas | $15,000.00 |
| Safe Haven Maternity Home | Douglas | $5,000.00 |
| Source One Serenity | Douglas | $5,000.00 |
| South Douglas Food Bank | Douglas | $5,000.00 |
| St Francis Xavier Conference St Vincent De Paul | Douglas | $10,000.00 |
| Umpqua Valley Farm to School | Douglas | $15,000.00 |
| Umpqua Valley South Coast District of Oregon Music Teacher Association | Douglas | $750.00 |
| United Community Action Network | Douglas | $15,000.00 |
| 1st Way Pregnancy Crisis Center | Lane | $30,000.00 |
| Angel Flight West – Oregon Wing | Lane | $5,000.00 |
| Back2Youth | Lane | $10,000.00 |
| Bags of Love | Lane | $10,000.00 |
| Bethel Education Foundation | Lane | $8,000.00 |
| Boys & Girls Club of Western Lane County | Lane | $25,000.00 |
| CAFA – Christians as Family Advocates | Lane | $5,000.00 |
| Cascade Health Foundation | Lane | $10,000.00 |
| Cascades Raptor Center | Lane | $10,000.00 |
| Center for Community Counseling | Lane | $5,000.00 |
| Community Alliance of Lane County | Lane | $10,000.00 |
| Cornerstone Community Housing | Lane | $7,500.00 |
| C.R.O.W. | Lane | $21,000.00 |
| Crushers Softball | Lane | |
| Daisy C.H.A.I.N. | Lane | $8,000.00 |
| Deadwood Creek Services, Inc | Lane | $30,000.00 |
| Direction Service | Lane | $19,900.00 |
| Emergence Addiction and Behavorial Therapies | Lane | $15,000.00 |
| Eugene Metro FC | Lane | $12,000.00 |
| Eugene Science Center | Lane | $10,000.00 |
| Fern Ridge Community Partnership | Lane | $6,000.00 |
| Florence Emergency Cold Weather Shelter Committee | Lane | $5,000.00 |
| Florence Farmers Market | Lane | $3,075.00 |
| Florence Food Share | Lane | $7,500.00 |
| Florence Senior Center | Lane | $3,500.00 |
| Florence United Methodist Free Lunch Program | Lane | $3,000.00 |
| Food Backpack 4 Kids | Lane | $15,000.00 |
| HIV Alliance | Lane | $3,000.00 |
| Hosea Youth Services | Lane | $10,000.00 |
| Interfaith Food Hub | Lane | $6,000.00 |
| Junction City Local Aid | Lane | $4,000.00 |
| Junction City/Harrisburg/Monroe Habitat Humanity | Lane | $5,000.00 |
| Lane County Diaper Bank | Lane | $10,000.00 |
| Lane County Stand Down | Lane | $10,000.00 |
| Lane DUII Victim Impact Panel | Lane | $10,273.00 |
| Looking Glass Community Services | Lane | $24,140.00 |
| Love for Lane County | Lane | $5,000.00 |
| Mapleton Food Share | Lane | $30,000.00 |
| Mapleton Water District | Lane | $40,000.00 |
| Mid Lane Cares | Lane | $3,000.00 |
| Northwest Youth Corps | Lane | $4,300.00 |
| Oak Hill School | Lane | $10,000.00 |
| Oregon Coast Humane Society | Lane | $15,000.00 |
| Oregon Coast Military Museum | Lane | $10,000.00 |
| Oregon Genealogical Society | Lane | $2,000.00 |
| Our Community Birth Center | Lane | $8,525.00 |
| Pleasant Hill Goshen Fire & Recure | Lane | $12,500.00 |
| Pregnancy and Parenting Center | Lane | $4,000.00 |
| Pro Bone O Vet Care | Lane | $10,000.00 |
| Project Graduation | Lane | $10,000.00 |
| Reality Kitchen Non Profit | Lane | $10,000.00 |
| Relief Nursery, Inc | Lane | $10,000.00 |
| River Road Park and Recreation District – Veterans Program | Lane | $10,000.00 |
| River Road Park and Recreation District – Teen Program | Lane | $5,000.00 |
| River Road Santa Clara Volunteer Library | Lane | $585.36 |
| Rods N Rhodies | Lane | $5,000.00 |
| Royal Family Kids of Lane County | Lane | $5,000.00 |
| Sexual Assault Support Services | Lane | $10,350.00 |
| Shelter Care | Lane | $12,600.00 |
| Siuslaw Baseball Softball Foundation | Lane | $25,000.00 |
| Siuslaw Outreach Services | Lane | $7,500.00 |
| Siuslaw School District 97j | Lane | $18,500.00 |
| Solid Strides | Lane | $13,000.00 |
| South Lane Mental Health Services | Lane | $25,000.00 |
| SquareOne Village | Lane | $10,000.00 |
| The Traveling Children's Museum | Lane | $5,361.85 |
| Triangle Food Box | Lane | $4,000.00 |
| Trinalge Lake Booster Club | Lane | $35,000.00 |
| Vida McKenzie Community Center | Lane | $15,000.00 |
| Volunteers in Medicine | Lane | $10,000.00 |
| Western Lane Ambulance | Lane | $3,000.00 |
| Willamette Farm and Food Coalition | Lane | $25,550.00 |
| Every Child Linn Benton Lincoln | Lincoln | $10,000.00 |
| Siletz Bay Musical Festival | Lincoln | $7,000.00 |
| Oregon Lions Sight & Hearing Foundation | Other | $7,500.00 |
| The ALS Association Oregon and SW Washington | Other | $5,000.00 |
| Westwind Stewardship Group | Other | $20,000.00 |