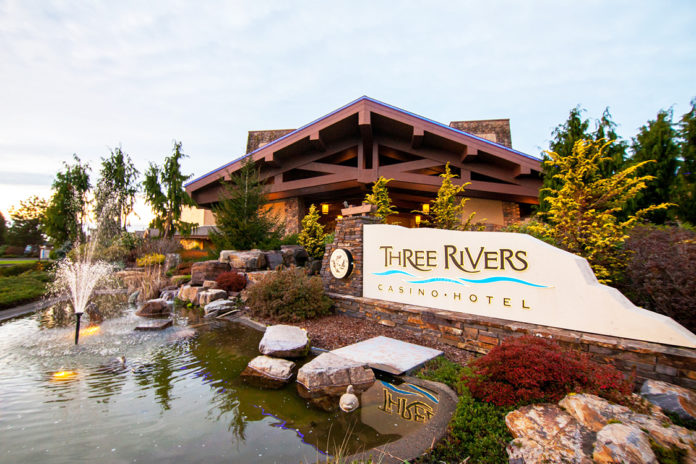 FLORENCE, OR – Ahead of Oregon's minimum wage increase set for July 1, 2022, Three Rivers Casino Resort in Florence and Coos Bay has announced its decision to increase its minimum wage to $14 per hour, a wage higher than the $13.50 wage the state proposed.
The minimum wage increase will be in effect for all incoming employees and annual merit increases for all current Three Rivers Casino Resort employees. In addition, the casinos also updated their policies to now allow merit increases for tipped employees, along with increases, a rarity for the hospitality industry. In May, Three Rivers Casino also made a cost of living adjustment that includes every team member.
"We want to pay them a living wage so they can have a quality of life while bringing those funds back into our community to help our economy thrive," said Dana Barbato, Three Rivers Human Resources Director.
Investing in its staff, the community members, and the local economy is nothing new for the casino. The Three Rivers Foundation, a charitable organization of the Confederated Tribes of the Coos, Lower Umpqua and Siuslaw Indians, is devoted to investing in the community to reflect the tribe's culture, values, and compassion.
"We're a place where [employees] can come and actually feel good about coming to work," said Barbato. "We'd like to provide this as a great place to work for everyone in our community."
"I started out here in food and beverage as a server," said Shelby Erickson, Human Resources Manager. "I managed to work up to my role in management while getting my degrees. One of the best things about working for the casino is the fact that there are so many opportunities."
The Three Rivers Casinos are actively hiring, with more than 50 positions open. These positions include food & beverage, table games dealers, accounting, human resources, facilities, etc. Those interested are encouraged to apply online at https://www.threeriverscasino.com/careers.
Three Rivers Casinos continues to be one of the larger employers in Lane County. Most recently, the Three Rivers Foundation awarded over $1.4 million to non-profit organizations all over the state, including 50 in Lane County.