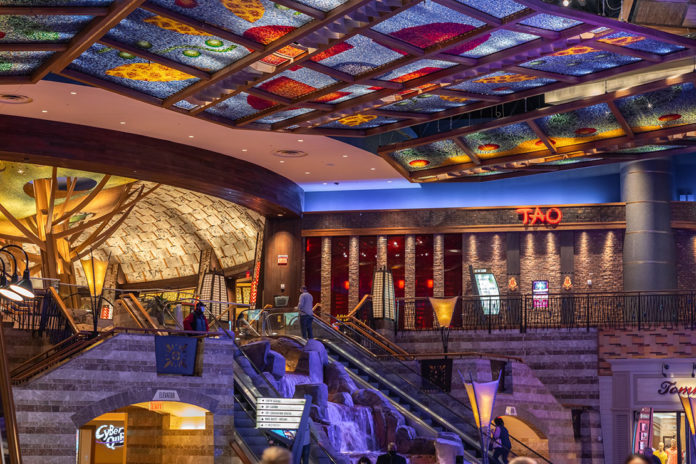 UNCASVILLE, CT – Mohegan Sun has partnered with TAO Group Hospitality for the opening of the highly-anticipated new venue, TAO Asian Bistro & Lounge. The 10,000 sq. ft., 300-seat Pan-Asian restaurant is located off of Sky Tower's hotel lobby and has now opened its doors to guests. TAO Asian Bistro & Lounge is a distinctive and memorable culinary destination for all guests looking to treat their taste buds and further enliven their evening.
"We are pleased to welcome guests to TAO Asian Bistro & Lounge, where epicureans and thrill-seekers alike who visit our property can enjoy an elevated experience that blends unforgettable food with a dynamic energy that can't be found anywhere else," said Jeff Hamilton, President and General Manager of Mohegan Sun. "As the premier entertainment destination in the Northeast, we are constantly looking for world-class partners to up the ante and deliver exceptional entertainment to our visitors – TAO is a brand that does just that, and we are excited to welcome them to the Mohegan portfolio."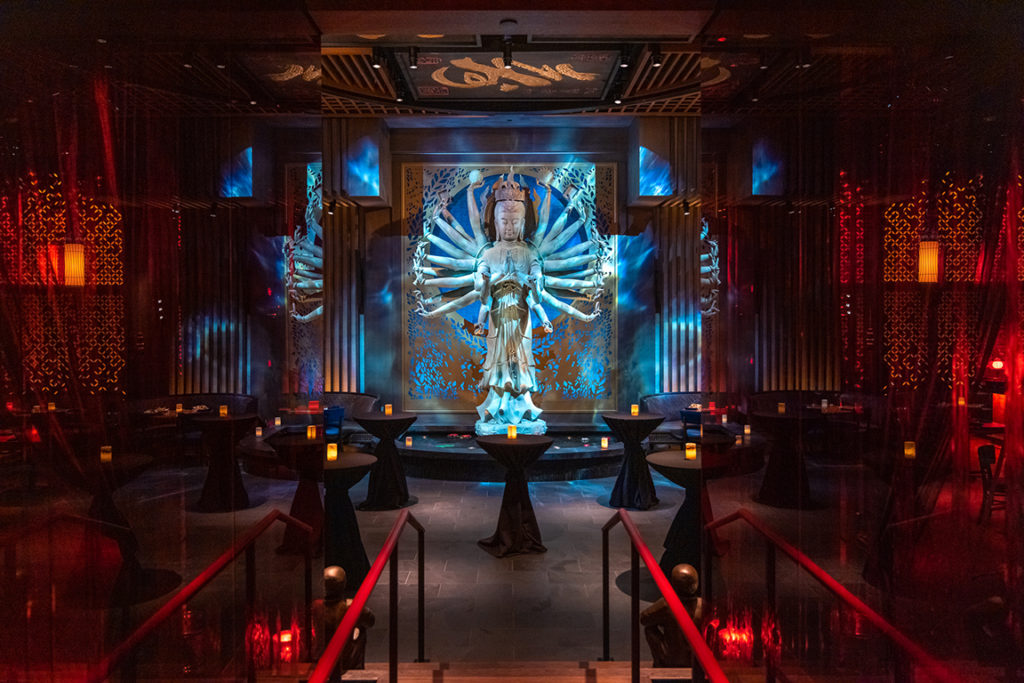 The kitchen is helmed by TAO Group Hospitality Partner and Chef, Ralph Scamardella, who oversees a menu of premium Pan-Asian fare. Guests can dine on offerings from the sea, sky and land, with signature dishes that have become synonymous with the TAO brand. Additionally, TAO Asian Bistro & Lounge's beverage program caters to Asian tastes with creative, approachable craft cocktails and a robust sake program.
"TAO Asian Bistro & Lounge is our sixth iteration of the renowned Tao Group Hospitality brand, and our new location combines cutting-edge culinary and cocktail trends with the spirited atmosphere of Mohegan Sun," said Ralph Scamardella, Partner/Chef of Tao Group Hospitality. "Visitors will discover an innovative mix of unconventional fare that guests have come to expect from TAO. We are thrilled to embark on this journey with tremendous partners like Mohegan Sun at our side."
TAO Restaurant at Mohegan Sun was designed in collaboration with award-winning architecture and design firm Rockwell Group, which has worked with Tao Group Hospitality on 16 previous projects, as well as on various projects across Mohegan Sun.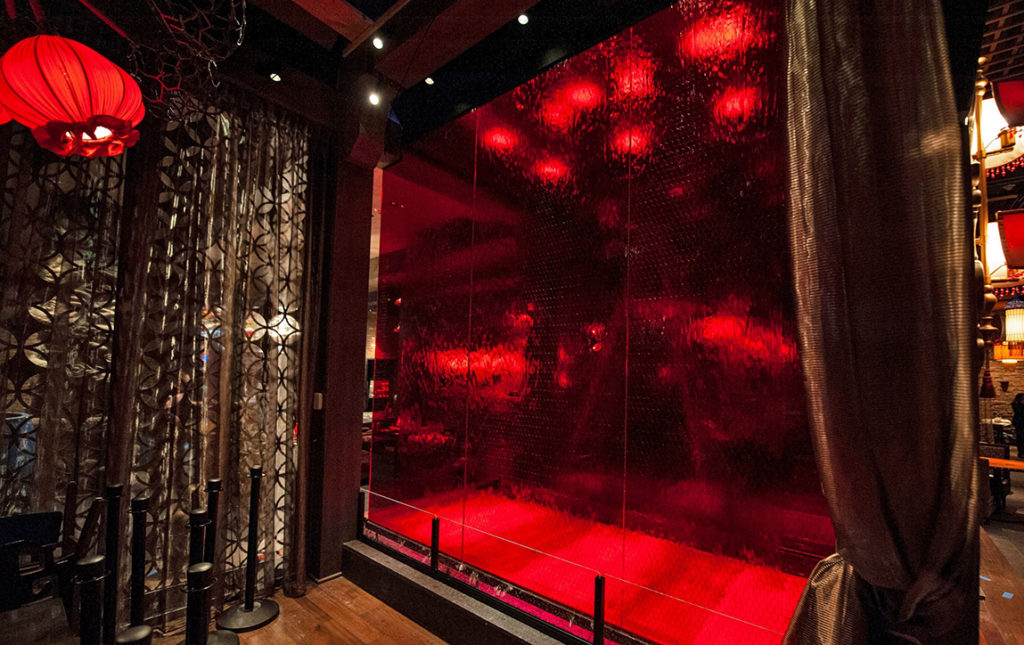 Within the captivating restaurant design are numerous elaborate water features for guests to feast their eyes on. During the summer of 2020, the Mohegan Sun contacted COST Inc., a firm specializing in theme and specialty construction services, to develop these features. The water feature scope included the final shop drawings, engineering, fabrication and construction of the features, as well as the mechanical and filtration systems. Having previously worked with Rockwell Design on past casino projects, COST was eager to collaborate with this team again on this iconic restaurant brand. "I have enjoyed my 20 + year working relationship with Mohegan Sun and am very appreciative to have collaborated on the fabrication of the water features located at TAO Asian Bistro at this world class resort," said Jeffrey Sheiber, Director of Business Development for COST Inc.
The mood and tone are set as guests enter the main dining room under a dazzling water wall portal. Free falling water descends onto red colored glass inlayed with metal wire. The water then cascades down matching wall panels on both sides. Stainless steel troughs double as retention pools to help recirculate water. Patron attention is quickly drawn to the center of the dining room where a Quan Yin Statue stands on an 8' x 8' podium, surrounded by an elegantly lit coy pond. A stainless-steel trough lined with decorative stone complete with granite finishes provide a touch of elegance.
The new restaurant at Mohegan Sun features 300 seats and several notable TAO fixtures that guests have come to expect from the iconic brand, including private dining options, the Ink Lounge, sushi bar, and of course the 16-foot-tall Quan Yin statue anchoring the main dining room. In compliance with Mohegan Sun's elevated health and safety measures, TAO Asian Bistro & Lounge is open at 50 percent capacity to ensure proper social distancing. Hours of operation will be Sunday – Thursday (5 p.m. – 10 p.m.), and Friday – Saturday (5 p.m. – 12 a.m.).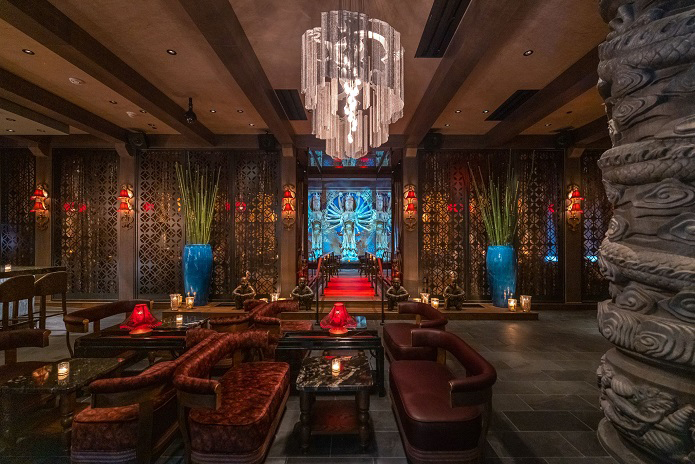 Furthermore, this newest property will continue to sustain TAO's ongoing support of City Harvest, New York City's largest food rescue operation combatting food insecurity. Through TAO and Mohegan Sun's partnership with City Harvest, the organization will continue to provide more than 4,800 delicious, nutritious meals to hungry New Yorkers and countless hours of employment to those in need.