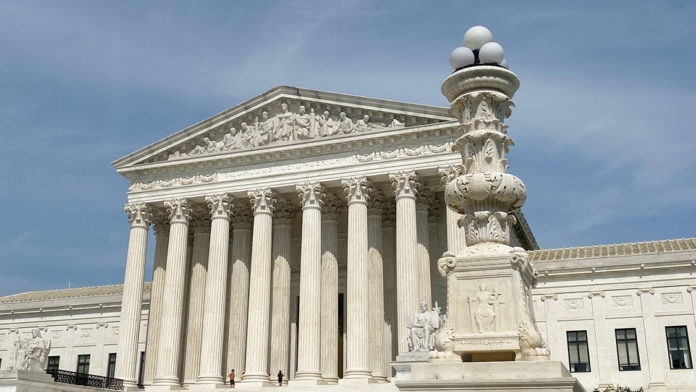 WASHINGTON, D.C. – The U.S. Supreme Court has made a significant ruling in the Brackeen v. Haaland case, which relates to the adoption of Native American children. Today, the court upheld the Indian Child Welfare Act (ICWA), a federal law that was enacted in 1978 to protect the rights of Native American children and families.
The case centered on a challenge to ICWA by a non-Native American couple who sought to adopt a Native American child. The couple argued that ICWA violated their constitutional rights by treating them differently from other prospective adoptive parents.
The Supreme Court rejected this argument and upheld ICWA. The court found that the law's provisions regarding the placement of Native American children with Native American families are constitutional and that they serve the important purpose of protecting the cultural and familial ties of Native American children.
The decision has been hailed by Native American advocates, who have long argued that ICWA is critical to preserving Native American communities and preventing the forced assimilation of Native American children. The ruling is also likely to have broader implications for the rights of Native Americans in the United States.

U.S. government officials and tribal leaders across Indian Country responded:
Statement from U.S. President Joe Biden:
"I stand alongside tribal nations as they celebrate today's Supreme Court decision. This lawsuit sought to undermine the Indian Child Welfare Act – a vital law I was proud to support. The Indian Child Welfare Act was passed to protect the future of tribal nations and promote the best interests of Native children, and it does just that. The touchstone law respects tribal sovereignty and protects Native children by helping Native families stay together and, whenever possible, keeping children with their extended families or community who already know them, love them, and can help them understand who they are as Native people and citizens of their tribal nations. The Indian Child Welfare Act safeguards that which is most precious to us all – our children. Today's decision from the Supreme Court keeps in place a vital protection for tribal sovereignty and Native children.
Our Nation's painful history looms large over today's decision. In the not-so-distant past, Native children were stolen from the arms of the people who loved them. They were sent to boarding schools or to be raised by non-Indian families – all with the aim of erasing who they are as Native people and tribal citizens. These were acts of unspeakable cruelty that affected generations of Native children and threatened the very survival of tribal nations. The Indian Child Welfare Act was our Nation's promise: never again.
Tribal nations fought hard to pass the Indian Child Welfare Act, and I am proud to have joined them in the ongoing efforts to defend it. Vice President Harris and I will continue to stand with tribes to protect Native children, honor tribal sovereignty, and safeguard the essential principals of the Indian Child Welfare Act."
Statement from Secretary of the Interior Deb Haaland:
"Today's decision is a welcome affirmation across Indian Country of what presidents and congressional majorities on both sides of the aisle have recognized for the past four decades. For nearly two centuries, federal policies promoted the forced removal of Indian children from their families and communities through boarding schools, foster care, and adoption. Those policies were a targeted attack on the existence of tribes, and they inflicted trauma on children, families and communities that people continue to feel today. Congress passed the Indian Child Welfare Act in 1978 to put an end to those policies. The Act ensured that the United States' new policy would be to meet its legal and moral obligation to protect Indian children and families and safeguard the future of Indian tribes."
"The Supreme Court just validated what Indian Country and tribal advocates have been saying for generations: the Indian Child Welfare Act is the gold standard of child welfare policy. I applaud today's decision, which upholds the constitutionality of this landmark law, respects tribal sovereignty, and protects the best interests of Indian children."
Statement from U.S. Senator Brian Schatz (D-HI), Chairman of the Senate Committee on Indian Affairs:
"The Supreme Court just validated what Indian Country and tribal advocates have been saying for generations: the Indian Child Welfare Act is the gold standard of child welfare policy. I applaud today's decision, which upholds the constitutionality of this landmark law, respects tribal sovereignty, and protects the best interests of Indian children."

Statement from Cherokee Nation Principal Chief Chuck Hoskin Jr.:
"Today, the Supreme Court once again ruled that ICWA, heralded as the gold standard in child welfare for over 40 years, is constitutional. Today's decision is a major victory for Native tribes, children, and the future of our culture and heritage. It is also a broad affirmation of the rule of law, and of the basic constitutional principles surrounding relationships between Congress and tribal nations. We hope this decision will lay to rest the political attacks aimed at diminishing tribal sovereignty and creating instability throughout Indian law that have persisted for too long. The Court once again demonstrated that it understands the legitimacy of ICWA and what it means for tribes, families, and children. By ruling on the side of children's health and safety, the U.S. constitution, and centuries of precedent, the justices have landed on the right side of history. With these latest political attacks on ICWA now behind us, we hope we can move forward on focusing on what is best for our children."
Statement from Navajo Nation President Buu Nygren:
"The U.S. Supreme Court's decision in the Brackeen v. Haaland case is a victory for … all Indigenous children and all Indigenous Nations in the United States. Thank you to the advocates, to our Navajo Nation Department of Justice, and the U.S. Supreme Court Justices."
Statement from Choctaw Nation of Oklahoma Chief Gary Batton:
"Congress passed the Indian Child Welfare Act (ICWA) to right the extreme historical injustices committed against Native children and their families. The law remains a critical part of protecting Native American heritage and tribal sovereignty. We are glad to see the Supreme Court recognized the important benefits of ICWA and allowed the law to stand."
Statement from the Suquamish Tribal Council:
"The Supreme Court decision upholding the Indian Child Welfare Act (ICWA) is an affirmation of tribal sovereignty and the rights of Indian nations to raise our children and the next generation of citizens and leaders. The Indian Child Welfare Act protects our children, families, and communities from earlier government sanctioned practices of family separation. Forced attendance at boarding schools – along with child welfare practices that removed children from parents, extended families, and tribal communities – have traumatized our people. This was a deliberate federal policy of assimilation designed to eradicate our culture and dispossess our land. With today's ruling, the majority of Supreme Court justices stand with us – along with child welfare advocates and legal experts – in understanding that we as tribal communities have the right to raise our children. The Supreme Court also reminded the states of the unique legal and political relationship between Indian tribes and the United States Congress. The Supreme Court's ruling on Thursday, June 15, in Brackeen v. Haaland should put to rest questions about the future of ICWA legal protections for our families."