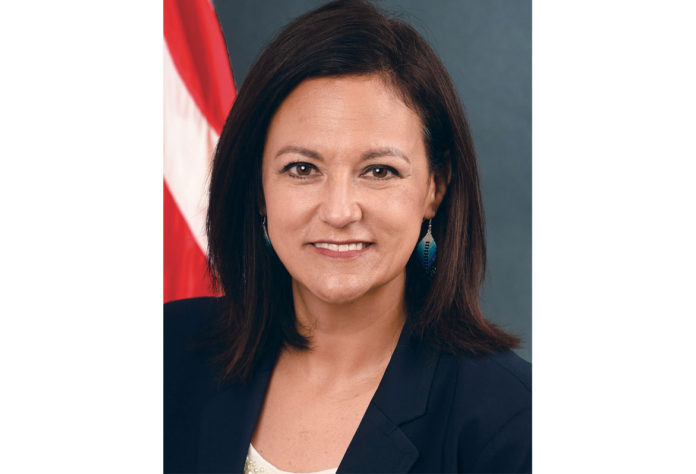 by Jeannie Hovland
Since 1990, November has been designated as Native American Heritage month. Throughout the month of November, we reflect on the great contributions that we, as Native peoples, have made throughout history. The warrior spirit of Indigenous peoples is well known with Native Americans having served in the armed forces five times the national average. We celebrate the uniqueness of our traditional dances, food, regalia, and the beauty of our jewelry and Indigenous languages.
However, our heritage also includes who we are as sovereign tribal nations, and the right to exercise self-determination and self-governance. It makes me so proud to hear our people learning and speaking our Indigenous languages, and to see our traditional clothing and jewelry being worn in the work place and visible to the corporate world. I believe this is largely due to tribes exercising their sovereign authority and integrating our Indigenous customs, traditions, and languages into the daily aspects of life.
When sovereign tribal nations exercise self-determination and self-governance, their communities are able to build upon their heritage. All very important to understanding who we are as indigenous persons. We look back seven generations to help guide us today and remind us that we must leave this earth a better place for the next seven generations.
In January of 2020, I joined the National Indian Gaming Commission (NIGC), an independent agency at the Department of the Interior created through the Indian Gaming Regulatory Act (IGRA). I was grateful to learn that tribal leaders fought hard to ensure language was included in IGRA, allowing an Indian tribe that operates Class II gaming activity on Indian lands, to petition the NIGC Commission for a certificate of self-regulation. Self-regulation is an expression of self-governance as the certificate is issued to the petitioning tribe, not the gaming operations. In addition, self-regulation tribes are exempt from 25 CFR 2706(b)(1-4) and they are eligible for a reduction in fees for their Class II gaming revenue.
As both a commissioner and Director of the NIGC Office of Self-Regulation (OSR), I was very surprised to learn that only five tribes currently hold an NIGC self-regulation certificate. The OSR's mission is to assist gaming tribes to obtain a certificate of self-regulation and remain in compliance once NIGC issues it. The Commission wanted to gain input as to why more tribes were not seeking a certificate, so we hosted consultation on the topic of self-rRegulation from September through October 2021.
Primarily we discovered many tribes were not aware of the self-regulation, so the NIGC began taking very proactive efforts to raise awareness and clarify the process. The NIGC issued a Notice of Public Rule Making in April 2022, and published a Final Rule this October, which revises the regulations to address an ambiguity in the petitioning process and clarifies the OSR's role once the Commission issues a certificate. Important changes for tribes also include:
• Clarifies that the NIGC may issue a final decision within 30 days.
• Expands the deadline for tribes to report material from three business days to 10.
• Clarifies the OSR will be the office to make recommendations to revoke a certificate of self-regulation.
• Clarifies the OSR has the burden to show just cause for the revocation.
For more details, please visit the NIGC Self-Regulation page on our website at nigc.gov – it's a one-stop shop for tribes to access valuable resources.
The tribal gaming industry is very diverse, and with the gross gaming revenue for fiscal year 2021 reporting a record high of $39 billion, we celebrate. But we also know that not all tribes have seen the same success. I wish success to all tribal gaming operations, and I hope that more tribes will consider seeking a certificate of self-regulation. I am proud to see the progress of our tribal communities and the benefits of exercising tribal sovereignty. I hope that tribal sovereignty will be part our reflections during Native American Heritage month.
Jeannie Hovland (Flandreau Santee Sioux) is Vice Chair & Director of the Office of Self-Regulation of the National Indian Gaming Commission (NIGC). She can be reached by calling (202) 632-7003 or email [email protected].