For those looking to relax and be pampered, tribal casino resorts feature impressive spas to give guests that next-level resort experience. This month, we highlight what makes each of these Northwest spa destinations distinct and memorable.
Spa Ssakwa'q'n
Coeur d'Alene Casino Resort Hotel
Worley, ID
cdacasino.com/spa
Year built: 2011
Approx. 15,000 sq. ft.
9 treatment rooms
At 15,000 sq. ft., Spa Ssakwa'q'n (pronounced sock-wah-kin) is significantly larger than the average resort spa of its kind. Located in the Spa Tower wing of the Coeur d'Alene Casino Resort Hotel, a short 30-minute drive from Coeur d'Alene, Spa Ssakwa'q'n not only has wonderful, relaxing services, but soothing areas in which to relax and revive before and after treatments. Trained and experienced staff await to help guests extinguish stress and relax the mind.
Offering two different quiet lounges with fruit infused water, a variety of nuts and dried and fresh fruit, both quiet lounges overlook the co-ed indoor and outdoor soaking tubs. The indoor soaking area has a cold plunge tub (around 70 degrees) and medium temp soaking tub (around 95 degrees). There are two dry saunas in that area as well. One sauna is medium to hot temperature with essential oils of eucalyptus, lavender, and peppermint. The other sauna is a hot temperature with essential oils of grapefruit, rosemary and juniper. The outdoor soaking tub is in the heart of the spa. Open every day of the year, the outdoor soaking tub is 102-104 degrees and is a favorite of spa guests due to the carefully placed jets. Guests especially enjoy the outdoor tub when the snow is falling.
Overlooking the natural indigenous plant walking area, Spa Ssakwa'q'n also has a beautiful Tea Lounge, where guests can order from the spa menu for lunch or light snacks. The natural light, water and stone décor of Spa Ssakwa'q'n creates a calming ambiance from the moment one enters the rejuvenating oasis.
Two facial rooms, six single massage rooms, a couples massage suite with soaking tub, and a wet room with Vichy shower are adjacent to nine private changing rooms. The spa has one of only two of Vichy treatment rooms in the Inland Northwest.
The Natural Nail Lounge has two manicure and four pedicure stations. Treatments offered include massages, facials, body treatments and nail services with options ranging from 60 to 240-minute full-service spa packages. Additionally, the Spa Boutique store provides an array of elegant, high-end items for guests to purchase.
Spa Ssakwa'q'n offers the best spa packages in the surrounding Coeur d'Alene area. Whether guests are treating their mind and body to a mid-week stress relief or pampering themselves before the big day, there is a package suited for all tastes.
River Rock Spa
Seven Feathers Casino Resort
Canyonville, OR
sevenfeathers.com/river-rock-spa
Year built: 2008
Approx. 7,000 sq. ft.
8 treatment rooms
Southern Oregon is a landscape rivaled by none other, with cascading mountains and the elegant flow of the Umpqua River at every turn, and the River Rock Spa at the award-winning Seven Feathers Casino Resort captures that beauty in its five-star accommodations. Whether hiking under the crisp green Oregon pines during spring, swimming the beautiful Umpqua river in summer, or watching the toasted warmth of the leaves fall in winter, River Rock Spa is a year-round destination for travelers and adventurers alike. From the 10-ft. river rock walls in the reception area to the natural elements of the wet room boasting a deep mineral soaking tub, River Rock Spa is a place of tranquility and quietude for all who visit.
Visitors are drawn into the spa with the encompassing scents of essential oils and indulgent products that line the shelves. All-natural, organic lines include Eminence Skin Care from Hungary with Biodynamic farming and woman-owned brand Farmhouse Fresh made from microgreen ingredients, encouraging guests to indulge in self-care and well-being for their body and soul. As a Paul Mitchell Focus+ Spa, the salon supports healthy, beautiful haircare with salon-quality products and styling tools.
Welcomed by the peacefulness of the meditation room, patrons are encouraged to relax the body in lavish robes and enjoy a mimosa. Eight treatment rooms offer a variety of services with full wet rooms to support privacy for any guest experience. Offering deep tissue hot stone massages, tightening and brightening facial peels, and the ever-popular mango enzyme body wrap, the spa technicians are masters at their craft.
The nail salon, with four unique river rock manicure tables and six lush pedicure chairs, offers natural nail services from creative and knowledgeable technicians, while the hair salon is a place of escape with services including treatments to promote healthy, gorgeous hair.
Seven Feathers Casino Resort is a destination for the traveler looking to connect with nature and themselves, and River Rock Spa is that journey's end.
Angeline Spa
Clearwater Casino Resort
Suquamish, WA
clearwatercasino.com/hotel/spa
Year built: 2005
Approx. 5,000 sq. ft.
7 treatment rooms, including 1 couples room
Located just a short ferry ride from Seattle on the Kitsap Peninsula, Suquamish Clearwater Casino Resort is a sanctuary from the hustle and bustle of everyday life. The only waterfront casino property in Puget Sound, Clearwater Casino Resort is nestled on the shores of Agate Pass. Indoors and out, the breathtaking property captures the rustic natural beauty of the Pacific Northwest.
The Angeline Spa, located next to the resort, overlooks the Agate Pass with views of Bainbridge Island and Poulsbo. Whether visiting for an hour or for a day, the Angeline Spa is an oasis of relaxation that will help guests to destress, detoxify, and unwind relieving tension and worry. Angeline Spa is dedicated to ensuring that the spa environment is tranquil and peaceful.
Massage services offered at the spa include therapeutic, Swedish and hot stone massages. The therapeutic massage is designed to increase flexibility and relieve sore muscles. This massage technique uses strong movements, deep pressure, and therapeutic muscle manipulations to focus on the areas where tension and stress accumulate. The Swedish massage is the perfect modality to relieve the stress and tightness caused by the hecticness of life. With the blending of Swedish and circulatory massage strokes, therapists will massage using gentle, relaxing and nurturing long top layer muscle strokes to relax the nervous system, stimulate circulation and increase flexibility. This promotes relaxation and a deep state of tranquility. The spa offers massage times in 60, 75, and 90-minute sessions. Massage add-ons include moisturizing foot massage, moisturizing hand and arm massage, and warm oil scalp massage.
Angeline Spa also provides facials, body wraps and scrubs. Facial services include the classic facial for all skin types, intensive collagen rejuvenation for mature skin, Vitamin C firming facial for firming and toning sun damaged skin, and the revitalizing glycolic facial for resurfacing and deep exfoliation. The spa also offers additional facial enhancements including dazzling eye treatment that can be added to any facial service, lip/chin waxing, eyebrow wax/shaping, and lash or brow tinting.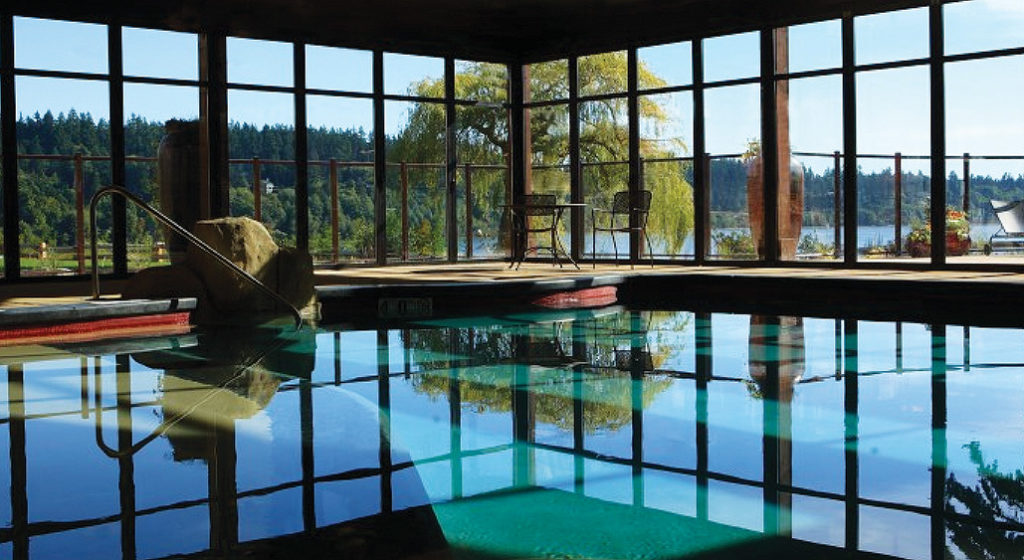 In addition, Angeline Spa includes an eclectic retail shop featuring items from local artists along with personal care products. A relaxation room at the spa along with an indoor heated swimming pool, an outdoor heated hot tub and a fitness room located in the resort building next door are also available for spa guests to use. The spa is open six days a week from 10 a.m. to 4 p.m.
La Rive Spa
Northern Quest Resort & Casino
Airway Heights, WA
northernquest.com/spa
Year built: 2008
Approx. 14,000 sq. ft.
7 treatment rooms, 1 duet suite treatment room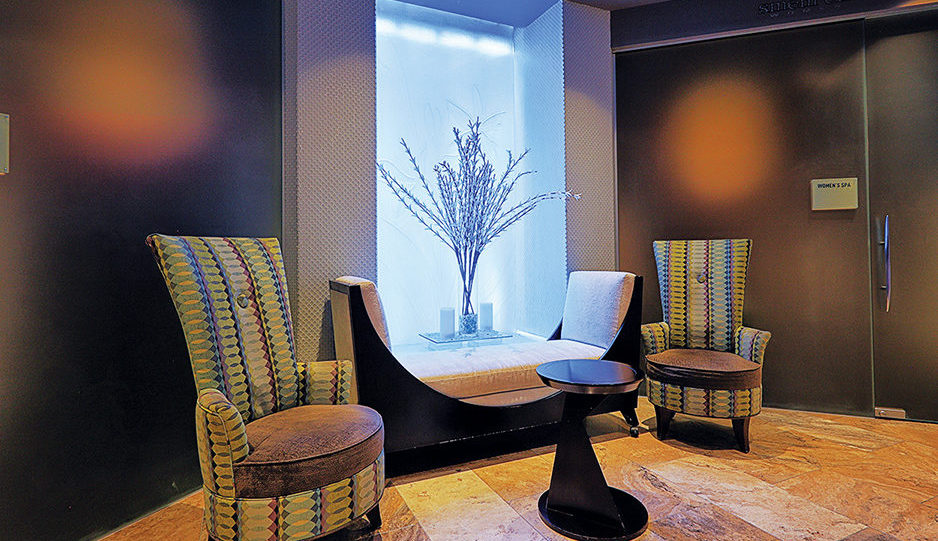 Escape to pampered luxury and experience the world-class hospitality of the nationally recognized La Rive Spa at Northern Quest Resort & Casino. Inspired by the Kalispel Tribe of Indians and the river they call home, La Rive, French for "the river," calls back to the Kalispel Tribe's early roots, as they were known as the "people of the river." The 14,000 sq. ft. spa is lushly accented by the abundant use of natural materials like native stone and harnesses a style that echoes the Inland Northwest's "next to nature" lifestyle while honoring the Native traditions of the tribe. All components of its design work together to create a calm and organic experience for La Rive's guests.
Products, services, and treatments at La Rive reflect a commitment to nature and the healing elements of Native traditions, with an emphasis on the use of gentle organic products and tranquil essential oils. Spirits are awakened with treatments adopted from tribal culture and surrounding nature, alongside classic European spa services. For an experience unlike any other, guests can try the experiential shower and enjoy the sensation of a beautiful waterfall raining down, enhanced by music, light and sound. Guests can naturally balance the body's pH in the co-ed Himalayan Salt Room, all while sipping complimentary champagne. As cares melt away, patrons can indulge in a culinary menu featuring unique taste sensations from Masselow's Steakhouse, eastern Washington's only AAA Four-Diamond restaurant.
At La Rive, Spokane's finest massage therapists, estheticians, and nail specialists are committed to the wellness and comfort of every guest. All healing massages, wraps and body treatments are enhanced by a palette of native materials. Sweetgrass-infused essential oil may also be added to any massage to promote an overall sense of well-being and to connect with Native nature.
T Spa
Tulalip Resort Casino
Tulalip, WA
tulalipresortcasino.com/tspa
Year built: 2008
Approx. 14,000 sq. ft.
16 treatment rooms
The T Spa at AAA Four-Diamond Tulalip Resort Casino offers among the most comprehensive array of services and amenities of any spa facility in the Pacific Northwest. It is a fitting complement to the resort's other world-class amenities that have ensured its place on the Condé Nast Traveler Gold and Traveler Top 100 Resorts lists.
The luxurious 14,000 sq. ft. sanctuary indulges guests with 16 well-appointed treatment rooms, stress-relieving deep tissue massages, Native-inspired spa rituals, body treatments and skin therapies. Inspired by nature's beauty with its river rock accents, wide bamboo flooring, serene candles and natural foliage, the T Spa's surroundings contribute to the renewed feeling of inner peace and calm.
The tranquil T Spa offers guests several choices including deep tissue, river rock hot stone and mother-to-be massages. The popular T Spa signature massage combines relaxing Swedish massage techniques, a cooling foot ritual and soothing aromatherapy.
Guests can also treat themselves to the T Spa's steam rooms, cedar saunas or grotto showers, and the Lifestyle Lounge is a singular stop for beauty and fitness needs, including VersaSpa tanning suites, cosmetic teeth whitening and a state-of-the-art fitness center.
The T Spa's professional estheticians offer a variety of facials, peels and other treatments leaving guests looking and feeling their best. This specialized team also provides a full range of waxing, tinting, makeup and tanning services. Nail specialists are available to provide a relaxing manicure or pedicure as well.
The T Spa features Eminence Organic Skin Care products, which are paraben and sulfate free. These products, in addition to relaxing candles and spa wear, may be purchased at the T Spa Boutique, as they are the perfect gift for those in need of relaxation.