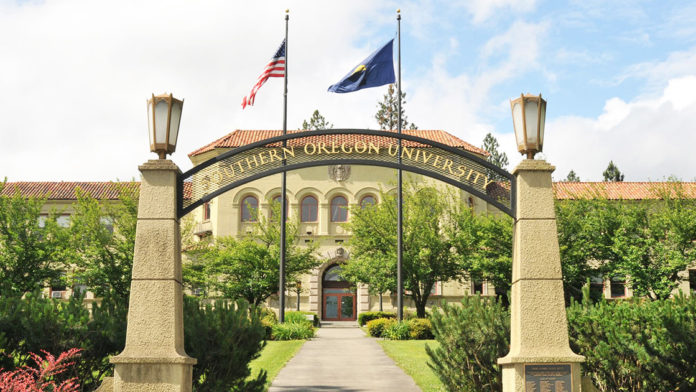 ASHLAND, OR – Southern Oregon University (SOU) will extend in-state tuition benefits to members of all federally recognized Native American tribes beginning this fall, regardless of where they live. Annual savings under the policy change for Native American students from outside Oregon will range from nearly $5,000 to more than $18,000, depending on where they live.
"SOU has deep respect for the cultural heritage that our Native American students embody," said Rick Bailey, SOU President. "The university is also committed to providing opportunities for all first-generation and other non-traditional students to pursue their academic dreams. We believe that our entire university community will benefit from encouraging the enrolled members of tribes across the country to join us at SOU and enrich our campus."
SOU joins Portland State University and Oregon State University in creating new opportunities this summer for Native American students nationwide to receive in-state tuition. Those changes follow Oregon's recent investment in college access for in-state Native students through the Oregon Tribal Student Grant Program, which covers the average cost of attendance after all other federal and state grants or scholarships are applied.
A simplified process at SOU will allow Native American students from outside Oregon to apply for in-state tuition during the admission application process by submitting documentation of their membership in any of the 574 federally recognized tribes in the U.S. Those students will still be considered out-of-state students, but will be assessed in-state tuition rates.
SOU offers a variety of opportunities for Native American students and is involved in ongoing efforts to strengthen its ties with Oregon's nine federally recognized tribes and those of northern California, developing memoranda of understanding with some that recognize mutual educational interests and spell out benefits ranging from financial aid opportunities to mentorship programs.
The Native American Studies program at SOU has added both faculty and course offerings in recent years, and was instrumental last year in initiating an Indigenous Gardens Network to restore areas where "first foods" and other culturally significant items can be cultivated, harvested and made accessible to Indigenous people. SOU's Konaway Nika Tillicum residential summer program for Native American youth has grown to include an online program for families, and the Native American Student Union has remained active throughout the pandemic.
The university also adopted a "land acknowledgement" last year, recognizing that the SOU campus lies on the ancestral homelands of the area's Native American tribes.