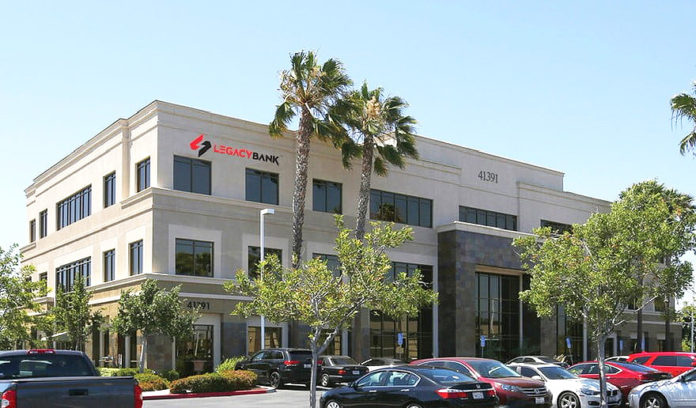 MURRIETA, CA – After years of planning, the Soboba Band of Luiseño Indians recently held a formal grand opening celebration of its Legacy Bank in Murrieta, CA. Soboba Tribal Council Chairman Isaiah Vivanco said it was great to see so much community support at the ribbon cutting ceremony.
"In an effort to expand our economic enterprises, we are excited to bring Legacy Bank to the Murrieta Valley," said Chairman Vivanco. "Mayor Jonathan Ingram has completely supported Soboba opening our business locally, and we appreciate the hospitality. We know we can bring the same partnership we share in our valley to that of Murrieta."
It was determined that one of the greatest long-term benefits of opening Legacy Bank would be the fact that banking is made up of many diversified jobs such as operations, sales, human resources, accounting, credit, training, and so much more that would afford tribal members job opportunities to consider in the future.
"Banking is sort of a melting pot of all the jobs across many types of businesses in one place," said Kathryn "Kathy" Gonzales, EVP and Chief Banking Officer. "Since the tribe is already recognized as a strong leader in employment in the county, having a bank to add to the diversity in opportunities was a natural fit."
The decision to open the first branch in Murrieta did not come lightly. Because southwestern Riverside County and the Temecula Valley areas are ripe with small and mid-sized business owners that have been without a true community-oriented bank partnership for loans and cash management services, it made sense to give them something that was needed and would be appreciated. By hiring a team of seasoned professionals with significant experience, a new bank could do for small businesses what other banks were not doing.
"We could step into the space that was being vacated and create a thriving bank with a long-term relationship of local leaders to support our efforts and sustain this consistent model long into the future. Hence, the name Legacy was arrived at," said Gonzales.
The name was coined at the grand opening celebration of the new Soboba Casino Resort in the spring of 2019. "As it had been in the past, so it would be into the future, but now even better," said Gonzales. "Legacy was not about the immediate, but more about a patience that the tribe possessed to persevere regardless of the obstacles to ensure they, not only survived, but that they thrived. Legacy meant doing something bigger than each person, bigger than they all were collectively and was intended for the future generations to always remember how it all started and tell this story."
Along with providing tribal members numerous career opportunities, the bank will offer focused financial literacy education for both adult and youth citizens and customized loan and deposit programs to address the needs of all people, regardless of location or age.
Members of the Soboba Economic Development Corporation (SEDC) worked with the Tribal Council and banking professionals to bring the project to fruition. The new business venture is owned by the Soboba Band of Luiseño Indians (not by the Soboba Economic Development Corporation). This is to allow the tribe to prosper from the benefits of the Legacy Bank, all while allowing SEDC to fulfill its purpose of diversification, job creation and self-sufficiency.
Another important aspect of opening Legacy Bank was to help the Soboba Band of Luiseño Indians create an asset that will help the next seven generations be more self-sustaining. Plans are being made to open additional branches, including the next one in San Jacinto.