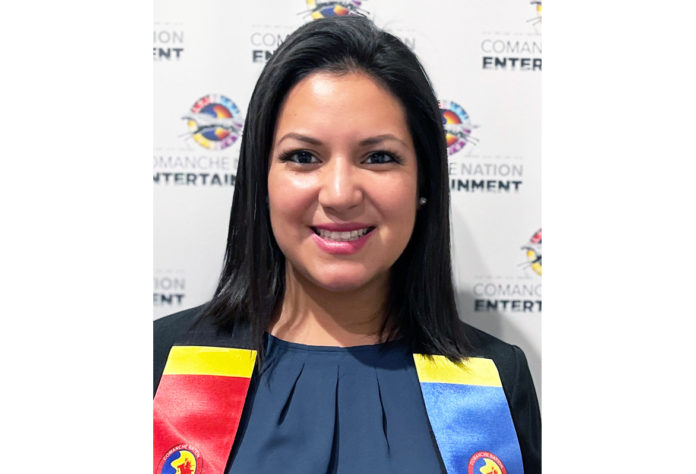 LAWTON, OK – Shandi Tahhahwah has been appointed General Manager of Comanche Cache Casino. An enrolled member of the Comanche Nation, Tahhahwah has worked with Comanche Nation Entertainment for fifteen years.
"As we continue expanding and providing both jobs and economic growth to our communities, Shandi's dedication to consistently improving overall customer experience and innovating operations has directly supported our efforts," said Mia Tahdooahnippah, CEO of Comanche Nation Entertainment. "She has a proven track record of success and the skills to lead our company in the right direction."
In her new position, Tahhahwah is responsible for overseeing all casino departments and operations, supervising team members and establishing collaborative work environments, determining company goals and managing financial operations.
Tahhahwah joins Comanche Cache Casino from her role as Operations Manager at Comanche Nation Casino. Since joining the company in 2007, she has held a variety of titles across three different properties, including Marketing Manager and Internal Auditor with the Comanche Nation Gaming Commission, where she also contributed to writing the Tribal Internal Control Standards (TICS).
"I am proud to work with executives like Shandi, who demonstrate our Comanche leadership and culture and bring the Comanche Numunu (family) spirit to our properties," said Tahdooahnippah. "When you walk in any of our properties, you will always know you'll have a good time and feel like family."