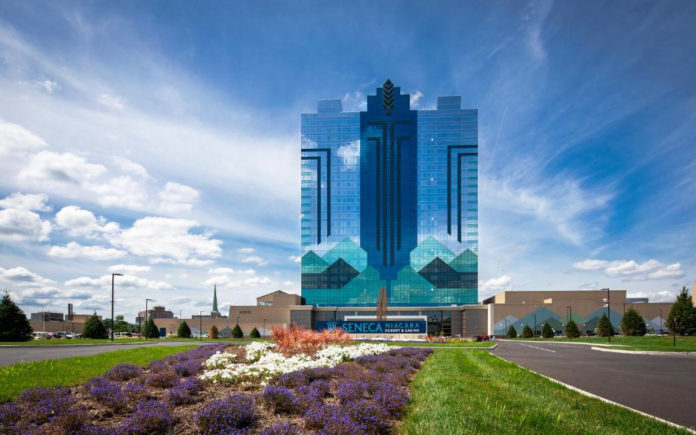 NIAGARA FALLS, NY – The Native American Music Awards (NAMA) will return on Saturday, Nov. 19, 2022 at the Seneca Niagara Resort & Casino in Niagara Falls, NY. This will be the organization's 20th awards event. Commemorating National Native American Heritage month, the host of the 20th Awards ceremony will be actor Robert Mesa (Navajo/ Soboba) who most recently played the character James Chee, the first Indigenous doctor on Grey's Anatomy.
Oren Lyons will be recognized as a Living Legend. Lyons, who is 92, is the Faithkeeper of the Turtle Clan, Onondaga Nation. He is an artist, speaker, author and environmental activist for Indigenous peoples worldwide and holds the title of Wisdom Keeper. He has advocated at the United Nations to recognize Indigenous rights and has addressed the United Nations General Assembly. He is also an All-American Lacrosse Hall of Famer and Honorary Chairman of the Haudenosaunee Nationals Lacrosse program.
This year's Hall of Fame inductee will be Micki Free, a Grammy Award winner and multiple Native American Music Award winner of Comanche and Cherokee descent. Originally discovered and managed by Gene Simmons of KISS, Free was the guitarist in the R&B group, Shalamar, which recorded platinum songs such as "Dancing In The Sheets" from the movie soundtrack Footloose, and won a Grammy for "Don't Get Stopped In Beverly Hills" from the Beverly Hills Cop soundtrack. Free is currently on tour supporting his latest album, Turquoise Blue, which features members of The Santana Band, Steve Stevens of Billy Idol and Gary Clark Jr.
Paul LaRoche of Brule/AIRO and Robert Tree Cody will be honored as Lifetime Achievement Award recipients. LaRoche is the founding member of Brulé, the epic Native American rock show. Brule' has won eight Native American Music Awards, released 20 CD's and sold over one million CD's worldwide. Cody is a five-time Native American Music Award winner and a multi-talented flutist, singer, dancer, actor and educator. He has released 13 albums.
This year's featured performers will include multiple nominees – Antoine Edwards Jr., Cody Blackbird, Earl Slick and the Fabulous Ripcords, Fawn Wood, Gunner Jules, Spur Pourier, Sten Joddi, and The Halluci Nation. Guest nominees will include Ava Rose, Blanca Iris Acuna, Blue Flamez, Blue Mountain Tribe, Crazy Flute, Darren Thompson, Dr. April Lea Go Forth, Faran Sohappy, Gera & T.M. Clark, JUQ, Julian Taylor, Kelly Derrickson, Kelly Montijo Fink, Irv Lyons Jr., Melody McArthur, Raven Flyinghorse, Sandra Sutter, Savelle The Native, The Johnnys, Shibastik, Shiloh Ashley, Tess Remy-Schumacher, Twice As Good, Two Shields, and Yvonne St. Germaine.
A new partnership with the BMI Foundation will create a career grant for a Native American songwriter or composer. To be known as the BMI Foundation Rising Star Award, this new program will honor a music creator in the Rising Star category for emerging and promising artists. The recipient of this award will receive the $2,500 grant.