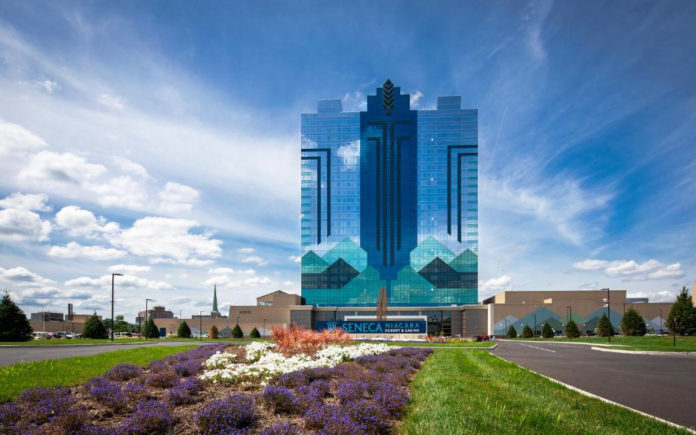 SALAMANCA, NY – The Seneca Nation is encouraging the public to voice its support for the Nation's efforts to secure a fair and equitable gaming Compact with New York State.
Seneca officials announced that community support events will be held throughout May, where the public can sign letters encouraging New York leaders to come to an agreement with the Nation that ensures the continued operation of the Nation's three casino properties in Western New York – Seneca Niagara Resort & Casino in Niagara Falls, Seneca Allegany Resort & Casino in Salamanca, and Seneca Buffalo Creek Casino in downtown Buffalo. The Nation's current gaming compact is set to expire in December.
"Now that the state's leaders are completing their work on the state budget, no other issue can be more important and more impactful, especially here in Western New York, than finishing honest negotiations on a fair and equitable Compact with the Seneca Nation," said Seneca Nation President Rickey Armstrong, Sr. "Tens of thousands of individuals, families and businesses, locally and across the state, depend on our gaming business for their livelihoods. The economic and human impacts and benefits of the Seneca Nation's gaming enterprise reach far and wide. The people of our region understand and appreciate what the Seneca Nation means to Western New York, and we are asking our neighbors and our guests to let New York officials know that they support us."
The month-long initiative will kick off on Thursday, May 4 at Seneca Niagara Resort & Casino, where the public can sign support letters from 11:00 a.m. to 3:00 p.m. in the resort's hotel lobby. Additional community support events are also scheduled for:
Friday, May 5, William Seneca Building, 12837 Route 438, Irving, NY, 14081, 11:00 a.m. – 3:00 p.m.
Thursday, May 11, Seneca Buffalo Creek Casino, 1 Fulton Street, Buffalo, NY, 14204, 11:00 a.m. – 3:00 p.m.
Friday, May 12, Seneca Allegany Administration Building, 90 Ohi:yo' Way, Salamanca, NY, 14779, 11:00 a.m. – 3:00 p.m.
Thursday, May 18, Seneca Allegany Resort & Casino, 777 Seneca Allegany Blvd., Salamanca, NY, 14779, 11:00 a.m. – 3:00 p.m.
In addition to the events being held throughout the month, the public is also encouraged to visit StandWithSeneca.com, where they can sign an online petition. The support letters and the petition will be delivered to state officials in Albany at a future date.
Since signing its Compact in 2002, the Seneca Nation has made nearly $2 billion in private investments to develop and operate its three casinos. Today, the three casino properties employ approximately 3,000 people, making Seneca Gaming Corporation one of the largest private employers in Western New York.
Between its casinos, other business enterprises and its government operations, the Seneca Nation is responsible for more than 5,000 direct jobs and spends nearly $600 million annually with more 6,000 vendors, supporting thousands of additional jobs. In all, the Nation delivers an annual economic impact of more than $1.1 billion to the Western New York economy.
Beyond the Nation's track record of private investment and job creation, revenues from Nation-owned businesses fund important services and programs for the Seneca people, including housing, health care, education, and infrastructure, among others.
The Nation has been engaged with New York officials on a new gaming Compact for several months. The New York State Legislature is scheduled to complete its legislative session on June 8.
"We have seen, every day for the past 20 years, the important difference our Nation businesses make in the lives of our employees and partners, in the lives of the Seneca people, in our neighboring communities, and across our entire region," said President Armstrong. "We want to see our positive impact continue well into the future. A fair and equitable gaming Compact is the key driver for that to happen."