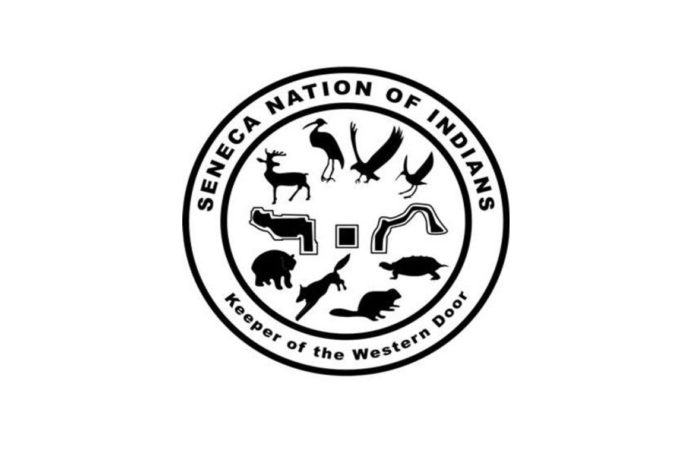 IRVING, NY – The Seneca Nation has signed an agreement with New York State to begin discussions on a gaming compact, aimed at fortifying the long-term operations of the Nation's three Western New York casino properties, which collectively employ thousands of local workers and contribute significantly to the region's economy.
"Our gaming enterprises were developed through the vision, commitment, and historic investment of the Seneca Nation," said Seneca Nation President Matthew Pagels. "They are a major economic driver and one of Western New York's largest private sector employers. They are also a primary source of funding for the important services we deliver to our community. Our highest priority, as always, is creating the strongest possible future for the Seneca Nation today and for generations to come. A compact agreement, bolstered by greater federal scrutiny as a result of our efforts over the past four years, can ensure greater equity for the Nation, long-term stability for our gaming operations, and continued progress for the Seneca people."
As part of the agreement, which concludes a years-long legal dispute, the Nation will realize more than $40 million in disputed fees and cost savings over the remaining life of the current compact, which expires in December 2023. The Nation will also remit payments to the New York State Compact Revenue Share, which have been held in escrow throughout the dispute. The Nation will then resume quarterly revenue share payments, as stated in the compact. New York State returns a percentage of those payments to the communities of Niagara Falls, Salamanca and Buffalo, where the Nation's casinos are located.
"Rather than pursue continued legal action, we believe we can now best address our concerns in a compact with greater clarity on our obligations, and, as important, the obligations New York State has to the Nation in return," said President Pagels. "Furthermore, we want to see the momentum generated by our investments and operations continue to grow, and we look forward to building on our strong relationships with our neighbors in Niagara Falls, Salamanca and Buffalo. Now is the time to move forward."
Since the current compact was signed in 2002, the Seneca Nation has invested more than $1 billion to develop Seneca Niagara Resort & Casino in Niagara Falls, Seneca Allegany Resort & Casino in Salamanca and Seneca Buffalo Creek Casino in downtown Buffalo, and delivered more than $1.4 billion in revenue share payments to Albany. Today, the casinos employ approximately 3,000 workers and attract millions of visitors annually.