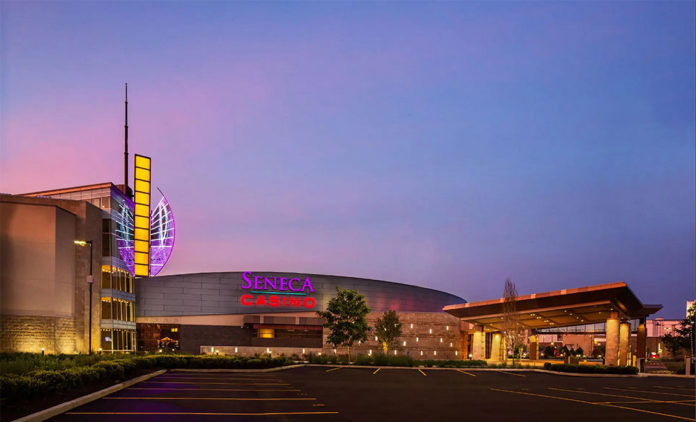 BUFFALO, NY – Seneca Gaming Corporation will host a community donation gathering at Seneca Buffalo Creek Casino on Wednesday, May 25 from 11am-7pm to assist residents whose community was attacked. The public is encouraged to drop off donations of non-perishable food items, toiletries, hygiene products, infant and child care products, and other daily necessities at the casino, located at Michigan Ave. and Perry Street, downtown.
Seneca Gaming Corporation is working with FeedMore WNY to organize the donated items and ensure they are delivered to residents in neighborhoods most impacted by the shooting. Among the items most in need are: cereal; peanut butter and other nut butters; canned tuna and chicken; canned soups, stews and chili; canned fruits and vegetable; canned or dried beans; boxed macaroni and cheese, pasta and rice; pasta sauce; and baby food, formula and diapers.
"We are one community, and when one of us hurts, we all hurt," said Kevin Nephew, Seneca Gaming Corporation President & CEO. "I'm sure the generous spirit of Western New York will continue to shine through these dark times as we lift up and support our neighbors in their time of need."
Individuals who bring a donation of five or more items to Seneca Buffalo Creek Casino on May 25 will receive a voucher good for $10 in free play at the casino.
In addition to the community donations, Seneca Gaming Corporation is organizing donation efforts for its more than 3,000 employees across its three locations – Seneca Allegany Resort & Casino in Salamanca, Seneca Niagara Resort & Casino in Niagara Falls, and Seneca Buffalo Creek Casino. Items donated by the company's employees will also be delivered to FeedMore WNY for distribution.
"Our employees, our Board of Directors and the entire Seneca Gaming Corporation family is heartbroken for the victims, their families, friends and neighbors," said Nephew. "Helping to fill their cupboards is a small way to express our friendship and support and to show that racism and hate cannot divide a community as strong as Western New York."