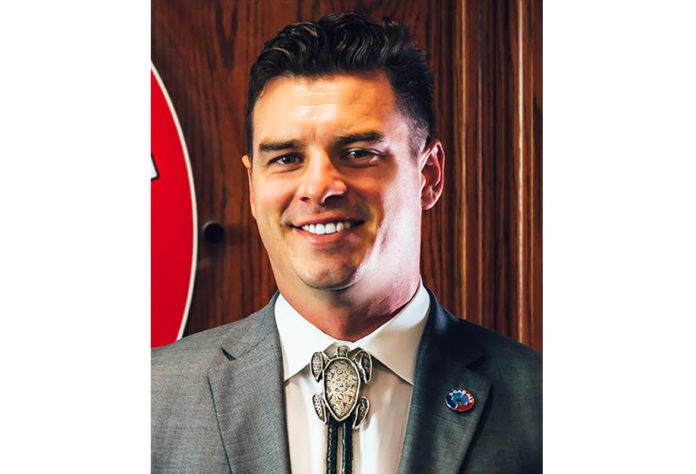 SEATTLE, WA – Guy Barker, Quapaw Nation Secretary-Treasurer, was named Tribal Executive of the Year at NAFOA's 40th annual leadership awards conference in Seattle. First established as the Native American Finance Officers Association, NAFOA is the country's oldest non-profit dedicated to promoting excellence in financial management and fiscal policy in Indian Country. NAFOA works with more than 130 tribes, and partners with dozens of the country's largest corporations.
A significant factor in being named Tribal Executive of the Year was Barker's work to refinance the Quapaw Nation's two casino resort properties – Downstream Casino Resort in Quapaw, OK, and Saracen Casino Resort in Pine Bluff, AR. When it opened in 2019, the Quapaw Nation became Oklahoma's first Native American tribe to open a gaming facility outside of Oklahoma. The combined savings of refinancing both properties could save the Quapaw Nation nearly half a billion dollars over the next decade. Over time, that savings will directly impact tribal citizens by funding expanded health care, housing, education and other social services. 
"NAFOA is honored to present the Executive of the Year Award to Secretary-Treasurer Barker," said Rico Frias, Executive Director, NAFOA. "His accomplishments strengthening the financial well-being of the Quapaw Nation within his first term in office is an impressive feat and serves as a great example for other young tribal executives."
Barker was elected to serve as Secretary-Treasurer for the Quapaw Nation in July 2020. By the fall of 2021, he helped the tribe achieve credit rating upgrades by Moodys and S&P Global to secure more favorable financing. By December of 2021, only a year and a half into his first term, he completed the refinancing of both casino resort properties.
"I'd like to thank President Danforth and the entire NAFOA board of directors for this incredible honor," said Quapaw Nation Secretary-Treasurer Guy Barker. "I'm humbled that an organization with NAFOA's legacy of supporting tribal communities through financial stewardship recognizes our dedication to protect and grow the Quapaw Nation's assets. Although I'm honored to accept this award as Executive of the Year, we are blessed with a truly remarkable team of leaders and financial stewards. Over the past two years, our team's hard work from the gaming floor to the executive offices has been transformational. I'm confident it will pay dividends to our tribal citizens in the form of tribal services for generations. Accepting this award from my peers is an honor, but it remains a privilege to serve the Quapaw people in the years to come."