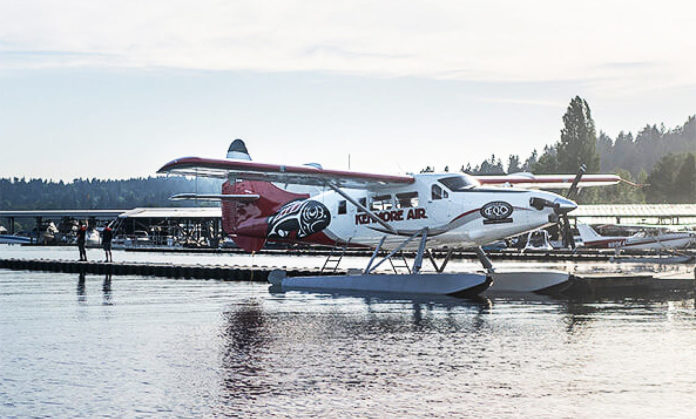 TACOMA, WA — Tickets are now on sale for scenic flights with Kenmore Air from the new Puyallup Tribal Air Terminal. The partnership will be visible in the skies over Puget Sound thanks to Kenmore Air wrapping one of its seaplanes with the tribe's salmon logo and the logo of the tribe's Emerald Queen Casino & Hotel.
"We are excited for this historic operation to begin," wrote the Puyallup Tribal Council in a statement. "With our partners at Kenmore Air, people are able to see the beauty of what our area has to offer."
This year's scenic flight season will run until Oct. 15 with Kenmore Air planes taking customers on a 20-minute scenic flight over the South Sound. Passengers will experience stunning views of Mount Rainier, the Tacoma Narrows Bridge, Commencement Bay, Puget Sound, Vashon Island, and other sights. The scenic flights will then resume in April, and flight operations may expand with service to the San Juan Islands and Victoria, B.C.

"We are thrilled to see this partnership and South Sound service offering come to fruition," said David Gudgel, President of Kenmore Air. "Our scenic flights are always popular and we are excited about the potential for South Sound service access direct to the San Juans, Victoria and beyond."
The new dock is adjacent to two acres of land the tribe purchased in 2021. In addition to the RAM Restaurant, the property includes the former C.I. Shenanigan's, which is being converted into a new Native/internationally inspired restaurant with world-renowned Chef Roy Yamaguchi.
The air service will also open the tribe's casinos and hospitality venues to visitors from British Columbia and beyond. In May 2020, the tribe opened its new $400 million Emerald Queen Casino (EQC) in Tacoma as well as its adjacent 155-room luxury hotel in December 2021. Recently, the tribe inaugurated sports betting at its Tacoma casino and its EQC location in Fife through a partnership with BetMGM.