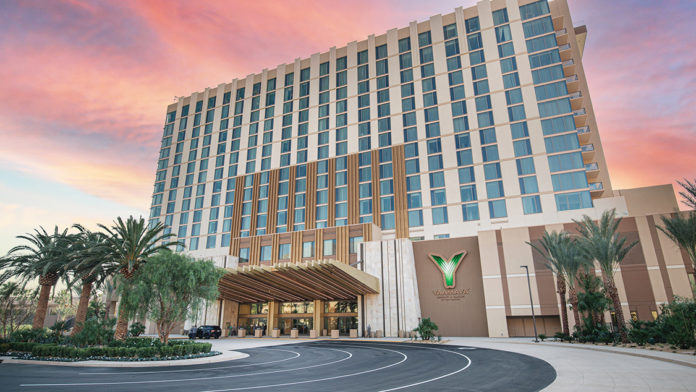 The San Manuel Band of Mission Indians first opened the property now known as Yaamava' Resort & Casino at San Manuel as a bingo hall on July 24, 1986, then developed the bingo hall into a 100,000 sq. ft. casino that featured slot machines and card games in 1994. Today, the casino has evolved into one of the top entertainment destinations in Southern California.
Fast forward to 2018 when the tribe broke ground on a $760 million expansion project that would emerge as a new luxury resort including its first onsite hotel. In September 2021, the tribe rebranded the property from San Manuel Casino to Yaamava' Resort & Casino at San Manuel. Yaamava' is the Serrano word for 'the spring season' and the new visual identity and logo are inspired by the ancestral lands of the Serrano people. The Yaamava' logo featured throughout the property, notably on the hotel tower and in the lobby, takes the form of yucca plant fronds in a woven basket pattern. The logo pays homage to the tribe's history in the region, their culture and heritage. The award-winning casino unveiled a luxury resort with 432 guest rooms including 127 spacious suites in December 2021. The new resort boasts several award-winning restaurants, a luxurious spa and an all-new pool oasis for guests to relax during their stay. In April, the tribe finished the expansion with the debut of a state-of-the-art theater.
"We couldn't be more humbled and proud to see this expansion project come to fruition," said Lynn Valbuena, Chairwoman of the San Manuel Band of Mission Indians. "Yaamava' means spring in our native Serrano language, and spring is a season that brings new life and boundless potential. This time of renewal is an opportunity to recommit ourselves to the words of our ancestors to 'never forget who we are or where we came from.'"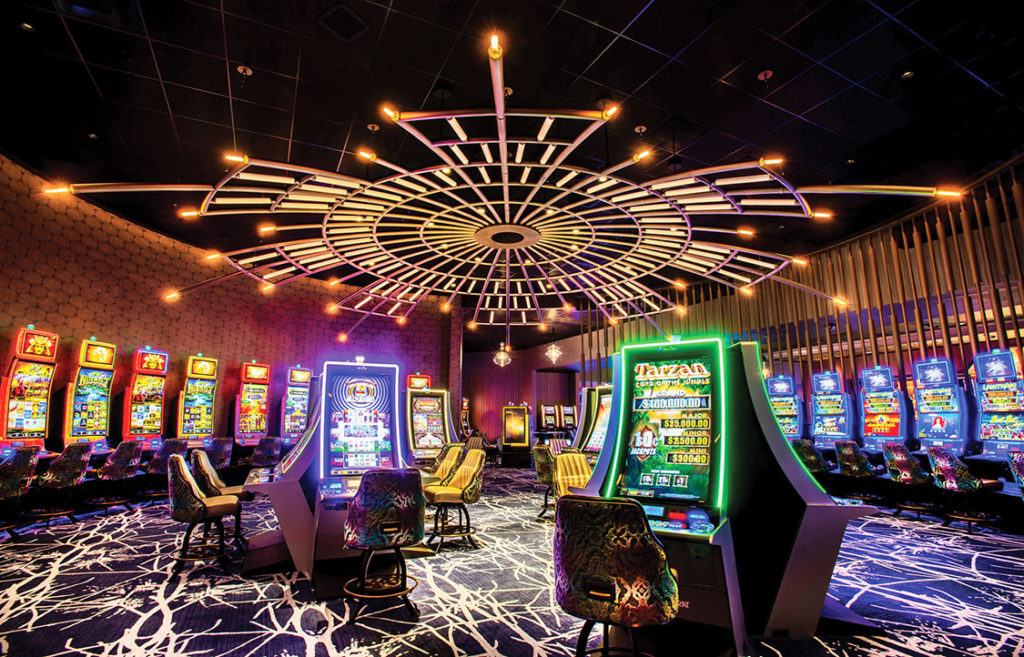 The large-scale expansion project launched across several phases, increasing Yaamava' Resort & Casino's overall footprint to over 1.5 million sq. ft. The property features five high-limit gaming rooms with more than 7,000 slots and 150 table games with a maximum bet of $25,000. It is currently the casino with the most slots in the Western U.S. The extensive table games offer an array of options for guests, including Blackjack, EZ Baccarat, Fortune Pai Gow, Four Card Poker, Mississippi Stud, Three Card Poker and Ultimate Texas Hold 'Em. The Club Serrano player program provides exclusive offers and promotions, plus special invite-only events for players. The program was also recently introduced at Palms Casino Resort in Las Vegas, giving guests more benefits across the two destinations.
"Innovation has been at the forefront of our offering over the last 36 years," said Peter Arceo, General Manager of Yaamava' Resort & Casino. "The expansion elevates our guests' experiences to the next level and is one-of-a-kind to Southern California. We take pride in delighting our guests and appreciate the process of creating a superior experience. We realize it wouldn't be possible without the outstanding leadership of the tribe and countless hours of dedication from our team members. The vision and focus of the tribe remain creating a best-in-class experience that will provide a memorable visit for all."
From the first step inside Yaamava' Resort & Casino, guests are immersed in the ultimate Southern California getaway. This summer, Yaamava' introduced a "California Dreaming" theme for its seasonal décor installation offering guests an immersive and interactive tour highlighting the sights and sounds of summer in the Golden State. The décor features 3D components, California imagery and floral arrangements to bring the installation to life as it rotates throughout the year.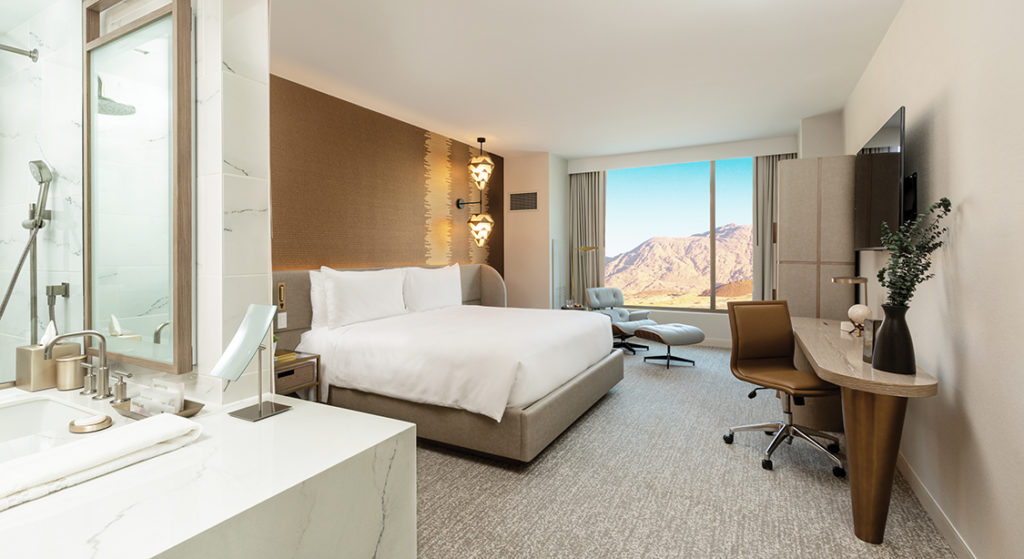 Guests are invited to kick up their feet in rooms designed with comfort, luxury and relaxation as top priority. Each room is equipped with special amenities and curated to feel like an extension of home, from cozy double queen rooms to luxurious suites. Décor and furniture are inspired by the native landscape including the nearby San Bernardino Mountains and 24-hour in-room dining ensures guests can enjoy a meal or snack in the comfort of their room any time of day. The 432 rooms provide guests a range of options from standard rooms for a comfortable place to lay their heads, to executive suites and one and two-bedroom suites where guests will enjoy a home away from home. One of the resort's most exclusive accommodations is on the 17th floor and handled via invitation only. The Cloud Villa Suites feature spacious living areas and the finest amenities comparable to what one might find in some of the world's most extraordinary hotels.
The pool offers guests a relaxing hideaway to unwind in poolside loungers or in one of seven private cabanas. The Serrano Spa provides exquisite amenities for a luxurious way to refresh. Eight private treatment rooms are home to services including massage therapy, facials and body treatments, while hair and nail services in the full-service spa will complete the experience.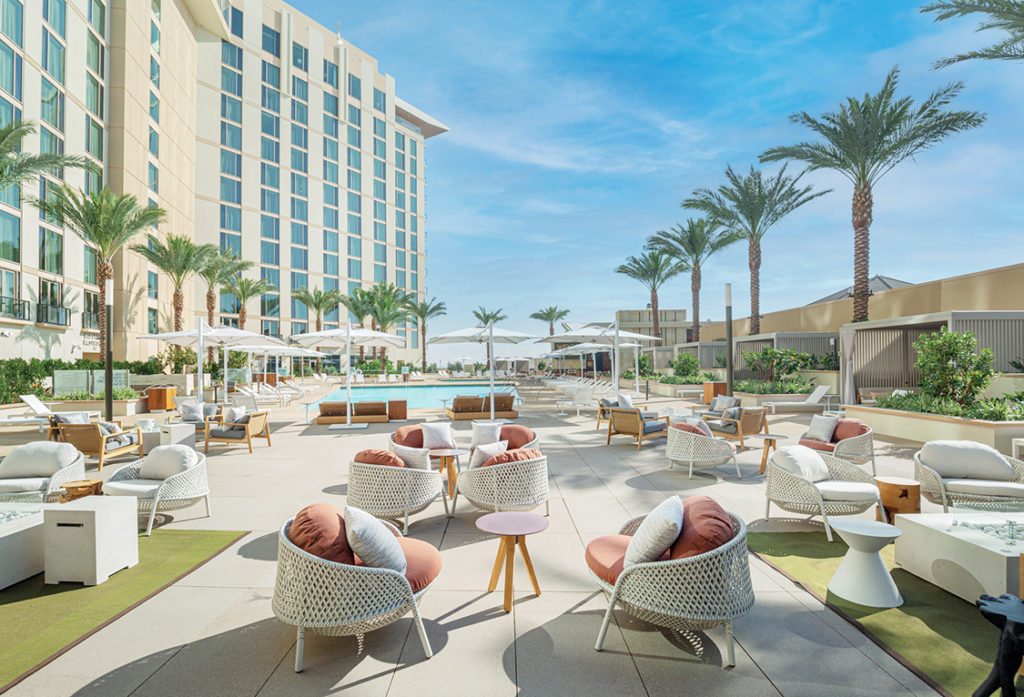 In 2021 and as part of the expansion, Executive Chefs Everton Clarke and Matthew Smith joined Yaamava' Resort & Casino, each bringing 25+ years of international culinary experience to the property under the leadership of Chef Oliver Wolf, Vice President of Culinary Operations. As a result, The Pines Modern Steakhouse, the property's award-winning fine dining venue, reopened in a stunning new space with a refreshed menu. The elevated aesthetic combines luxury and glamour with modern innovation and design, paying homage to the culture of the Serrano people. The swooping, bent wood ceiling portrays an oversized basket weave pattern. Hearty materials like walnut, tumbled stone tile and burnished metals represent the rough, untamed side of nature and the tribe's ancestral land in the rugged San Bernardino mountains. The restaurant features specialty items and high-end meat, seafood, wine, spirits, and more. The Pines' carefully curated menu offers top-tier Midwestern prime cuts of beef, Santa Carota Ribeye, three different cuts of A5+ Japanese Wagyu – with the Soya Black Wagyu Beef from Hokkaido, Japan, only available in a handful of restaurants in the U.S.
Innovation is a key component to the experience at Yaamava' Resort & Casino and a key offering in recent years is the introduction of the resort's Collection 86 menu, offering highly sought-after wine and spirits. Guests can also indulge in elevated spirits and cuisine starting at $5,000, like a cocktail made with Patron Lalique Extra Añejo, a 1985 Salon Cuvee 'S' Le Mesnil Blanc de Blancs Brut served in keepsake Versace crystal glassware, a Wagyu burger and Screaming Eagle Cabernet pairing, a Japanese Wagyu trio paired with a bottle of 2011 Petrus, and an ultra-rare single barrel scotch flight paired with a set of luxe chocolates from House of Dorchester.
The culinary experience at Yaamava' Resort & Casino offers something for everyone. Guests can enjoy Asian cuisine at Hong Bao Kitchen, authentic Mexican classics and a tequila bar at George Lopez's Chingon Kitchen, Southern California classics at Serrano Vista Café, and the popular Serrano Buffet, among other dining options onsite.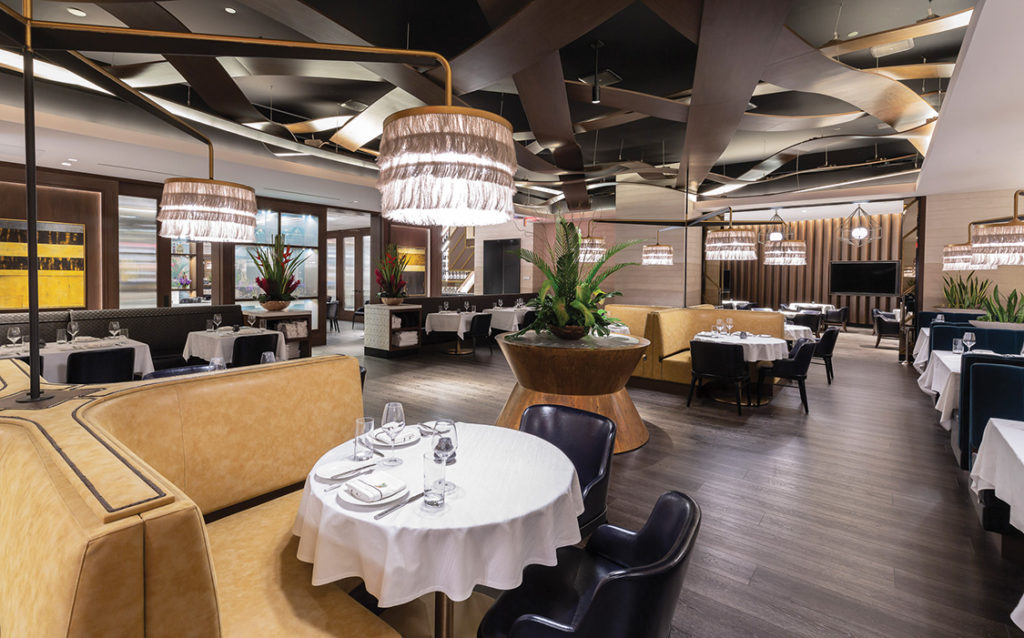 The highly anticipated Yaamava' Theater debuted with an invite-only performance by the Red Hot Chili Peppers. The state-of-the-art theater has a 3,000-guest capacity, 3,800 sq. ft. stage and is powered by internationally renowned L-Acoustics. The theater also boasts an incredible visual experience with three video walls, a broadcast-quality video room utilizing Panasonic cameras, and two large catwalks that extend into the house for greater lighting and video production adaptability to bring fans' favorite artists to life. Nine private suites range in capacity from 10-22, providing plush seating and VIP food and beverage service. Live Nation is the exclusive booking partner for Yaamava' Theater.
"Our entertainment calendar showcases some of the top performers and legends in the music industry, treating our guests to an incredible experience with state-of-the-art production technology while set in an intimate venue," said Drew Dixon, Vice President of Entertainment & Event Center Operations.
The property's premium VIP lounge, the Y Lounge, situated on the 17th floor of the hotel tower, offers panoramic views of the San Bernardino Mountains and surrounding area. The ultra-exclusive space offers both indoor and outdoor seating options where guests can enjoy an extensive list of wines and spirits in Versace glassware.
During the expansion, the San Manuel Band of Mission Indians and Yamaava' Resort & Casino teams added over 2,200 team members and that number continues to grow during the second half of 2022.
In addition to the offerings onsite, the property and San Manuel Band of Mission Indians support many regional professional sports franchises and venues including Los Angeles Dodgers, LA Galaxy, LAFC, Los Angeles Kings, Anaheim Ducks, Las Vegas Raiders, Vegas Golden Knights, Rose Bowl, and Santa Anita Park. Many of these partnerships include special opportunities for Club Serrano members and philanthropic endeavors to give back to underserved communities through monetary donations, and sports clinics for kids.
For more information about Yaamava' Resort & Casino at San Manuel, visit www.yaamava.com.