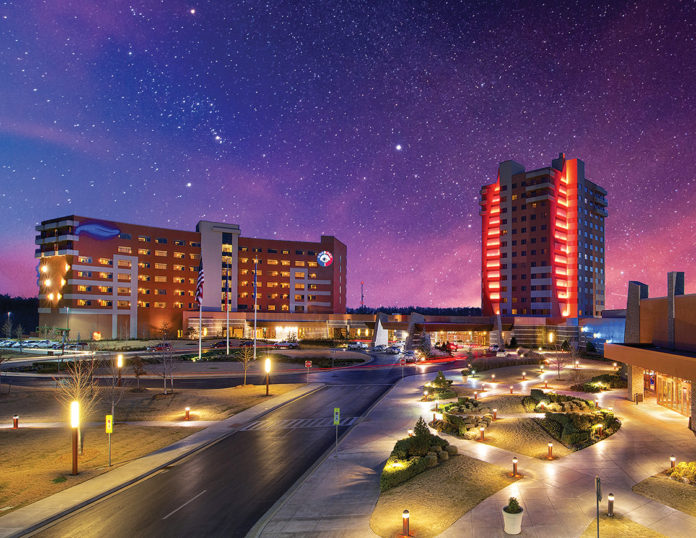 The Quapaw Nation are descendants of a tribe of Native Americans that historically resided on the west side of the Mississippi River in what is now the State of Arkansas. The Quapaws were the southernmost tribe of the various Sioux tribes, with the Quapaws remaining furthest to the south. They became known as the O-Gah-Pah, which in their original language means "The Downstream People." The Quapaws and numerous other tribes were displaced from their homelands and eventually forced to Oklahoma.
Today, Downstream Casino Resort in Ottawa County, represents a crucial and significant opportunity for economic growth, prosperity and self-sufficiency for the Quapaw Nation. The Quapaw leadership's decision to build the ambitious, upscale and state-of-the-art casino resort in 2008, has resulted in a gem of a property, enjoyed by guests across the nearby four states and beyond. Each detail was chosen with the purpose of making a visit to Downstream a superb experience for guests.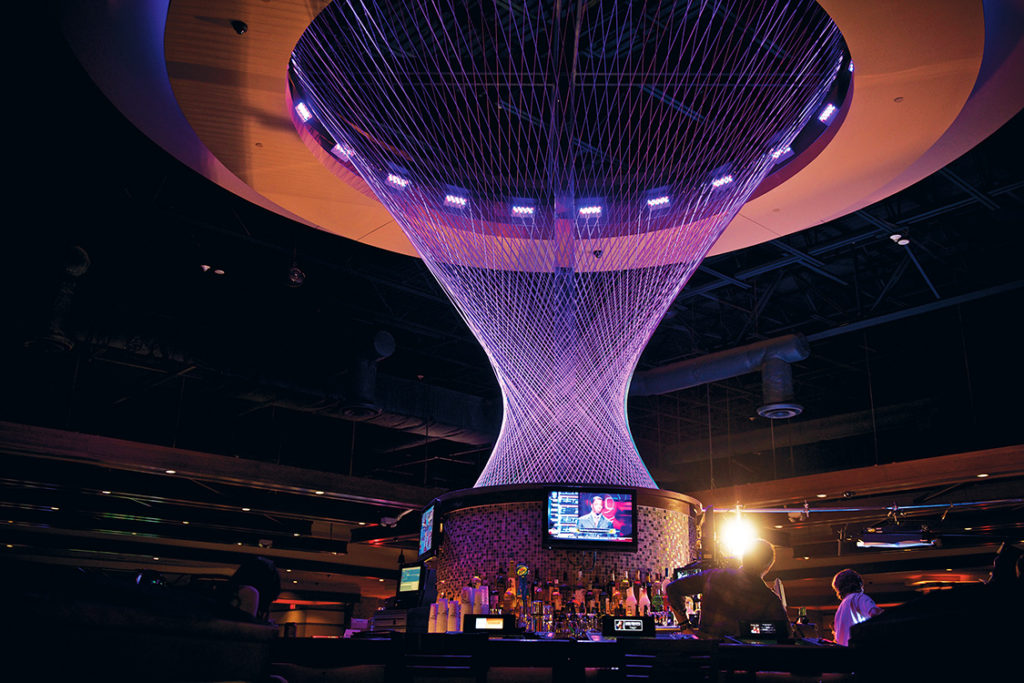 The look and feel of the casino has been heavily influenced by the Quapaw Nation's history and culture. Exploring the resort, guests will experience important design elements tied to the Quapaw Nation. Unique swirls are incorporated throughout the architecture and décor, which are common in the Quapaw's pottery finishes, clothing, beadwork, and even body painting.
Downstream opened to the public on July 05, 2008, to an exuberant crowd of more than 10,000. From the newest gaming machines to table games and a stylish poker room, Downstream strives to offer something fun for all tastes and types.
An expansive gaming floor features 1,600 slots ranging from the newest and most popular themes to classic favorites. Guests can play penny games, $25 games and everything in between, including progressive jackpots that grow into the millions. For players who enjoy privacy and the royal treatment, the High Limit room features $1-$100 games.
With the casino's Q Club, guests can utilize players' club cards to earn benefits such as discounts and comps at the hotel, Eagle Creek Golf Club, Heckaton Gift Shop, Née Spa, and one of the five restaurants or numerous live shows. Members can also enjoy exclusive promotions and receive invitations to special member only events.
With no shortage of excitement and relaxation, guests can indulge in sophistication and style in the luxurious Osotouy and Kappa Hotel Towers, which feature 374 rooms as well as indoor and outdoor pools. The resort's beautiful Née Spa offers premier spa treatments designed for well-being and to help guests unwind.
The Quapaw Nation's agriculture program brings the farm to the table. With ever growing demand for organic, locally sourced menu items, the Nation is committed to sourcing fresh, healthy products for their restaurants. It reflects a deeper commitment to quality and human connections. Exquisite dining will excite discerning taste buds at the property's six fabulous restaurants.
Guests can enjoy everything from exceptional steaks to quick meals on the go. Red Oak Steakhouse features high quality, hormone-free beef from the tribe's own Quapaw Cattle Company. At Spring River Buffet, guests can enjoy the diverse selection of an all you can eat buffet. At Legends Sports Bar, favorite teams are broadcast on big-screen TVs, and live entertainment is offered every Friday and Saturday night on stage. Wa-Na-Bée-Déa Food Court offers numerous options for quick meals on the go, including sandwiches, pizza and desserts. Ma-Kó-Sha Coffee Shop in the Kappa lobby, starts the day off right with a specialty coffee or espresso, served in a variety of flavors and sizes accompanied by bakery treats and delectable desserts.
For cocktail hour, Devil's Promenade is positioned in the heart of the casino and features an impressive list of libations. At Lover's Leap, guests can relax and enjoy a favorite beverage in style and comfort at this gorgeous, non-smoking lobby bar and lounge.
Memorable events can be organized in the expansive banquet areas or the resort's Pavilion, with over 15,000 sq.ft. of flexible meeting space, with details and logistics taken care of by the onsite professional catering and banquet staff.
For golf enthusiasts, guests can play either 9 or 18 holes of championship golf set amidst the rolling terrain of the foothills in the Ozark Mountains at Eagle Creek Golf Course. The Bald Eagle Course, Par 71 (m), 73 (w), features 6,785 yards of luscious Bermuda fairways and pristine greens surrounded by tall trees that create a truly peaceful environment for players to relax and enjoy the game. The experience offers four levels of tees that test golfers of all abilities. Driving range and practice putting greens are also available.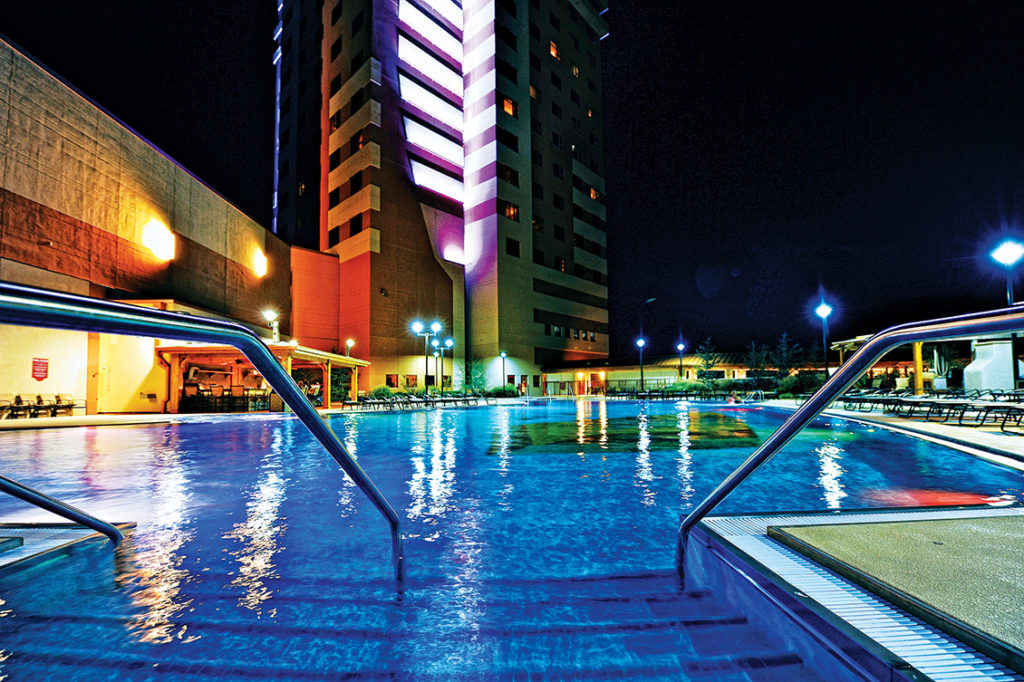 The Downstream Q-Store and RV Park are conveniently located nearby across the road from Downstream Casino Resort. The bright and modern 24-hour store can supply most any auto needs – from diesel and unleaded fuel to electric car chargers – in addition to travel supplies and snacks. Guests can also use Q Club points to pay at the pump. The RV Park features 40 spaces, full water and electricity hookups.
On the business front, in 2021, the Quapaw Nation announced during a December business committee meeting that both Downstream Casino and Resort and Saracen Casino (a wholly owned subsidiary of the Quapaw Nation that operates Saracen Casino Resort under a commercial license on non-trust land), were officially refinanced, saving over $52 million in interest per year.
The process to refinance over a billion dollars' worth of tribal assets began shortly after the Quapaw Nation elected Chairman Joseph Byrd and Secretary-Treasurer Guy Barker in July of 2020.
"I am proud of our executive teams at both properties for successfully closing these deals, but I would also like to acknowledge the tireless work and attention committed to these projects by the Secretary-Treasurer Guy Barker," said Chairman Byrd. "What has occurred with our financing at both properties is nothing short of extraordinary, and I am grateful for the work put into making it a success. I am grateful for the opportunity to lead during this time of transformation."
Thanks to the continued success of Downstream Casino Resort, and these refinance transactions, far more of Downstream's revenue will now go directly to helping the Quapaw Nation and the surrounding community for generations to come.
With such a wide variety in entertainment, comfort, food and amenities, Downstream Resort Casino meets and exceeds all of the important elements for a relaxing resort destination property. The Quapaw Nation has successfully created an oasis for guests and team members alike to enjoy.
For more information about Downstream Casino Resort, visit www.downstreamcasino.com.