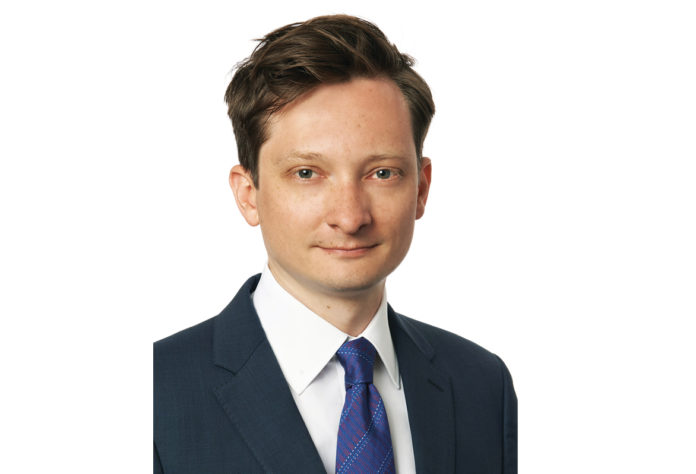 by Matthew J. Klas
RV vacations are trendy, and their moment is far from over. The growth in RV purchases last year is well-documented. According to the RV Industry Association, RV unit wholesale shipments were up 6 percent in 2020 after a two-year decline. For both this year and next year, the RV Industry Association expects record shipments, driven by demand from new customers and returning owners alike. These figures are shown in Chart 1 along with historical shipments going back to 2012. The RV renaissance is not surprising. Air travel has never been less fun, understaffed hotels are struggling to meet service expectations and camping can be seen as a safe option when compared to visiting more crowded destinations. The good news is that many tribes are uniquely positioned to offer attractive RV parks, either as part of a casino complex or as a standalone operation.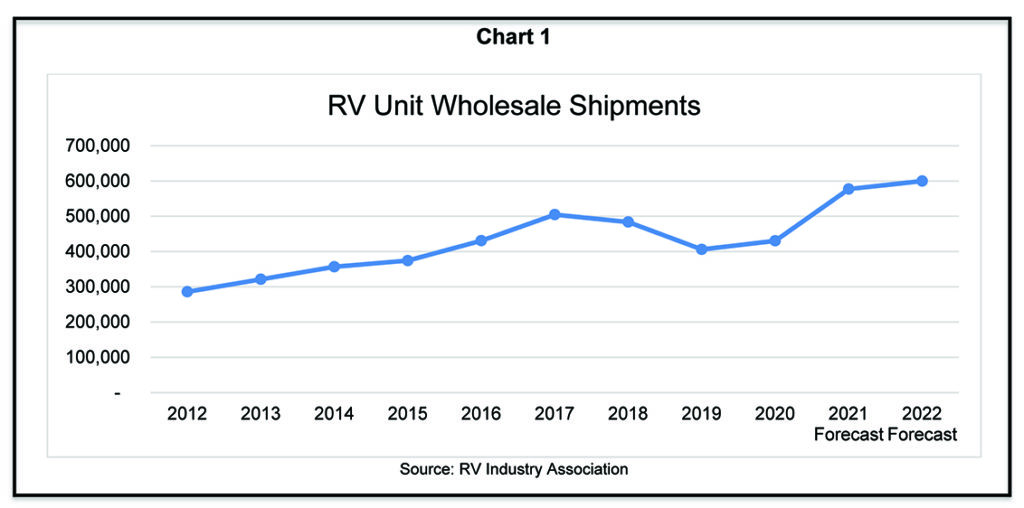 In analyzing RV parks owned by Indian tribes across the continental U.S., 163 are in operation of which 102 are associated with a casino and 61 are standalone. The 102 RV parks associated with casinos feature approximately 6,100 camping sites for RVs and can be found in 22 different states. Table 1 presents a summary of RV parks at Indian casinos by state.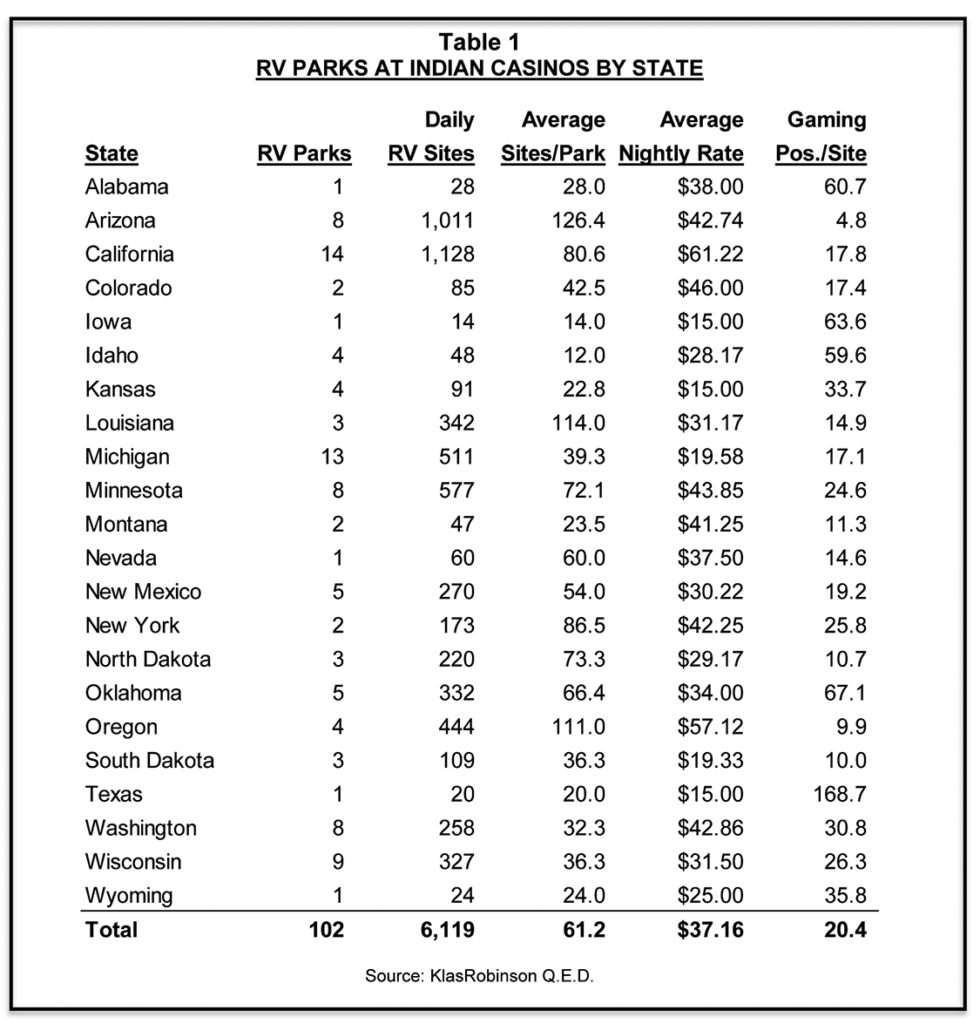 California has the greatest number of RV parks and daily RV spaces at Indian casinos, with 14 properties and more than 1,100 spaces. At the same time, Arizona, with only eight Indian casino-affiliated RV parks, has the second largest number of RV sites at Indian casinos with over 1,000 daily sites – not including approximately 1,000 extended stay sites.
On a national basis, RV parks at Indian casinos have an average of 61.2 sites per complex, an average nightly rate of more than $37 and an average of 20.4 gaming positions per RV site. It is important to note that the number of gaming positions per site is somewhat skewed in that several states have compact-based caps on the number of gaming positions, resulting in a lower gaming position/site ratio than would exist if positions were governed solely by market demand.
With respect to specific facilities, RV parks affiliated with Indian casinos offer a broad array of services and amenities. As presented in Table 2, an estimated 83 percent of sites feature full hook-ups (water, electric and sewer), 10 percent are water/electric, 5 percent are electric only and 2 percent offer no hook ups. By type of RV site pad, approximately 75 percent are paved, 5 percent are grass, 17 percent are gravel and 2 percent are dirt. In addition, approximately 43 percent of all RV sites are pull-thru, as opposed to back-in, which is important to RV guests with bigger rigs. Approximately 65 percent of all RV parks affiliated with Indian casinos are located directly at the tribal gaming operation. The remainder are located near the casino, but potentially too far for a convenient walk. Over 30 percent of RV parks affiliated with Indian casinos offer shuttle service. However, many of these services have been suspended because of the pandemic.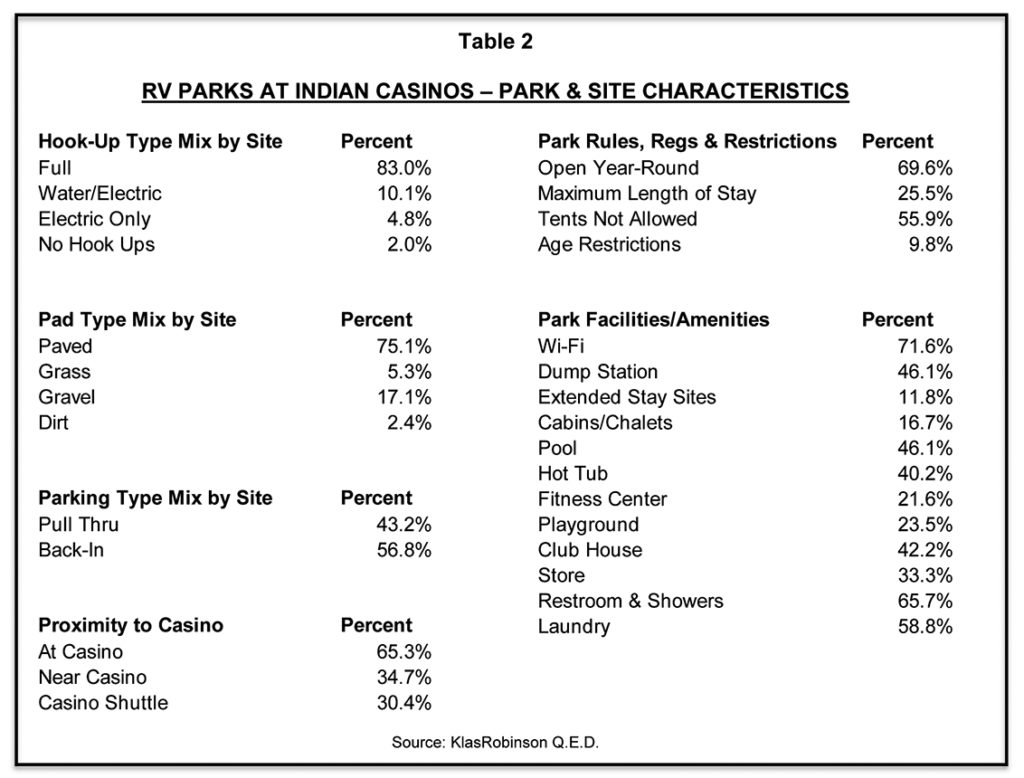 Almost 70 percent of casino-affiliated RV parks are open year-round. In order to better accommodate potential overnight casino guests, more than 25 percent of casino-affiliated RV parks limit the number of consecutive overnight RV stays and almost 56 percent do not allow tent camping. More than 72 percent offer Wi-Fi (an increasingly important feature for many campers), while over 46 percent have dump stations. In addition to daily sites, 12 percent of the RV parks offer extended stay sights and almost 17 percent offer overnight camping alternatives, including cabins, cottages, yurts and glamping. Indian casino-affiliated RV parks commonly have their own dedicated on-site facilities or offer certain resort amenities to RV campers. Approximately 46 percent have pools, over 40 percent have hot tubs, almost 22 percent have fitness centers, 24 percent have playgrounds, more than 42 percent have club houses, 66 percent have restrooms and showers and 59 percent offer guest laundry facilities. In addition, approximately 33 percent have on-site stores that often serve as check-in for the RV park.
In addition to the Indian casino-affiliated RV parks described above, many Indian casinos accommodate RV overnight guests in their large parking lots. RV campers appreciate the location and convenience of casino parking lots and frequently take advantage of the food and beverage and gaming offerings at the hosting casino. Based on recent analysis, it is estimated that approximately 30 percent of Indian casinos nationwide offer RV parking areas in their existing lots. Often, overnight RV guests are required to "check in" and in certain cases sign up for a casino players club. While some casinos charge campers to use the lot and occasionally hook-ups or other amenities are provided, most casinos simply offer an unadorned parking space for free.
Associating RV parks with casinos has been a successful formula for many tribes, but there are also a number of tribally-owned RV parks that are not connected with any gaming facility. There are 61 of these standalone RV parks across 20 states, as shown in Table 3. The average nightly rate is approximately the same as charged at casino-affiliated grounds. However, the average capacity of standalone parks is smaller than that of RV parks associated with casinos.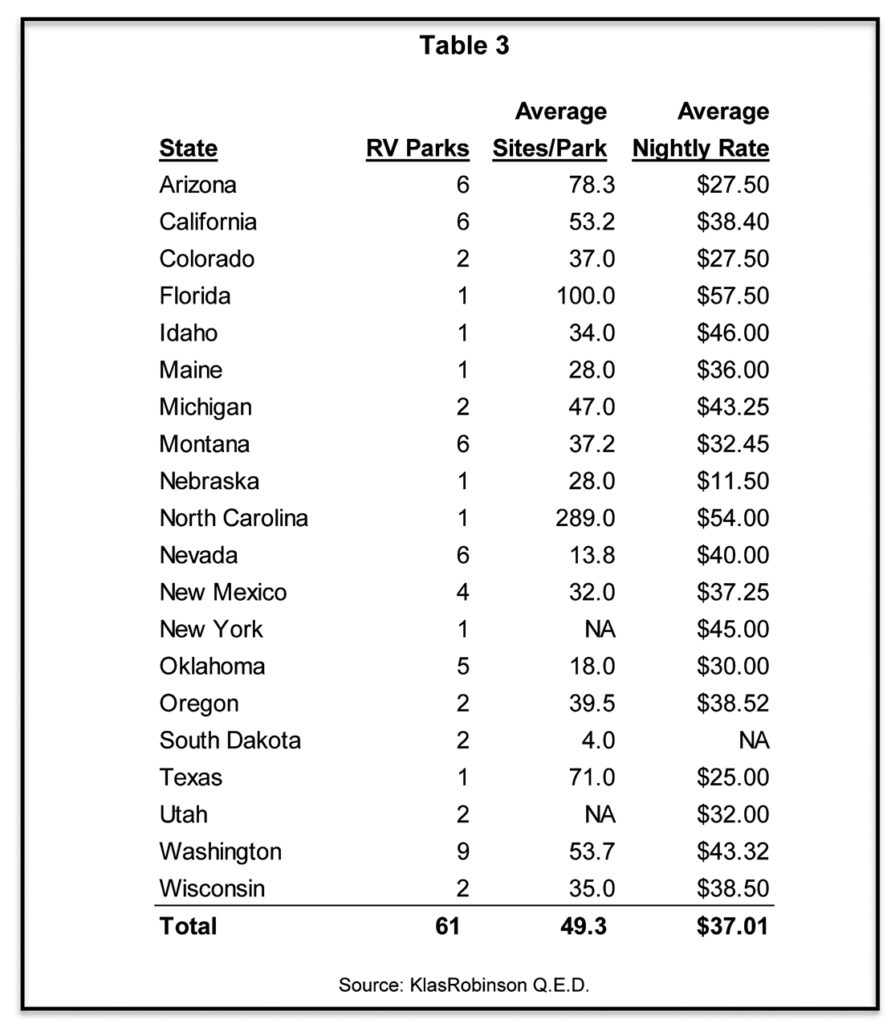 With respect to quality, tribally-owned RV parks, both at Indian casinos and standalone, are some of the nicest in the country. Good Sam Club, a subsidiary of Good Sam Enterprises, provides on-site reviews and ratings of thousands of RV parks, campgrounds and resorts across the U.S. and Canada. The 10-point rating system evaluates the parks across three categories: campground & RV park; restroom and showers; and visual appearance/environmental quality. There are currently only 178 RV parks and campgrounds awarded a perfect 10/10/10 rating, including 19 RV parks affiliated with Indian casinos. Tribally-owned RV properties receiving the Good Sam 10/10/10 rating are shown in Table 4.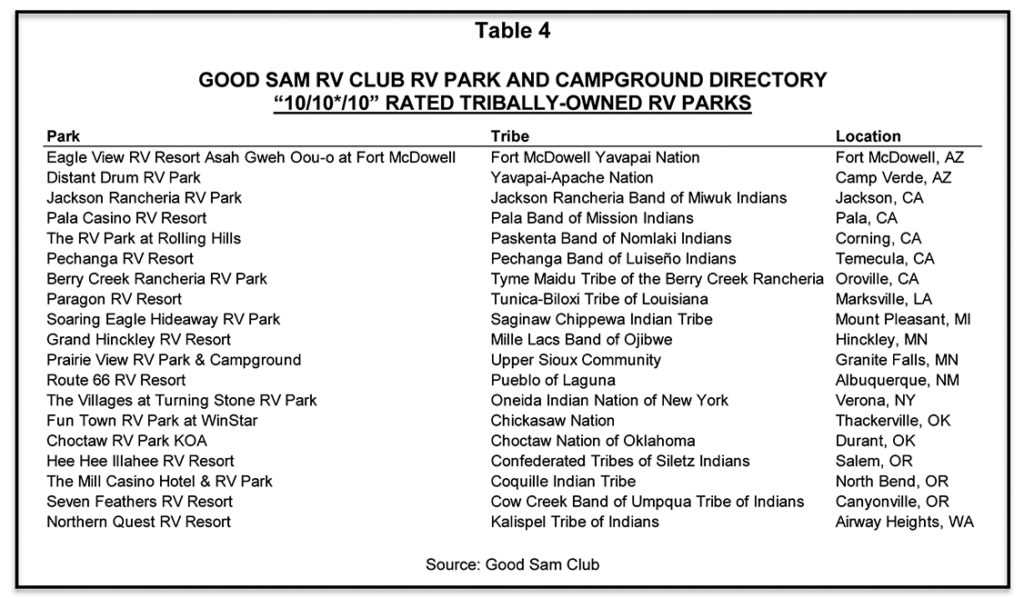 Given the anticipated record demand for RVs, an increased focus on RV parks in Indian Country is warranted. Many tribes have capitalized on their location and any existing resort and casino operations to offer attractive RV parks and services to campers. As the RV renaissance continues in the coming year, ensuring that these facilities are kept up-to-date and well-marketed will help strengthen their draw for campers across the country.
Matthew J. Klas is a Senior Associate at KlasRobinson Q.E.D., a national consulting firm specializing in the feasibility and economic impact of casinos, hotels, and other related ancillary developments in Indian Country. He can be reached by calling (800) 475-8140 or email [email protected].