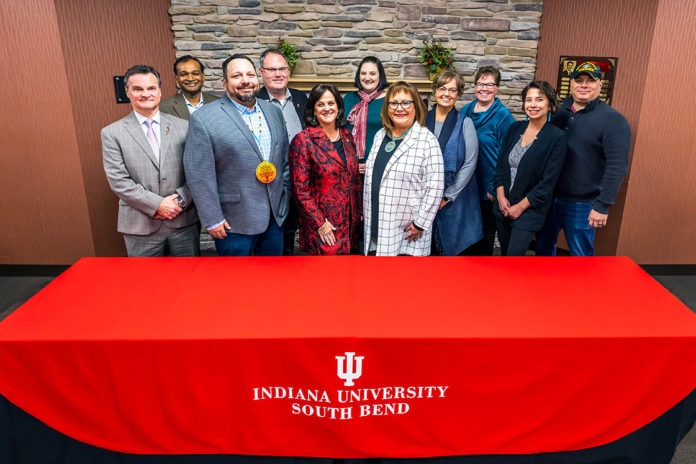 SOUTH BEND, IN – The Pokagon Band of Potawatomi Indians and Indiana University South Bend (IU South Bend) have renewed and expanded their Institutional Award Program, which benefits eligible Pokagon Band citizens and individuals employed by various Pokagon Band entities. A ceremonial signing event was completed at the IU South Bend campus featuring Pokagon Band Chairwoman, Rebecca Richards, and IU South Bend Chancellor, Susan Elrod. Members of IU South Bend's faculty and staff were in attendance along with members of the Pokagon Band Tribal Council, Pokagon Band Tribal Government, and Pokagon students currently attending IU South Bend. 
Under the terms of the agreement, IU South Bend will provide eligible Pokagon citizens and employees with Institutional Awards that reduce or eliminate the difference between in-state and out-of-state tuition rates. Although the Pokagon Band is federally recognized in the State of Indiana and owns and operates several business within the state, many of the tribe's citizens and employees reside in Michigan and other states.
To be eligible for the Institutional Award, Pokagon citizens and employees must qualify for admission into IU South Bend, consistent with the university's usual admission procedures. Admitted Pokagon citizens and employees may participate in any IU South Bend undergraduate or graduate program, degree or non-degree, offered in any modality including online, in person, hybrid, etc. IU South Bend's online courses were just added to the program.
"The Pokagon Tribal Government strives to make investments that will have a positive impact for our tribe, seven generations into the future," said Chairwoman Rebecca Richards of the Pokagon Band of Potawatomi Indians. "Access to higher education opportunities and life-long learning are critical to the long-term success of our Pokagon citizens and the individuals that are employed by our various business entities. Despite having hundreds of Pokagon citizens and employees that reside in the State of Indiana, we have thousands more that reside in Michigan and other states. We are extremely pleased to renew and expand our partnership with IU South Bend to ensure that all of our citizens and employees have access to the same high quality educational opportunities, from one of the top universities in the region."      
"We are thrilled to partner with the Pokagon Band to create more opportunities for Pokagon citizens to access higher education," said Susan Elrod, IU South Bend Chancellor. "A college degree helps students transform their lives and the lives of those around them. IU South Bend students graduate and become difference-makers in their community, which we know is important to the tribe. We welcome Pokagon citizens and employees as students who enrich our campus community with their talents and traditions and look forward to supporting them as they pursue their degrees and their passions."