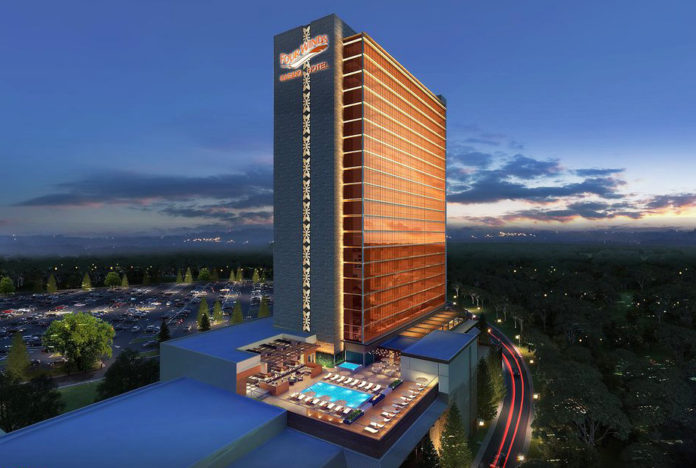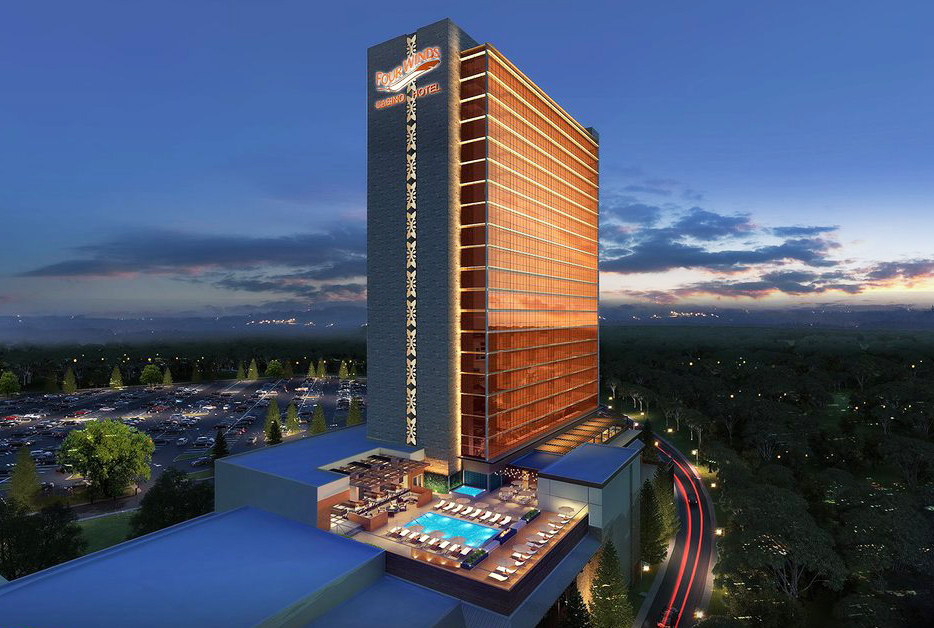 SOUTH BEND, IN – A new 23-story hotel tower at Four Winds South Bend will open to the public on Wednesday, March 1. The new structure features 317 rooms including 83 suites, as well as Cedar Spa, Edgewater Café, Ribbon Town Conference and Event Center, an outdoor swimming pool on the third floor, and terraces with spectacular views. The first live musical performance at Four Winds South Bend's new Ribbon Town Conference and Event Center will feature country music's Parmalee on Saturday, March 18 at 8:00pm Eastern. 
"March 1st will mark the culmination of a nearly two and a half year journey to realize our vision to expand Four Winds South Bend," said Rebecca Richards, Tribal Chairwoman of the Pokagon Band of Potawatomi. "We have so many people to thank that helped make this dream a reality including Frank Freedman and our casino operations team, our project manager, our general contractors, construction workers and vendors. We can't wait for our Pokagon citizens, as well as every guest, to experience the new facility."
"We are thrilled about welcoming guests to visit our new hotel, restaurant, conference and event center, and spa at Four Winds South Bend," said Frank Freedman, Chief Operating Officer of Four Winds Casinos. "The anticipation has been building as we've been focused on completing the interior features and finishes. From the design, use of materials and attention to detail, Four Winds South Bend offers a premium feel you'll find at top resorts. A sincere thank you to everyone that had a hand in the successful completion of the project. Whether you're visiting for entertainment or business, we look forward to welcoming you to enjoy a first-class experience."
Luxury hotel rooms and suites at Four Winds South Bend feature thoughtful amenities expected at a luxury resort, complemented with guest service and extra special touches. 
Located on the ground-level promenade near the hotel lobby, Cedar Spa offers a variety of traditional and unique spa therapies including steam rooms, saunas, and vitality pools as well as separate lounges for women and men. Appointments for Cedar Spa will be available soon.
The Edgewater Café is located on the third floor of the hotel and features cuisine inspired by the sun and sea. A daily brunch menu offers options that can be enjoyed for breakfast, lunch, or a midday treat, along with an eclectic dinner menu presenting a fresh spin on steaks, seafood, sandwiches, soups, and salads.
Located on the second level, Ribbon Town Conference and Event Center is a 24,000 sq. ft. multi-use facility that has 16 meeting rooms, a ballroom with seating for 800, two pre-function bar areas, a business center and outdoor pre-function space. In addition to hosting large meetings, conferences, banquets and special events, Ribbon Town will accommodate concerts and live performances.