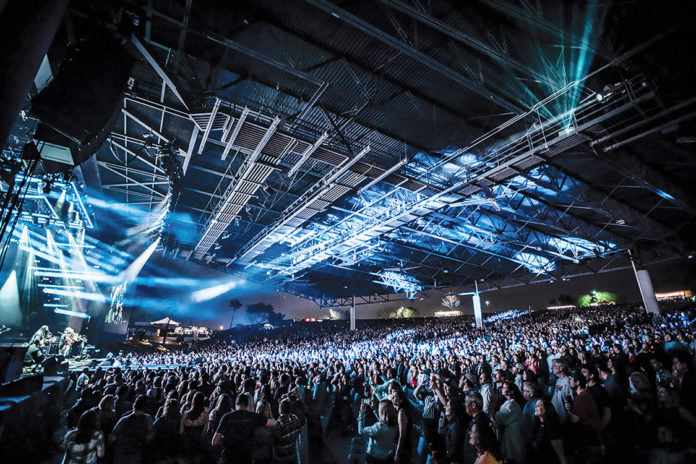 PHOENIX, AZ – Talking Stick Resort has been will be the new name-in-title sponsor of the popular venue formerly known as the Ak-Chin Pavilion. The 20,000-seat outdoor venue serves as a pillar of entertainment for fans in the community and is now known as the Talking Stick Resort Amphitheatre.
"Talking Stick Resort prides itself on partnering with organizations with goals that align with our own," said Ramon Martinez, Director of Public Relations for Talking Stick Resort. "Live Nation is just that type of partner. Like us, they are committed and passionate about providing guests with unparalleled entertainment. We are proud to have the Talking Stick Resort name associated with a legendary venue where people go to have unforgettable experiences."
Talking Stick Resort has multiple venues for live entertainment where internationally known performers have been hosted. The resort also has multiple restaurants, lounges, spas, pools and an adrenaline-charged casino.
"We are amidst a historic time in live music, with demand at an all-time high," said Andy Peikon, Live Nation's Senior Vice President, Head of Venue Sales. "Fans everywhere continue prioritizing concerts to connect and make lasting memories, and we are thrilled the Talking Stick Resort Amphitheatre will be a part of those unforgettable live music moments for fans in Phoenix."
For 30 years the venue has hosted artists such as Metallica, David Bowie, Jason Aldean, Wu-Tang Clan, Pearl Jam, The Police and Fleetwood Mac. The venue is the only Phoenix Point of Pride in Maryvale, a program initiated by the Phoenix Pride Commission in 1991 to foster a sense of community pride among Valley residents. In 2022, the venue had a standout season and responded to record demand for live music by hosting one of its busiest schedules of shows.