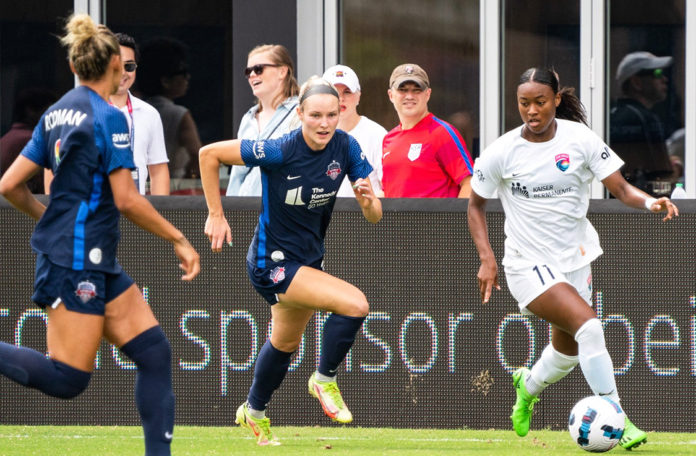 SAN DIEGO, CA – San Diego Wave Fútbol Club (Wave FC) and Pechanga Resort Casino have agreed to a multi-year partnership. The partnership marks Pechanga as the first and only California resort/casino to join forces with San Diego Wave FC. The two entities inked the deal ahead of the team's debut at Snapdragon Stadium. Together, Pechanga and Wave FC will host a youth soccer clinic in conjunction with Wave FC pros in 2023.
"Partnering with San Diego Wave Fútbol Club showcases our commitment at Pechanga to fostering relationships with a diverse portfolio of sports teams," said Andrew Masiel, Sr., President of Pechanga Development Corporation. "The Wave Fútbol Club has already brought enormous energy and enthusiasm for sports back to San Diego. We are humbled to be a part of that. We are also looking forward to sharing the incredible athleticism and work ethic of these professional athletes with children in our region and within our tribe."
"We are excited to partner with Pechanga Resort Casino to amplify our shared commitment in providing youth sports access to the greater San Diego community," said Jill Ellis, San Diego Wave FC Team President. "We are proud to be part of Pechanga's military support network as we come together to honor and celebrate our military heroes on Wave FC match days. We are also especially proud to be Pechanga's first women's professional sports partner as we elevate and grow the sport of soccer in Southern California."
As part of the partnership, Pechanga will be a sponsor for the Military Hero Moment of select Wave FC matches, honoring a special service member in attendance. Pechanga will also host an annual social media contest featuring "Wave Weekend Getaways" where fans will have the opportunity to enjoy both Pechanga's resort and casino amenities and cheer on the Wave at a home match. There will also be Pechanga signage featured in Snapdragon Stadium during Wave FC home matches.