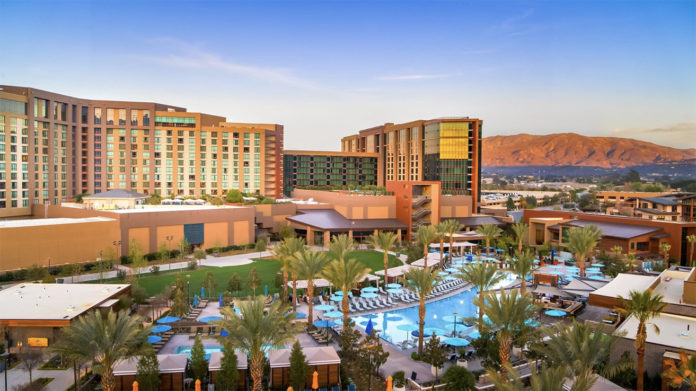 TEMECULA, CA – Pechanga Resort Casino has added two new AAA Four Diamond Awards for 2022. This is the 21st consecutive year the 1,100-room luxury resort/casino has been awarded this honor, and the 11th year for the resort's signature restaurant, the Great Oak Steakhouse. Hotels and restaurants must meet stringent standards of cleanliness, comfort, and hospitality to qualify for the AAA Diamond Program, with higher levels of excellence awarded with levels three, four, and five diamond distinctions.
The resort has earned Four Diamond status every year since its opening in 2002. Only 14 other resorts in Riverside County hold a AAA Four Diamond decoration. The Great Oak Steakhouse is the only restaurant in Temecula to receive a Four Diamond rating, sharing this distinction with only one other restaurant in the Inland Empire, five others in all of Riverside County.
"The AAA Four Diamond awards tell us that guests appreciate the commitment to quality and excellence we exhibit at Pechanga," said Tjeerd Brink, General Manager of Pechanga Resort Casino. "Accolades like these promise our guests a positive experience every time they visit – including our dining experiences, top class rooms and suites, and our impeccable service."
Pechanga Resort Casino was also awarded AAA's Inspector's Best Of award for housekeeping and for the massive, 4.5-acre pool complex, The Cove. The resort is ranked in the top 25 percent of all hotels based on cleanliness and conditions.
"This is my favorite pool area in town," said an anonymous AAA inspector regarding the new 4.5-acre pool complex. "It's equipped with five spas, three pools (including a zero-edge with swim-up bar), waterslides and cabanas."
For more than 80 years, AAA professional inspectors survey more than 59,000 hotels and restaurants throughout North America each year to determine the ratings of each. The scale is a three through five diamond rating system. AAA officials say only 4.8 percent of the 30,000 approved lodgings make the Four Diamond list. The number is smaller yet, 2.9 percent, for the 29,000 AAA approved restaurants. Establishments are graded in person by professional inspectors and arrive unannounced, presenting themselves as any other guest.