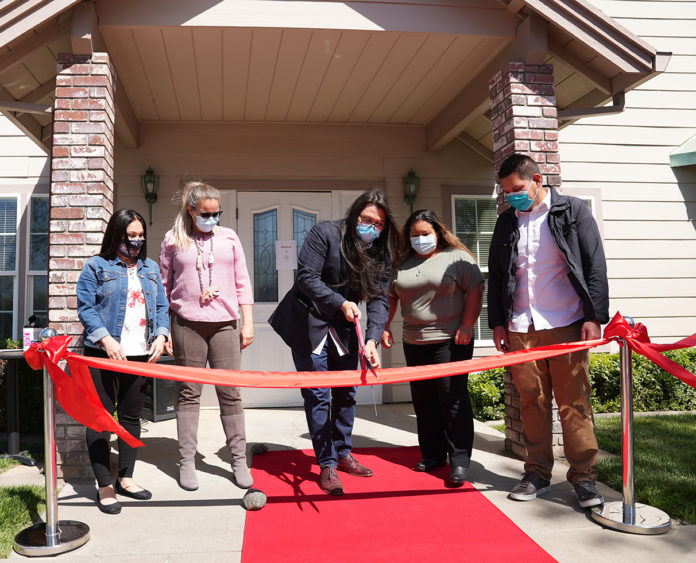 RED BLUFF, CA – The Paskenta Band of Nomlaki Indians celebrated the official opening of its expanded Rolling Hills Clinic in Red Bluff with a ribbon-cutting ceremony. The ceremony featured remarks from the Paskenta Band of Nomlaki Indians Tribal Chairman Andrew "Dru" Alejandre, Paskenta Band of Nomlaki Indians CEO Damon Safranek, Rolling Hills Clinic Executive Director Carole Veloso, and California Assemblyman James Gallagher.
"The expansion of our Red Bluff clinic marks a great milestone for our tribe as providing quality and accessible healthcare for our community is deeply rooted in our tribe's values. We are truly humbled to be in a position where we can support our community by providing additional affordable healthcare resources that are much needed, especially during the ongoing pandemic," said Tribal Chairman Andrew "Dru" Alejandre. "We are proud of this new facility and are grateful for our medical and dental staff who look forward to welcoming current and new patients."
This new building, formerly known as the Dignity Health Medical Group, is located at 2526 Sister Mary Columba Dr. in Red Bluff. The expanded clinic space will provide additional primary services for the local community, while allowing the tribe to expand specialty services in their former location including behavioral health, pediatric pain management, dermatology, and physical therapy. The newly expanded space is now open and accepting new patients.
In addition, the clinic expansion will bring in additional primary care providers and house longtime local Obstetrics and Gynecology (OBGYN) specialist Dr. Norman Nasise. Beloved by the Red Bluff community as the former OB/GYN medical provider at Dignity Health Medical Group.
The tribe has also continued to receive support from public officials, including California Assemblyman James Gallagher who was in attendance in the day's event and who shared remarks during the ceremony. Assemblyman Gallagher has been an active supporter of the tribe's commitment to helping the community at large, especially in providing healthcare services.
"I look forward to seeing how the newly expanded Rolling Hills Clinic positively impacts the Red Bluff community through quality and accessible healthcare services," said Assemblyman James Gallagher (R-Yuba City). "As we continue to push through a global pandemic, it's great to see a tribe like Paskenta Band of Nomlaki Indians support local communities such as Red Bluff."
During the ceremony, the Rolling Hills Clinic announced that Dr. Akua Agyeman M.D. officially joined their medical staff on March 15, 2021. Dr. Agyeman will serve as the new Medical Director for the Rolling Hills Clinics in Corning and Red Bluff and will report directly to Executive Director Carole Veloso.
Licensed in four countries with clinical specialties in both Internal Medicine and Pediatrics, Dr. Agyeman brings more than 20 years of experience and has been a hospital medical officer and held private practices throughout Australia, Guam, New Zealand, and the U.S. She will provide these specialty services and oversee the medical staff at both the Corning and Red Bluff locations.
"Dr. Agyeman brings a wealth of experience to our medical practice through her ingenious medical background," said Carole Veloso, Executive Director at Rolling Hills Clinic. "We are proud to welcome her to our medical team and know she'll support in providing quality medical care to our local community."
The Rolling Hills Clinics provide affordable, quality medical care and dental services to residents in Corning, Red Bluff and surrounding communities. They are committed to providing quality patient care and outstanding customer service to its communities. Both clinics are taking protective measures to keep its personnel and patients safe during these uncertain times by offering telehealth and assessing ill patients before they enter the locations. Rolling Hills Clinic accepts Medi-Cal, Medicare, and most major insurance providers.