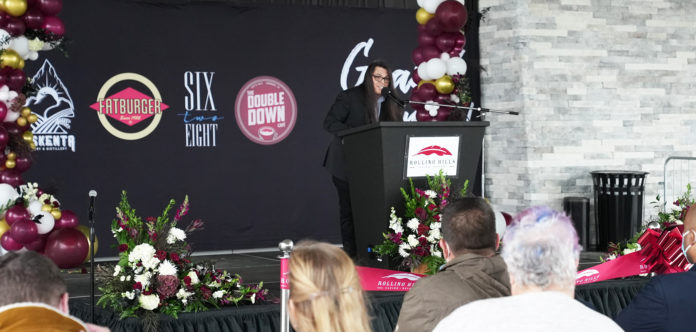 CORNING, CA – The Paskenta Band of Nomlaki Indians celebrated the grand opening of the expansion of Rolling Hills Casino and Resort in Corning, CA. The casino game and event spaces have increased by 60,000 and 30,000 sq. ft., respectively. Tribal members, city and county officials and guests were in attendance to commemorate the conclusion of the 15-month expansion project with a ribbon cutting ceremony.
"We are excited to offer our guests more entertainment and dining options at the Rolling Hills Casino and Resort," said Andrew "Dru" Alejandre, Tribal Chairman of Paskenta Band of Nomlaki Indians. "Most importantly, this expansion has allowed us to drive economic progress in the region through the creation of new jobs, which supports our tribe's goal of building a sustainable future for our people and our surrounding communities. We are grateful for our tribal members, team members, community and valued guests for their continued support."
In 2019, the Paskenta Band of Nomlaki Indians celebrated the 25th anniversary of the tribe's official restoration as a sovereign nation by breaking ground on a multi-million dollar expansion project. The Rolling Hills Casino and Resort expansion included a remodeled exterior and interior, total hotel room upgrades, an expanded conference center with ballroom and a 40 percent larger gaming area. The new gaming space has added 10 new table games, as well as a new high limit gaming area with more than 80 high denomination slots.
Rolling Hills Casino and Resort has also added four new restaurants including a Rock & Brews Restaurant, Fatburger, 628 Steakhouse, and the all-new Paskenta Brewery & Distillery, coming soon. The 628 Steakhouse will offer guests upscale dining options that feature hand cut steaks and fresh seafood. In addition, the new Center Bar, located on the gaming floor, will offer a wide selection of beers and cocktails with multiple televisions for fans to enjoy game days.
The grand opening of the expanded Rolling Hills Casino and Resort is part of the Paskenta Band of Nomlaki Indians' goal to build a sustainable future for its people and the surrounding communities. The tribe is one of the top-three largest employers in Tehama County and through the expansion project, the tribe has employed more than 100 new team members for positions in all departments of the casino and resort.