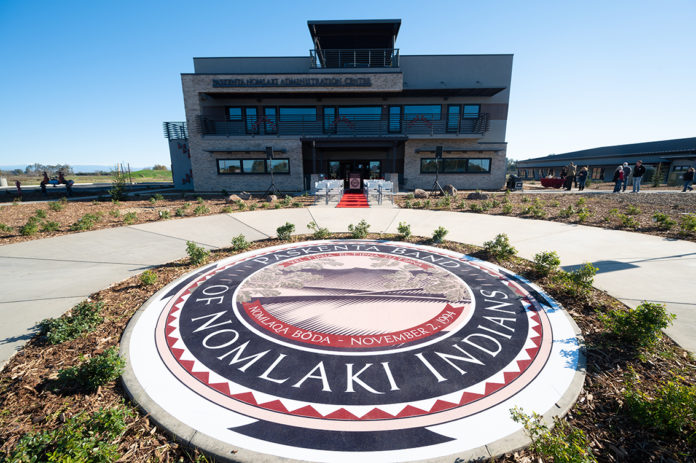 CORNING, CA – The Paskenta Band of Nomlaki Indians has celebrated the official grand opening of the Paskenta Nomlaki Community Complex, a multi-million-dollar building comprised of an Administrative Center and a Community Center. Tribal members and city and county officials were in attendance to celebrate the grand opening with a ribbon-cutting ceremony.
"This is a huge milestone for our tribe because it's the first time we have a space that we can call our own," said Tribal Chairman Andrew "Dru" Alejandre. "After years of not having a place for our people to unite, we are happy to finally have a home where we can connect as a tribe and community."
The Paskenta Nomlaki Community Complex is comprised of an 11,000 sq. ft. Administrative Center that will house all tribal administrative staff and multiple conference rooms for council and board member meetings. The 17,000 sq. ft. Community Center will feature a large meeting and multipurpose space for up to 360 people, a commercial-style kitchen, a lounge and business center, private meeting rooms, and a multi-purpose room for childcare, crafts, and small community events. The Community Center will be made available for general community usage at a later date. The building will also include more than 5,000 sq. ft. of exterior space.
"We were adamant in not only building an administrative office for our people but a community complex that we hope will inspire evolution and growth for the surrounding communities," said Alejandre. "With the community in mind, we designed a space that honors and supports the community and our tribe as one."
Developed as the home for the region's first people, the Paskenta Band of Nomlaki Indians, the complex reflects and honors the tribe's collective values and history. The Administrative Center design incorporates a circular opening inspired by the traditional Nomlaki roundhouse structures to signify unity. Additionally, both the Administrative Center and Community Center will incorporate culturally significant elements such as the sconces and lighting that utilize traditional Nomlaki basket patterns and flicker feathers used in traditional regalia.
The Paskenta Nomlaki Community Complex is located at 2800 S. 99 West Highway, Corning, CA 96021.