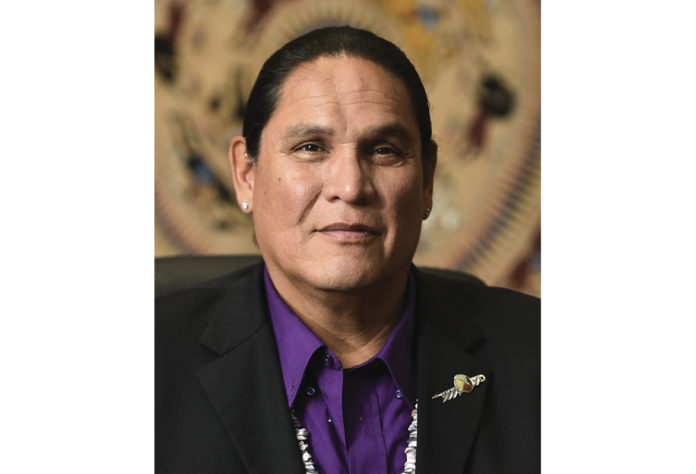 by Ernest L. Stevens, Jr.
The 118th Congress is off to an uneven start. The midterm elections delivered a split Congress with Democrats increasing their Senate majority by one seat, and Republicans taking over control of the U.S. House of Representatives by an equally narrow margin. Expectations for the divided Congress are low. The assumptions are two years of gridlock and fiscal showdowns, with little legislative gains to show. However, for Indian Country, gridlock is not an option.
Native communities face significant unmet needs across the board – from education, to health care, to significant threats to tribal sovereignty. Indian Country has been here before. While we accept that it will be difficult, our member tribes and all tribal leaders nationwide accept this reality as a challenge and a call to unity to prioritize the needs of our communities. The months ahead will require a united tribal front to educate new members of Congress on the uniqueness of Indian policy. The 118th Congress includes 83 new members, many who do not represent tribes or even have tribal governments in their state.
In the early months of 2023, the Indian Gaming Association and our sister organizations will hold legislative impact weeks in Washington, D.C. These events bring lawmakers and key officials from the Biden administration together with tribal leaders to discuss Indian Country's policy priorities and challenges. We use these early opportunities to remind new members that the solemn vow they swore to uphold – the U.S. Constitution – reaffirms the status of Indian tribes as separate and distinct sovereign governments and holds our sacred treaties as the Supreme law of this land.
Tribal leaders will continue work with longstanding champions of tribal sovereignty to encourage them to educate new lawmakers as they build their own relationships. One key organization to accomplish this goal has been the House Native American Caucus. Congresswoman Mary Peltola (D-AK) (Yup'ik), the first Alaska Native to serve in Congress, joins Native American Caucus Co-Chairs, Representatives Tom Cole (R-OK) (Chickasaw) and Sharice Davids (D-KS) (Ho-Chunk), who easily won reelection. In addition, former Rep. Markwayne Mullin (R-OK) (Cherokee) was sworn in as the first Native American to serve in the U.S. Senate since the retirement of the revered former Senator Ben Nighthorse Campbell (R-CO) (Northern Cheyenne).
We look forward to working with these and other advocates of tribal sovereignty to build upon the historic gains made in the 117th Congress that included critical improvements to infrastructure, public safety and justice, plus several new laws that provide tribal governments with direct access to federal funding.
Thanks to a decade long united effort throughout Indian Country, Congress also enacted a new law that will do much to advance the federal government's solemn treaty and trust obligations to provide health care to Native communities.
In December of 2022, Congress included FY 2024 advance appropriations for the Indian Health Service as part of the FY 2023 omnibus spending package. Prior to this change, IHS was the only federal health care provider lacking any certainty for future year funding. Without advance appropriations, funding delays and government shutdowns inflicted havoc on the Indian health care system. Yet, these legislative victories come in the face of unprecedented attacks on Indian Country in the federal courts.
In June of 2022, the U.S. Supreme Court, in the Castro-Huerta decision, upended the foundational legal principle that state governments have no authority over Indian lands absent an express act of Congress or consent of the tribal government. In addition, the Brackeen v. Haaland and Maverick Gaming v. United States cases attack the very core of tribal sovereignty, falsely claiming that the Indian Child Welfare Act and the Indian Gaming Regulatory Act are illegally based on race and ancestry.
To address these threats, Indian Country cannot accept gridlock. Instead, we must amplify our efforts in Congress and with the administration to roll back the Castro-Huerta decision and bolster federal laws to reaffirm tribal sovereignty to fend off any potential fallout from the Brackeen and Maverick gaming attacks.
Finally, while we acknowledge work in a divided Congress will be challenging, Indian Country will increase our outreach to the Biden administration to advance initiatives to improve protections to tribal treaty rights, Native sacred places on federal lands, restoration of tribal homelands, and the active proposal to strengthen the Indian Gaming Regulatory Act by improving regulations governing the tribal-state compacting process.
We have made incredible progress over the past decade and cannot accept any reversion to past policies that treated tribal governments as second-class sovereigns. These attacks on tribal sovereignty are a call to action for every Indian tribe, tribal leader, and Native organization to come together. I look forward to again walking the halls of Congress arm in arm with our member tribes and tribal leaders nationwide to meet these challenges.
Ernest L. Stevens, Jr. is Chairman of the Indian Gaming Association. He can be reached by calling (202) 546-7711 or visit www.indiangaming.org.