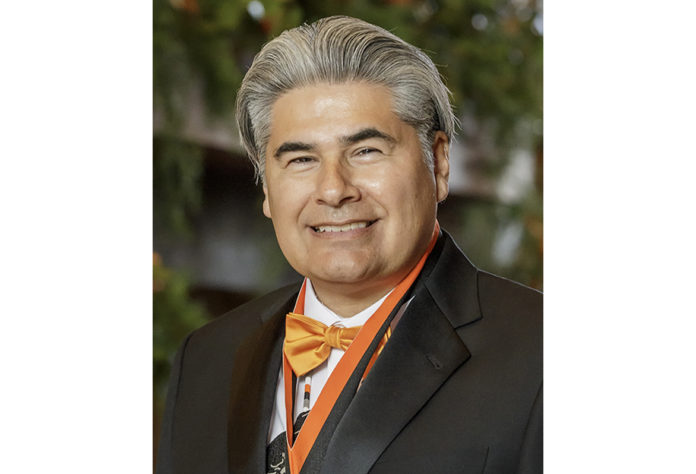 STILLWATER, OK – The Oklahoma State University Alumni Association has inducted Otoe-Missouria tribal citizen Wilson K. Pipestem into the OSU Hall of Fame. Induction into the Hall of Fame is the university's highest honor for alumni or former students, recognizing their outstanding professional achievements and contributions to society. Pipestem was previously honored as the university's Distinguished American Indian Alumni in 2013.
Pipestem, who grew up in Norman, OK, is also of Osage and Potawatomi descent. He served as President of the Native American Student Association as an undergraduate at OSU, graduating with a Bachelor of Arts in English in 1992 before earning his Juris Doctorate from Stanford University in 1995. He is one of only a handful of tribal citizens inducted into the Oklahoma State University Hall of Fame since ceremonies began in 1956. Other Native American inductees include renowned artist Benjamin Harjo, Jr. (Seminole and Shawnee) in 2012 and former Neal McCaleb, Assistant Secretary of the Interior (Chickasaw) in 2019.
"I'd like to thank the Oklahoma State University Alumni Association for including me in this esteemed 2022 Hall of Fame class," said Pipestem. "It's an honor to stand alongside my distinguished colleagues and be recognized by Oklahoma's premier university. And while I'm humbled to represent the Otoe-Missouria Tribe, as well as the Osage and Potawatomi People in this Hall of Fame, I recall the remarkable Native leaders that attended Oklahoma State and led the way for me. I'm delighted to join individuals like the great Seminole and Shawnee artist Ben Harjo Jr., but our tribal communities remain underrepresented in these honors. I hope we are joined in this Hall by even more of our well-deserving Native brothers and sisters very soon."
Pipestem is the founding partner of Pipestem & Nagle, and founder of Ietan Consulting. He has assisted tribal nations with reacquiring former tribal lands back into the tribal land base, reaffirming reservation boundaries in Oklahoma in post-McGirt v. Oklahoma litigation, and stopping attacks on tribal sovereignty. He also served as lead counsel in Osage Nation v. United States, which was settled in favor of the Osage Nation after 11 years of litigation for a record $380 million.
"Wilson Pipestem has dedicated his life and career to protecting tribal sovereignty and the rights of Native Americans," said Rob McInturf, President of the OSU Alumni Association. "He is an outstanding example of an Oklahoma State University graduate who is passionate, selfless and dedicated to improving the lives of others. For that, we are honored to recognize him as one of the newest members of the OSU Hall of Fame."