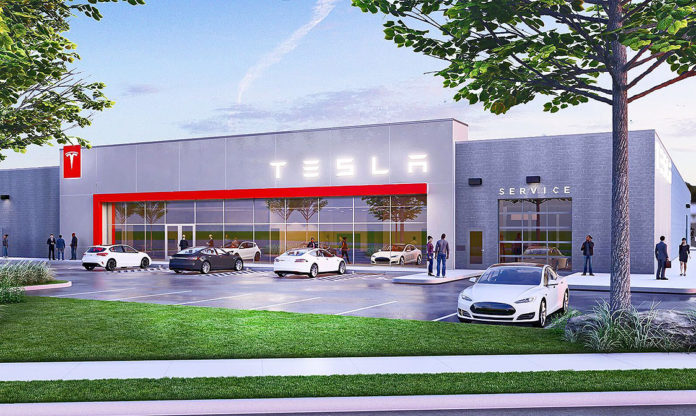 VERONA, NY – The Oneida Indian Nation and Tesla have entered into a partnership to develop the automaker's first Sales, Service, and Delivery (SSD) center in the region. Located on Oneida Indian Nation homelands just off Exit 34 on the New York State Thruway, the new showroom is expected to open by 2025 and will offer area residents the same easy access to direct-to-consumer EV purchases enjoyed in Downstate New York.
This unique partnership between the Oneida Indian Nation and Tesla is made possible by the 2013 Settlement Agreement between the Oneida Indian Nation, New York State and Oneida and Madison Counties. Under this historic, one-of-a-kind agreement, the Nation has paid more than $600 million to the state and the local counties in consideration for, among other things, the state's recognition of Oneida's sovereign right to pursue responsible land use and economic development initiatives without interference.
This Tesla partnership continues the Nation's commitment to environmental stewardship. It is the latest in a long history of sustainable practices employed across Oneida's enterprises. The Oneida Indian Nation, the State of New York, communities from across the state and countless environmental and civic organizations have also emphasized the importance of increasing EV adoption and supporting direct-to-consumer EV sales in reducing emissions and dependence on fossil fuels. Yet, with limited purchasing options, adoption of EVs has significantly lagged in Upstate New York. With the ability to purchase and receive service for EVs on Oneida homelands in the heart of Upstate, the Nation's new initiative will dramatically expand access for more than six million Upstate New Yorkers – one-third of the state's population. By increasing interest in and access to EV direct-to-consumer sales, service and charging throughout the region, the Oneida Indian Nation will maintain its dedication to conservation within its ancestral homelands and doing all things for the benefit of the Seventh Generation.
The sale of Tesla vehicles on Oneida Indian Nation land will also generate funds that will be dedicated exclusively to supporting Oneida government programs and services for Nation members, with no loss of tax revenues whatsoever to local communities. Pursuant to a 2020 Memorandum of Understanding between Oneida and the NYS Department of Taxation and Finance, Tesla will remit the state's portion of its sales tax collections on all EVs sold to the Oneida Indian Nation, which will dedicate these funds exclusively to supporting Oneida government programs and services such as public safety, healthcare, education and environmental conservation. Tesla will continue to remit all county sales tax collections to the county where the buyer lives.
Additionally, the Nation and Tesla are already working closely together to expand Upstate New York's EV charging infrastructure to support the region's EV drivers as demand for these vehicles grows. Oneida and Tesla have agreed to add 16 additional Tesla superchargers at two locations in the Oneida homelands in Verona. Tesla is also partnering with Oneida to install more than 120 Level 2 chargers across the Oneida homelands, including 12 each at the community center, administrative offices, and the elder center, as well as chargers dedicated to tribal residences. All of this is in addition to the 12 Tesla superchargers already located at Turning Stone Resort Casino. These superchargers were equipped with Tesla's recently introduced Magic Dock, making them among the first in the United States to support Tesla vehicles and EVs from other manufacturers.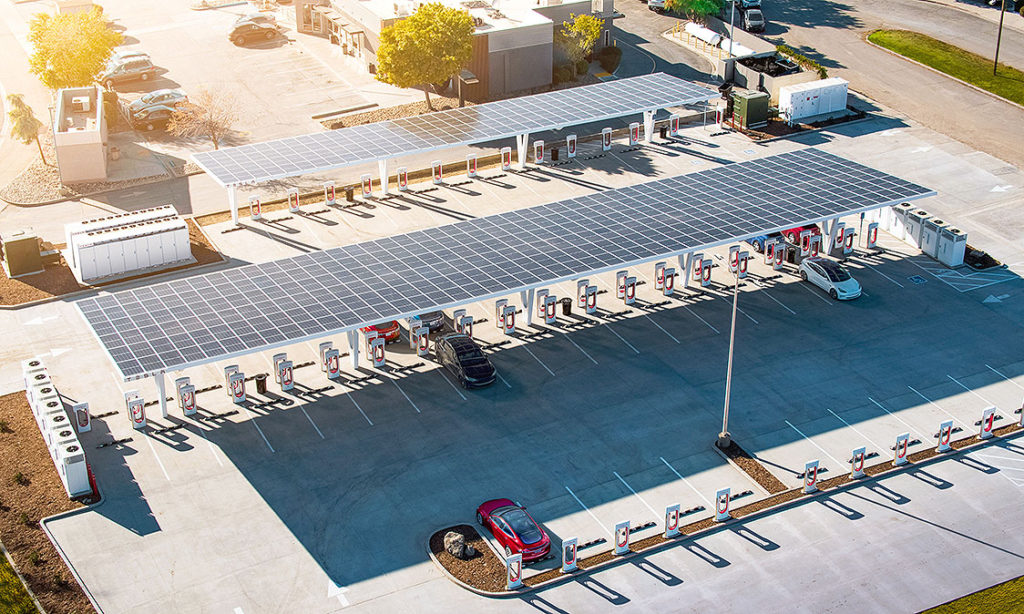 This development will also continue the diversification of the Nation's enterprises and its role as an engine for economic development for the Oneida people and all of Upstate New York. In addition to a 25,000 sq. ft. SSD center constructed on Nation lands at the current site of the SavOn convenience store in Canastota, the Nation also plans to construct a new Maple Leaf Market across the street, as well as the brand-new retail plaza noted above at the same site. These new enterprises will create hundreds of construction jobs and a variety of new permanent full-time and part-time positions.
"We are proud to expand access to EVs in Upstate New York," said Oneida Indian Nation Representative and Oneida Nation Enterprises CEO Ray Halbritter. "This initiative and partnership with Tesla aligns with the Nation's commitment to environmental stewardship, the constant diversification of our enterprises and warm hospitality for all who enter our ancestral homelands. As we look towards the future, we know that these guiding principles will serve as an anchor for the economic development required to sustain our region and the Oneida people for many generations to come."
"Tesla's partnership with the Oneida Indian Nation is an opportunity to make electric vehicles and charging infrastructure more accessible to Nation members and the residents of Upstate New York," said Rohan Patel, Vice President, Public Policy and Business Development for Tesla. "This partnership aligns with New York State's climate action council's scoping plan and will help the state meet its ambitious electric vehicle adoption goals. We are also excited to work with the Nation to foster top local talent through Tesla's workforce development programs which will specifically provide members of the Oneida Indian Nation with opportunities to learn diverse skills which can lead to full-time careers at Tesla."
With the nearest Tesla showroom hours away in Westchester, the new showroom will allow easy direct sale and delivery of EVs to Upstate New York residents. While the new SSD center is under construction, the Nation and Tesla will offer EV delivery directly to consumers at Turning Stone Resort Casino beginning the week of June 12. EVs will be available for pickup on the top floor of Turning Stone's parking garage. Tesla will maintain offices onsite at Turning Stone for delivery processing and registration.