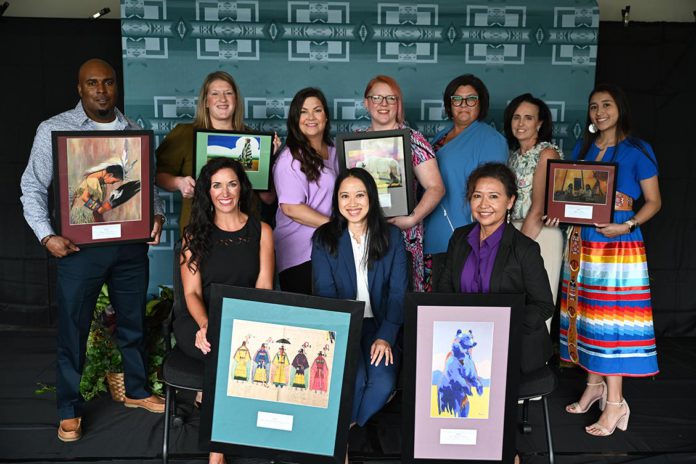 OKLAHOMA CITY, OK – Oklahoma City Indian Clinic celebrated the dedication and accomplishments of its staff members at the 20th Annual Oklahoma City Area Director's Indian Health Service, Tribal, Urban Awards Ceremony. The event, held at the Chickasaw Nation Community Center, recognized the individual and team efforts that contribute to the improvement of Indian Health Service (IHS), tribal and urban health programs.
Esteemed members from Oklahoma City Indian Clinic who were acknowledged for their outstanding contributions include:
Oklahoma City Indian Clinic Communication Team – Exceptional Group Performance award
The Missed Call Project Team – Area Director's Group Excellence in Customer Service Award
Elizabeth Yates – Peer Recognition
Skyler Factor – Merit Award
James Foreman – Excellence in Customer Service Award
Dr. Janice Hixson – Area Director's Health Care Leadership Award
"Seeing this event lets me know that I actually am doing great work," said James Foreman, a social services specialist at Oklahoma City Indian Clinic's Public Health Department, who was honored for his excellence in customer service remarked. "I was nervous about coming here but after seeing it, it's just needed."
"We are immensely proud of our amazing and wonderful staff," said John Daugherty Jr., Oklahoma City Indian Clinic's Board of Directors Treasurer. "This event and their awards serve as a testament to the meaningful impact our work has on the lives of our patients."
Oklahoma City Indian Clinic was established in 1974 to provide health care and wellness services to American Indians in Central Oklahoma. The clinic staff cares for more than 21,000 patients from over 220 federally recognized tribes every year. American Indians can receive a range of services, including medical, dental, pediatrics, prenatal, pharmacy, optometry, physical fitness, nutrition, family programs and behavioral health services.