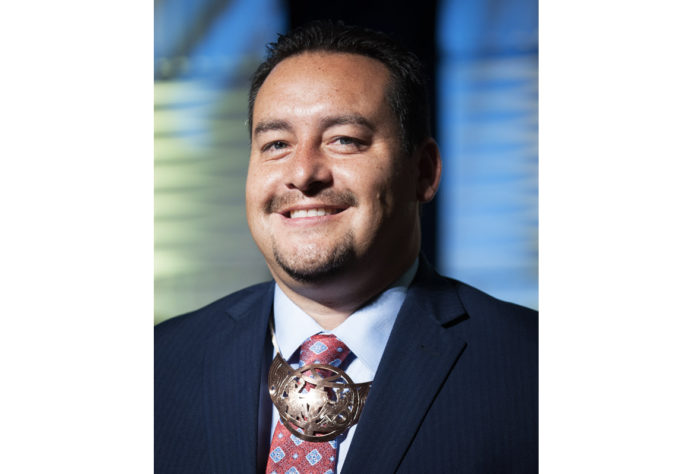 by Matthew L. Morgan
Chukma (greetings)! As we welcome thousands of our closest friends, family and respected colleagues to Tulsa, OK located on the Muscogee (Creek) Nation reservation, we do so with pride. Together, we have weathered the past 2 ½ years safely, responsibly and collaboratively. Our industry came together, and now that things have begun to feel stable again, we have seen the fruits of our diligence and labor yield successes: our gaming and entertainment offerings are enjoying record attendance and we are grateful for that.
We are pleased to host the 27th Oklahoma Indian Gaming Association Conference and Trade Show, otherwise known as 'the biggest little show in Indian gaming,' which will transform Tulsa's Cox Business Center into a showcase for the latest and greatest in gaming technologies and business offerings including everything from cyber-security to new and exciting F&B products. It's a time to come together and learn from each other, catch up with one another and imagine our shared future.
From August 9-11, nearly 3,000 vendors, visitors and guest speakers will make their way to downtown Tulsa to celebrate and advance our industry. If you have never attended the OIGA trade show, you are in for a treat. It is a lively, fun, informative, high-energy assembly of some of the biggest names in the gaming and hospitality industries.
As always, the unofficial kickoff of the conference and trade show is bright and early Tuesday, August 9. The OIGA John Marley Scholarship Golf Tournament has become a beloved tradition. Each year, the tournament raises funds to support scholarships granted to students whose parents or guardians work in Oklahoma's gaming industry, and also to gaming employees themselves who are pursuing their educations. We are pleased to have presented 54 scholarships since 2014.
Wednesday morning will kick off the conference, with a robust schedule of conference sessions with tracks and topics for everyone in our industry, from new careerists to mid- and high-level executives. Session topics will include: State of Tribal Gaming in Oklahoma; National Landscape on Sports Betting: Bills, Stakeholders and the Outcome; SCOTUS and District Court Decisions: Impact to Indian Country; Oklahoma Tribal Economic Impact Report Review; and many more.
The Cox Business Center, where all the conference sessions and the trade show take place, is in the heart of downtown Tulsa. It's surrounded by hotels and is easily walkable to a variety of restaurants and a revitalized downtown comprised of micro-districts each with its own scene and style. We will have shuttles running all day to and from most hotels.
When you're not in sessions or enjoying the trade show, downtown Tulsa has much to offer, including over 70 restaurants and the nearby attraction, The Gathering Place, a 100-acre riverfront park, perfect for a morning walk or jog and recently named the "Best New Attraction in the Nation" by USA Today.
Our industry has so much to celebrate. When modern tribal government gaming in Oklahoma began several decades ago, we did so with simple bingo halls situated in retrofitted buildings. Today, 35 tribal nations in Oklahoma currently operate more than 130 gaming facilities with approximately 72,850 electronic games, almost 5,300 bingo seats and other games. Our industry indirectly and directly supports tens of thousands of jobs for Oklahomans, most in our state's rural communities. Tribal gaming operations include 20 casinos with hotels/resorts with a combined total of more than 5,000 rooms, and almost 500,000 sq. ft. of meeting, function and entertainment space.
Other related ancillary facilities and amenities include almost 200 restaurants and bars, nine golf courses with a total of 126 holes, five spas, seven RV parks with nearly 375 sites, more than 50 gas and convenience stores as well as destination and convenience retail, several bowling centers, laser tag and a movie complex.
When it comes to economic and social impact, the tribal gaming industry in Oklahoma works hand in glove, each and every day, with counties, cities and towns, nonprofit organizations large and small, hospitals, local school and hundreds of other businesses and individuals to improve the quality of life and economic stability of our hometowns. We not only help build businesses, healthcare facilities, roads and other much needed infrastructure, we help build careers, families and friendships that last generations. We help wherever we can. Always have, always will.
Additionally, all compacted tribes make direct payments to the State of Oklahoma in the form of exclusivity fees, 88 percent of which are used for education, benefiting all Oklahoma students. According to the state Office of Management and Enterprise Services and OIGA, Oklahoma tribes have remitted more than $2 billion in exclusivity fees to the state since 2006, the first year of collections. We are proud of our contributions and look forward to a bright future.
I look forward to catching up with you in Tulsa. Safe travels and see you there!
Matthew L. Morgan is Chairman of the Oklahoma Indian Gaming Association. He can be reached by email at [email protected].