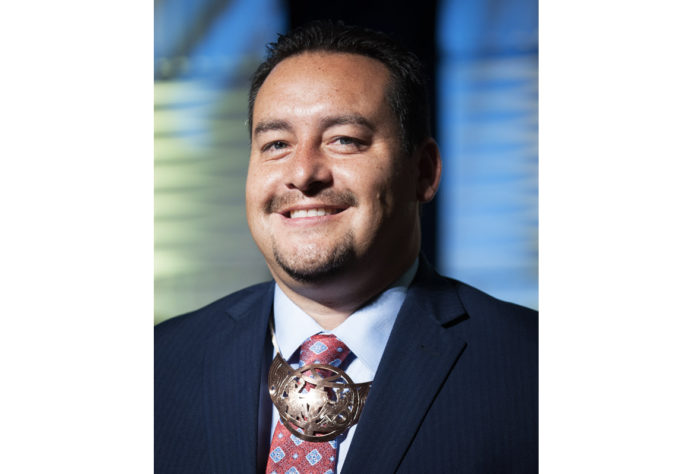 by Matthew L. Morgan
The 2021 Oklahoma Indian Gaming Conference and Trade Show takes place August 16-18, 2021 at the new Omni Hotel and the Oklahoma City Convention Center, located across from the 30-acre Scissortail Park.
On behalf of our Board of Directors and the Oklahoma Indian Gaming Association (OIGA), I am thrilled to welcome attendees and vendors to our 2021 Conference and Trade Show. Oklahoma City, with its central location, is drivable for many, and we've made it a point to keep registration fees affordable.
Over the past year and a half, we've made plans, adapted our plans, and continue to take careful measures to hold a safe, productive and joyful event for our thousands of friends, exhibitors, sponsors, vendors and attendees. You'll notice our dates are a little bit later this year, a modification our leadership made months ago, to allow plenty of time for as many attendees as possible to receive vaccinations. OIGA has diligently followed and implemented recommendations from the CDC, tribal and state health authorities throughout the planning process.
Other modifications you might notice include keeping all indoor OIGA events within the beautiful host hotel and convention center, removing the morning welcome session with its theater-style seating and opting to present OIGA's Annual Awards from the stage on the trade show floor rather than at our usual luncheon. We are also proud to be offering COVID-19 vaccinations, free to all, on our trade show floor, through a collaborative effort with the Oklahoma City Indian Clinic.
Despite having to cancel our 2020 Conference and Trade Show, our Board of Directors were adamant that our scholarship program not suffer, and we were able to award scholarships in 2020 to some very deserving students. I know our golfers will be excited as our annual golf tournament benefiting the John Marley Scholarship Foundation will get an early start Monday, August 16 at the Lincoln Park Golf Club, the proceeds from which have funded tens of thousands of dollars in scholarships for students since its inception. It promises, as always, to be great fun and fellowship in support of a cause that is close to our hearts. The 2021 John Marley Scholarships for students and gaming employees will be awarded as part of the awards ceremony, which will take place on the trade show floor at 4pm, Tuesday Aug. 17.
The welcome reception and poker and blackjack tournaments will be held Monday evening, and we can guarantee that a great time will be had by all.
Tuesday morning will be dedicated to conference sessions. The trade show floor will open earlier than usual on Tuesday for maximum networking, and instead of the formal luncheon, OIGA's Annual Awards will be presented on the trade show floor stage, with a more casual meal. Wednesday will be filled with more educational sessions and fun.
If we could choose one word to sum up our past two years, it would be "tenacity." Our highest priority is always the safety of our leadership, volunteers, exhibitors, attendees and staff, and it was with heavy hearts and an abundance of caution that we cancelled our 2020 event. As it turned out, the world entered a period of lockdown around the same time, and we all know the rest of that story.
Our tribes and our industry have weathered a very difficult time, but with great leadership from our elected tribal leaders working closely with their gaming operations, regulatory and healthcare teams, our gaming facilities are back open offering a safe and entertaining experience for guests. Oklahoma is home to the third largest gaming market in the U.S. with more than 80,000 electronic machines on the floors of more than 130 operations, and several Oklahoma casinos and resorts are undergoing expansions.
The OIGA Conference and Trade Show has always been the largest regional show in the country, and we are looking forward to hitting that mark again. We are incredibly excited to be back and look forward to seeing old friends and making new ones. If you have never attended the OIGA Trade Show, you are in for a treat. It is a lively, fun, informative, high-energy assembly of some of the biggest names in the gaming and hospitality industries, and will draw nearly 2,500 vendors, visitors and guest speakers to downtown Oklahoma City to celebrate and advance our industry. The future of the Oklahoma tribal gaming industry is very bright.
Matthew L. Morgan is Chairman of the Oklahoma Indian Gaming Association. He can be reached by email at [email protected].