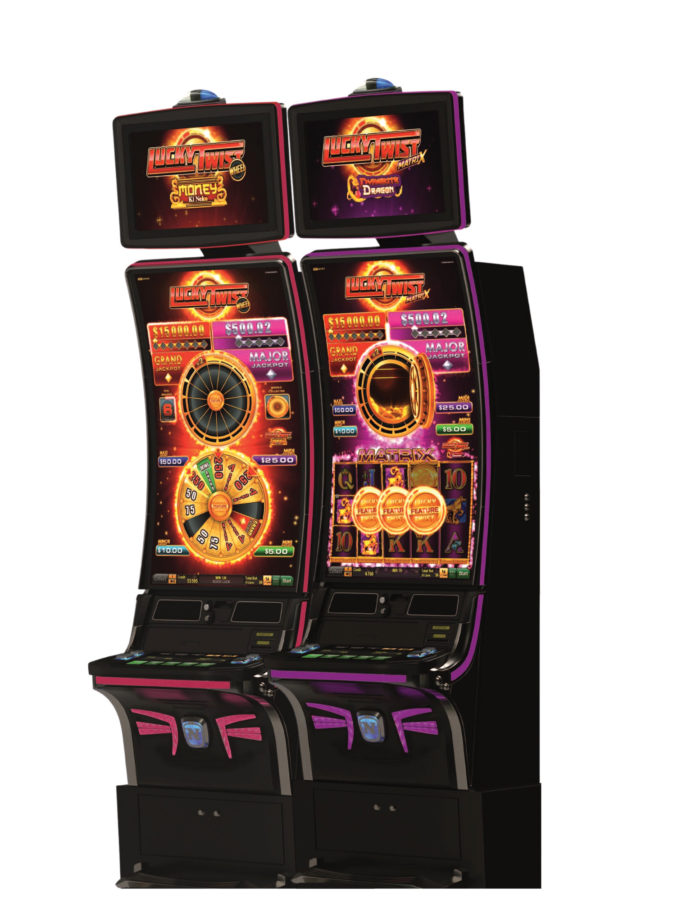 Novomatic Americas
Phone: (224) 802-2974
novomaticamericas.com
Class III
LUCKY TWIST™MATRIX – DYNAMITE DRAGON™/
LUCKY TWIST™WHEEL – MONEY KI NEKO™
Wheely fun for players; new linked progressive gaming fun with a special Lucky Twist™. Dynamic Asian jackpot thrills are guaranteed with these two Linked Progressive titles: the unpredictable Dynamite Dragon™ and the popular lucky cat, Money Ki Neko™.
Expanding Wilds or Xtra Stax™ in the base game, pick and win or bonus features and the Lucky Twist™ jackpot features on top – each version with a special twist of its own – make this jackpot journey an explosive highlight on any slot floor.
Play the Lucky Twist™ Matrix game, Dynamite Dragon™, and it will thrill you with an explosive Lucky Twist™. Enter the Matrix while your luck is hot, and collect jackpot segments, awards and prizes. Or chose to play the Lucky Twist™ Wheel game Money Ki Neko™, because this wheel has a special Lucky Twist™. Every spin offers three chances to win. Get it spinning to collect jackpot segments, awards and prizes while the Lucky Cat keeps her paws crossed for you.
Larger bank configurations will maximize player entertainment. When an entire bank gets the wheel or matrix feature, the player attracting bonus round keeps players in their seat and spectators watching the credit meter rise.
Don't miss your chance to win big with a Lucky Twist™.